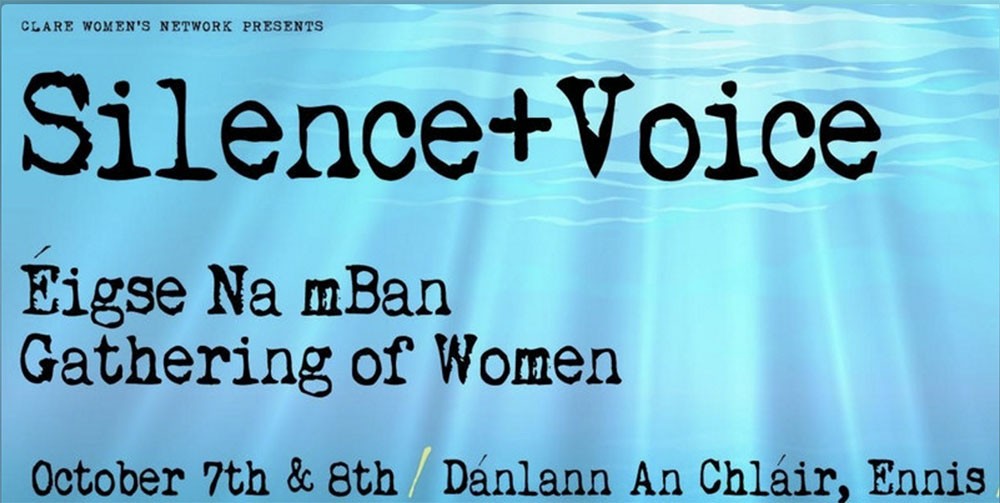 The Clare Women's Network has confirmed details of their 'Silence + Voice, A Festival of Feminisms 2017'.
The event will take place on 7th & 8th of October at Dánlann an Chláir, Ennis, Co. Clare
After a hugely successful festival in 2016 it was decided that we needed to continue and deepen the conversations started last year. Once again we are offering 400 participants an opportunity to reflect on silence and voice in the journey of women in Ireland.
It will be a radical, challenging, exciting and engaging weekend, filled with debate and learning, music and song, drama and poetry. The vision for the festival is that everyone who comes will actively participate and in return will leave energised and excited with a renewed sense of empowerment.
Speakers include: Brid Keenan, trauma expert; Siobhan Madden, transformative community educator; Mary McDermott, feminist philosopher; Sharon O'Halloran, CEO of Safe Ireland; Anne Marie Flanagan, disability and mental health activist and Margaretta D'Arcy, peace activist. They will be joined by musicians, singers, poets & artists to make the festival a feast for all of those who attend.
Childcare available – Booking essential. Light lunch and refreshments provided.
Tickets are €50.00 for the community & voluntary sector in order to facilitate free and subsidised tickets to individual women:
They are available now from Eventbrite https://www.eventbrite.ie/e/silence-voice-2-a-festival-of-feminisms-2017-tickets-36305186791 and directly from the Network.
For more information contact 085 8386977 or email us at silenceplusvoice@gmail.com