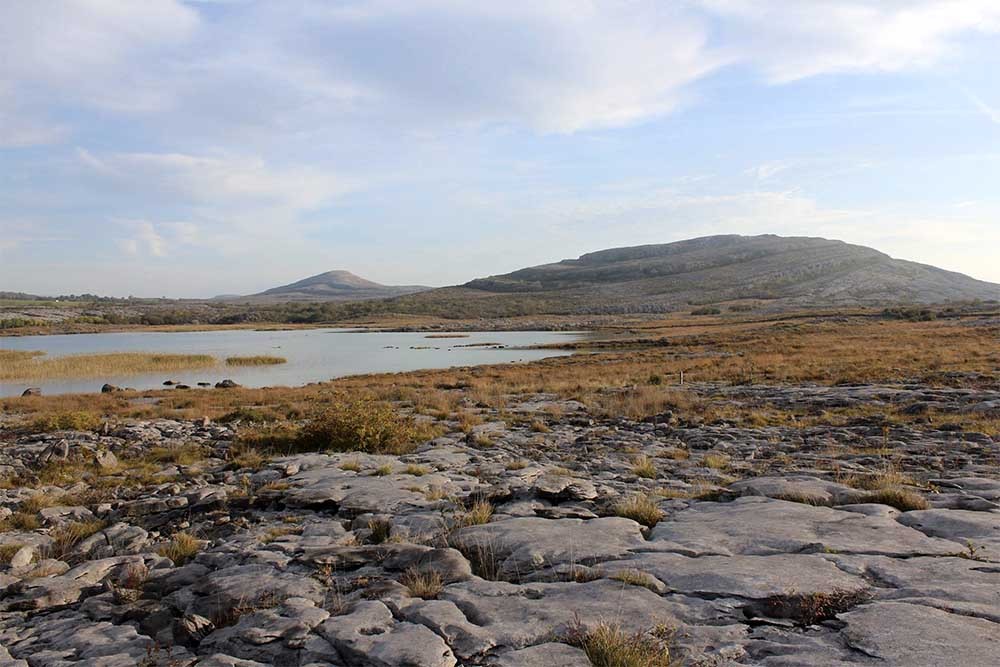 Key representatives of State, Local Government, tourism, academic, environmental and farming organisations from all over Ireland and Europe will gather in County Clare this week for a major international conference at the Falls Hotel, Ennistymon.
The 'GeoparkLIFE: Tourism for Conservation' conference on Thursday 23 November is being organised by Burren & Cliffs of Moher UNESCO Global Geopark, which is using the event to unveil a model for sustainable tourism destination development that can be implemented by destination managers across the world. The County Clare Geopark, one of three in Ireland, has produced a code of practice toolkit and a heritage sites and trails management model under its 5-year GeoparkLIFE conservation programme which concludes this December.
The theme of the 'GeoparkLIFE: Tourism for Conservation' conference, which coincides with the UN Year of Sustainable Tourism for Development, is balancing tourism development with heritage conservation in burgeoning tourism destinations.
The keynote speakers include Prof. Gabriel Cooney (UCD), Carol Gleeson (Manager, GeoparkLIFE), Tina O'Dwyer (Tourism Enterprises Coordinator, GeoparkLIFE) and Zena Hoctor (Sites and Monuments Coordinator, GeoparkLIFE). Travel Journalist and writer, Eoghan Corry will host a stakeholder panel featuring representatives of the agencies, businesses and communities that engaged with Geopark LIFE.
Among the European Geoparks represented at next week's conference will be Copper Coast Geopark, Marble Arch Caves UNESCO Global Geopark (Ireland); Brecon Beacons National Park Authority, North Pennines AONB Partnership (UK), Azores UNESCO Global Geopark, Arouca Geopark Association, University of Trás-os-Montes e Alto Douro (Portugal), Lanzarote & Chinijo Islands UNESCO Global Geopark (Spain) and Parc Naturel Régional D'Armorique (France).
Among the academic institutions attending the conference will be DCU, DIT, GMIT, IT Sligo, NUI Galway, UCD and Waterford IT. Also represented will be Teagasc, Failte Ireland, OPW, NPWS and The Heritage Council, as well as tourism organisations, LIFE Projects, LEADER Groups and Local Authorities from across Ireland.
"Our GeoparkLIFE project was designed to explore how best to develop and manage sustainable tourism destinations of international conservation value," explained Carol Gleeson, Manager of the Burren & Cliffs of Moher GeoparkLIFE programme.
She continued, "Our premise in the Burren & Cliffs of Moher UNESCO Global Geopark is that conservation and tourism depend on each other and support each other, and it's clear that the balance can only be achieved through a partnership between conservation, economic and social interests – and in particular, between agencies and local people."
"The conference is for those working in tourism, rural development and conservation agencies. It is for local authorities, local development companies, destination organisations, tourism businesses, heritage managers, landowners and community groups," Ms. Gleeson added. "We will be launching our destination manager guides and their supporting toolkits which will be available for other destinations to adapt to their needs."
The conference also will feature the launch of the Burren & Cliffs of Moher UNESCO Geopark section of the Heritage Council's Heritage Map viewer programme, which allows users to find or identify heritage sites and explore heritage data sets anywhere in Ireland.
The conference is the final event of the GeoparkLIFE programme 2013-17. The EU LIFE funded programme is supported by Clare County Council, Fáilte Ireland, Geological Survey of Ireland, Office of Public Works, Department of the Arts, Heritage and the Gaeltacht, The Heritage Council, NUI Galway and UCD.
For more visit www.burrengeopark.ie.