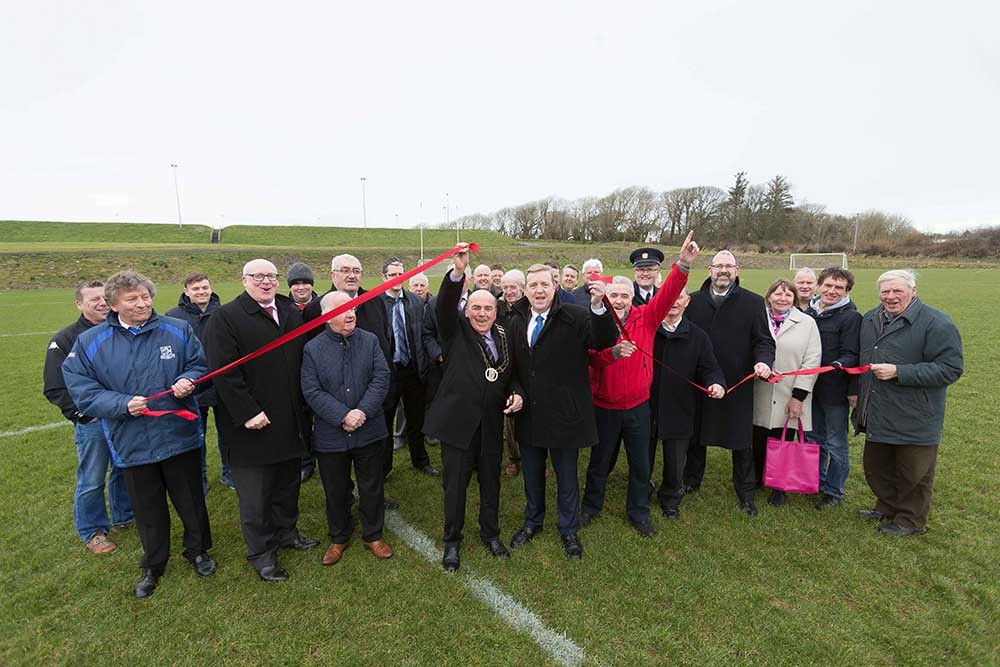 New integrated playing pitches have been officially opened at the Active Kilrush Sports Complex in Kilrush.
The €200,000 project, which has been funded by Clare County Council, involves the development of a 1.6 hectare field to the latest design standards to accommodate a maximum size GAA pitch and 2 soccer pitches.
Sports, recreation and leisure facilities at the Sports Complex and throughout Kilrush are owned and developed by Clare County Council and maintained and managed under the Active Kilrush brand. They include an all weather pitch, 3 soccer pitches, GAA pitch, playground suitable for children and teenagers, a 400m Running Track used by local athletic clubs and schools, and on site changing rooms which are scheduled to be upgraded in the near future.
"Clare County Council is making significant, positive strides towards delivering a wide range of top class sports and leisure amenities throughout Clare," said Councillor Tom McNamara, Mayor of Clare.
The Mayor continued, "It is important the recreational needs of the wider public are met and that the Local Authority continues to explore new ways of increasing participation levels in sport and recreation across Clare. The opening of these new playing pitches is especially welcome news considering they coincide with the opening of a newly refurbished gymnasium at Active Ennis Leisure Complex and a 3G all-weather playing pitch at Active Ennis John O'Sullivan Park, Lees Road."
Councillor Gerry Flynn, Chair of Clare County Council Social Development SPC, said that the future development of new sports and recreation facilities in Clare has the potential to contribute significantly to "an improved quality of life for everyone who lives in and visits County Clare."
"I warmly welcome the investment made in the Active Kilrush Sports Complex which already plays a vital role in terms of promoting a healthy and balanced lifestyle, driving community development and integration, and delivering a boost to the local economy," he added.
Pat Dowling, Chief Executive of Clare County Council, said the Active Kilrush Sports Complex is a key component of Local Authority's approach to enhancing the range and quality of recreational infrastructure in Clare. He added that the new playing facilities "complement the investments made by Clare County Council, supported by the Government, in the Cooraclare Road facility during recent years."
Tim Forde, Head of Sports & Recreation, Clare County Council, "Clare County Council and the Board of Active Kilrush are working closely together for the future development of sport and recreation in the Kilrush and the wider West Clare as evidenced through the ongoing investment in facilities."