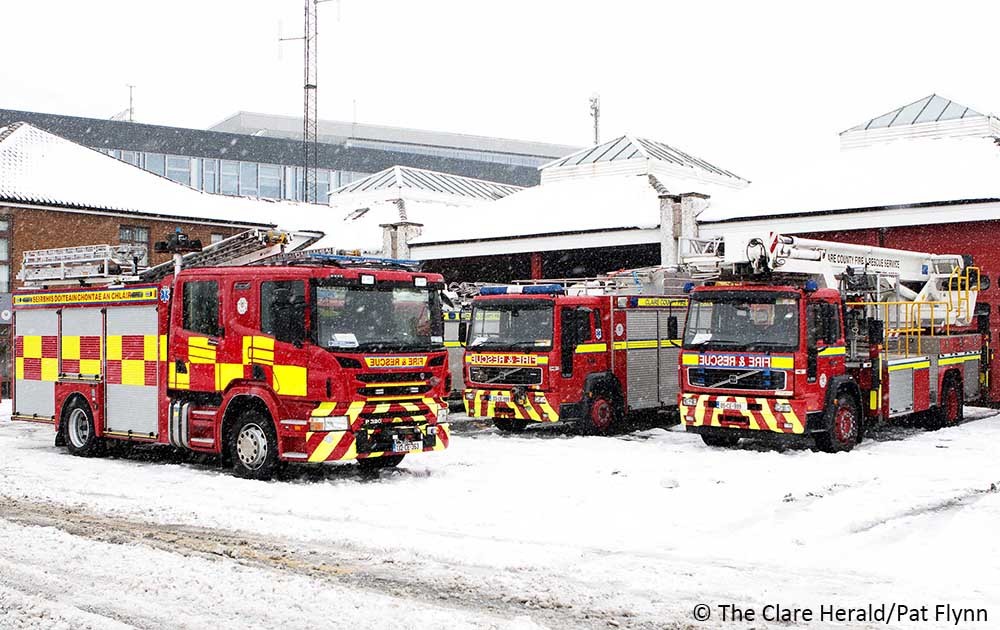 Emergency services across the county have been working round-the-clock to respond to incidents during the current weather alert.
Clare County Fire and Rescue Service crews, National Ambulance Service (NAS) paramedics and members of An Garda Síochána are being backed up by the Clare Civil Defence and the Irish Coast Guard.
Clare Civil Defence teams remained on call to respond to incidents from their HQ on the Quin Road in Ennis. Volunteers remained in the station at night so they wouldn't have to travel in the poor conditions to answer and emergency.
Their responses have included transporting medical staff to and from University Hospital Limerick, Ennis General Hospital, Ennistymon Ambulance Base and Limerick Maternity Hospital.
Crews also transported carers to Care Homes in Ennis and surrounding areas, while a mother and child were provided with transport to and from Shannondoc Ennis.
Outstanding work provided by our Emergency, Auxiliary and voluntary services services over the last number of days in challenging conditions #StormEmma #BeastFromTheEast pic.twitter.com/L2LmBC0Yfn

— National Ambulance (@AmbulanceNAS) March 2, 2018
Members of the the Killaloe unit of the Irish Coast Guard crews are still out tonight assisting other agencies during the current bad weather.
Crews have been assisting with Garda operations; transporting HSE staff to Limerick Regional Hospital and assisting National Ambulance Service crews.
The team also assisted a crew member of the Shannon based search and rescue helicopter Rescue 115 by transporting them to the airport for duty. Roads around the Killaloe/Ballina area are still very dangerous and people need to take care.
Killaloe Coast Guard Unit will continue to respond during the night and over the coming days.