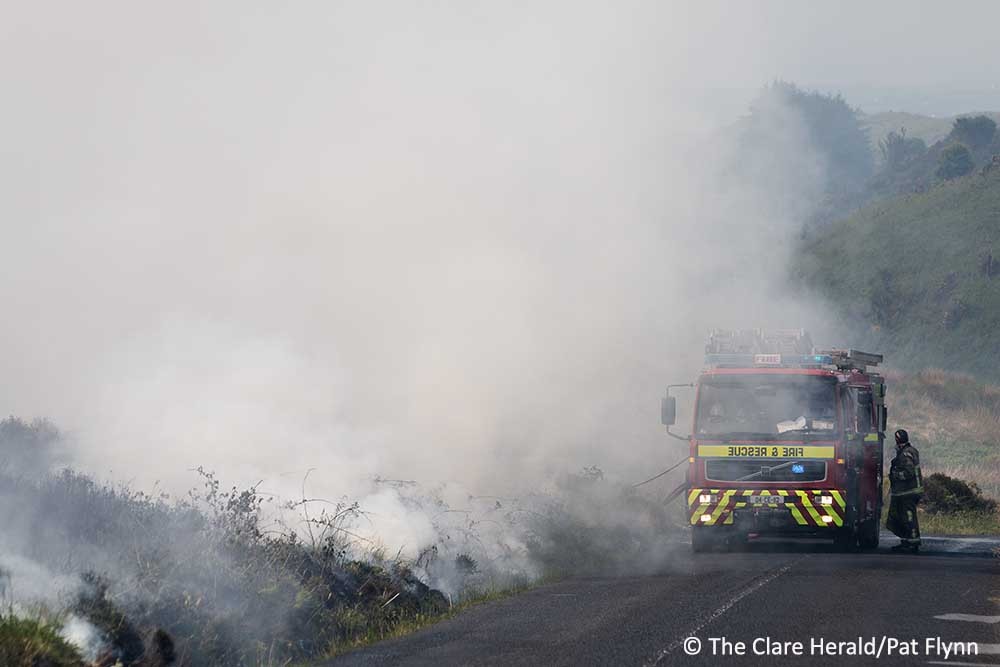 Update:
3.15pm – Traffic is not moving through the area but gardaí are still urging caution.
5.30pm – Fire crews are still fighting the blaze and are expected to be at the scene for several hours.
Earlier: Fire crews from three stations are battling to control a gorse and bog fire which has closed a busy road in Co Clare.
The blaze on the Ennis to Miltown Malbay Road, on the southern side of Slieve Callan, is close to a windfarm which does not appear to be under any immediate threat.
Units of the fire brigade from Kilrush and Ennistymon were originally sent to deal with the fire at around 10.00am however they have since been joined by crews from Ennis.
Thick, acrid smoke is being blown across the R474 road reducing visibility to almost nil and forcing motorists away from the area.
The road has been closed for several kilometres west from the entrance to the Slieve Callan windfarm. Traffic travelling from Miltown Malbay to Ennis, and in the opposite direction, is being diverted away from the scene.
While the cause of the blaze is unknown, temperatures in the area are expected to reach the mid to high 20s today.
Just last week, Clare County Council and the Fire Service asked landowners and the general public to refrain from any outdoor burning during the ongoing spell of warm weather.
That warning came after the Department of Agriculture issued a 'Condition Orange – High Fire Risk' warning which remains valid until tomorrow.