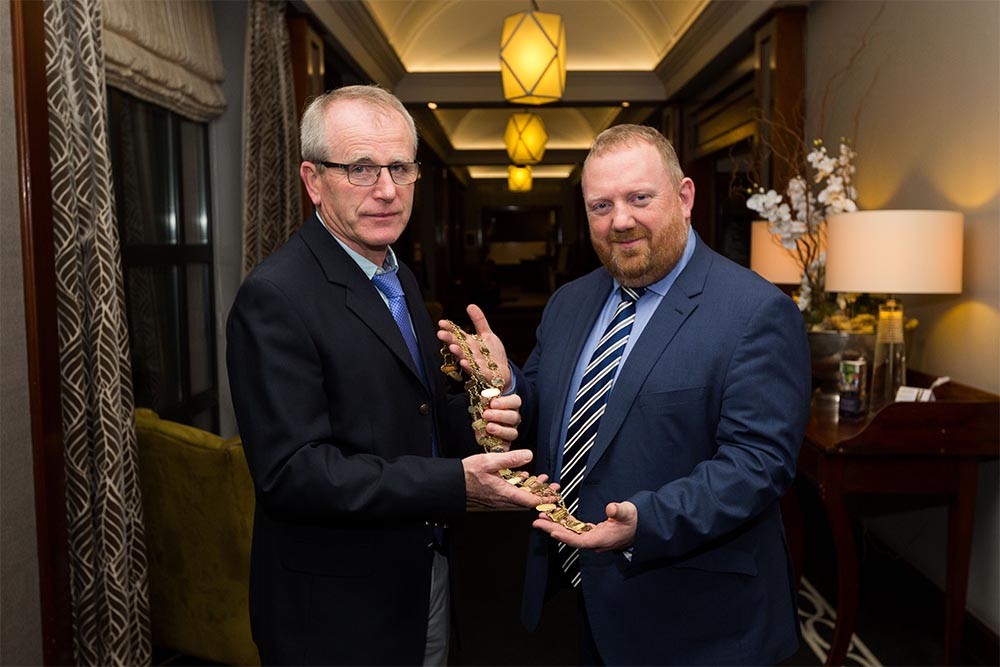 The Contracts Director for a Co Clare company has been appointed chairman of the Construction Industry Federations's (CIF) Mid-West branch.
Lorchan Hoyne of L&M Keating was presented with the chain of office by outgoing chair Mike Ryan of MA Ryan & Sons, who has stepped down after seven years in the role.
As Chairman of the Construction Industry Federation (CIF) Mid-West Branch, Mr Hoyne will be responsible for oversight of the branch, representing the branch at the CIF National Executive and ensuring members are informed of changing trends and regulations that may impact their business.
Speaking about his appointment, Mr Hoyne said, "For me, the role is about ensuring the Mid-West region has a strong voice at a national level to ensure the right environment and conditions are in place.  The upturn in the construction industry has been very Dublin centered. And while there has been a perceptible recent pick-up in the region, we need to have a strong presence at the table to ensure the level of investment is maintained and our cost base is sustainable."
"Since the downturn, the building sector experienced many challenges resuming activity. We may have turned a corner, but we need to make sure it's sustained and not the same boom and bust cycle as before. Therefore, the needs and views of our members in the Mid-West must be heard and understood. At the same time, we will be keeping members up-to-date and informed so they can identify trends and make sound business decisions," he added.
Representatives from large and small companies in the construction industry were in attendance at the AGM which took place on Thursday in Limerick. Tom Parlon, Director General, CIF, made a presentation to outgoing Chair Mike Ryan, MA Ryan &Sons to thank him for his contribution.
Mike Ryan, who was Chairman of the Mid West Branch for seven years, is also Managing Director of MA Ryan & Sons Ltd, one of the few house builders active in the Limerick market during the economic downturn.
Tom Parlon said, "Mike did a tremendous job of promoting the branches priorities, making sure members were informed and their voices heard at a national level during what was a tumultuous time for the industry and the regional economy. We sincerely thank him for his efforts over the years."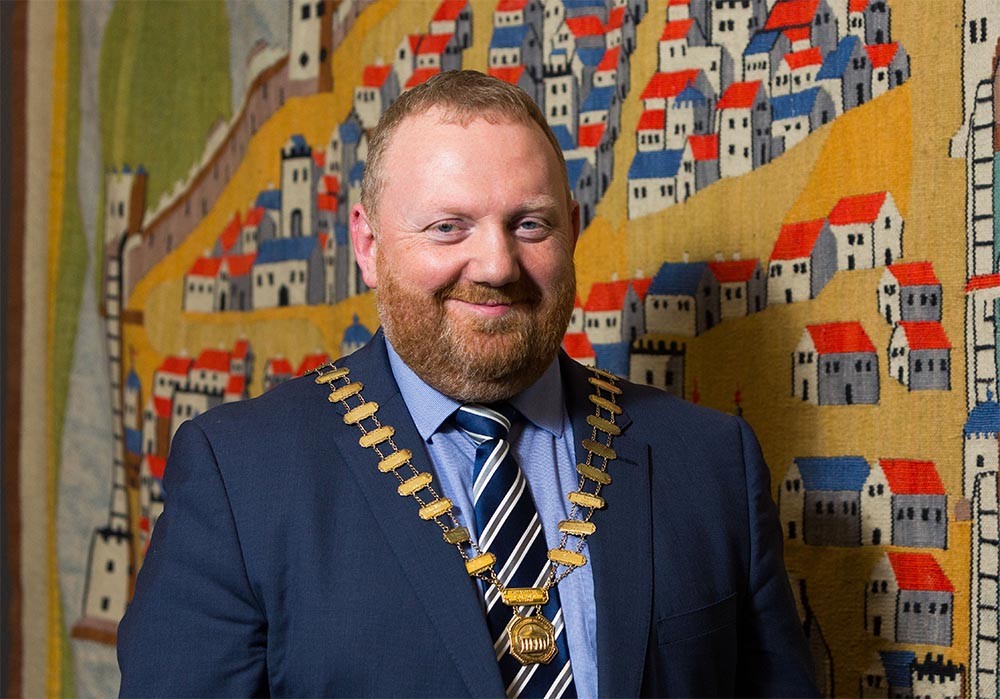 Membership of the CIF Mid-West Branch is made up of large and small building construction and civil engineering companies across Limerick, Clare and Tipperary North.
Lorchan Hoyne is Contracts Director for L&M Keating, a Multidisciplinary Building, Civil & Marine Engineering Contractor based in Kilmihil, Co Clare. He graduated from University College Dublin in 1994 with a Bachelor in Civil Engineering and Trinity College with a Diploma in Project Management and a Diploma in Environmental Engineering in 1997 and 2001.
In 2015 Lorchan received an MBA from University of Limerick. Lorchan worked for 12 years with a multinational building and civil engineering contractor on a number of major projects up to €50M value before joining L&M Keating in 2006.
Lorchan is a Chartered Engineer and has led the company to ISO 9001:2008 certification and to national awards for Health & Safety Management Systems.