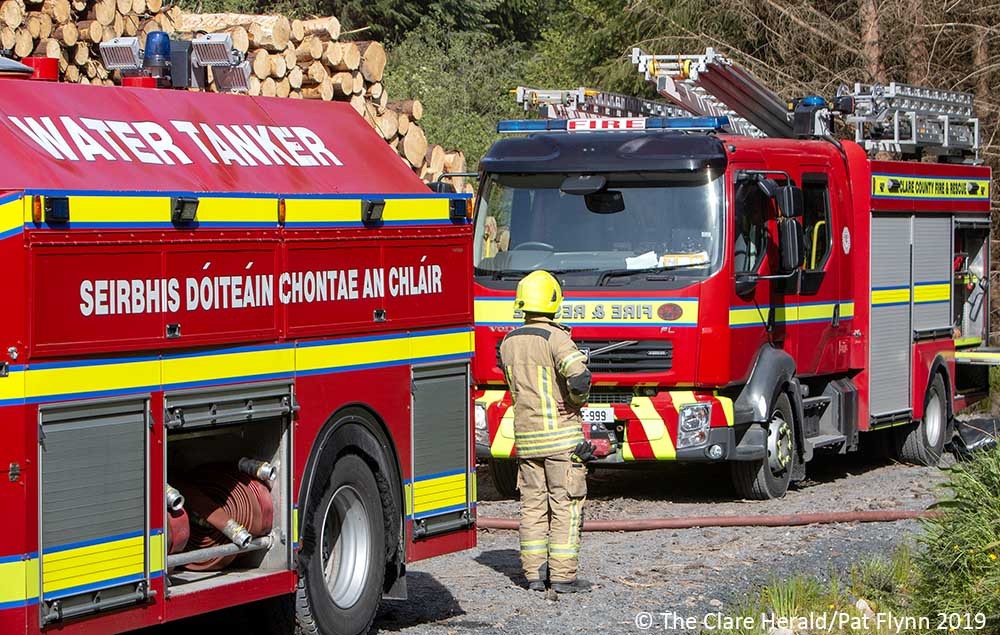 Firefighters spent over 13 hours dealing with a potentially serious incident at a quarry in East Clare overnight.
It's understood that a set of oxy-acetylene cylinders in a maintenance vehicle ignited and were at risk of exploding. The incident happened at a quarry near Parteen and the alarm was raised shortly before 3.00pm yesterday.
Controllers at the Munster Regional (Fire) Communications Centre in Limerick mobilised three units of Clare County Fire and Rescue Service from Shannon station, including a water-tanker and emergency tender, to the incident. On arrival at the quarry, fire crews found the van 'well-alight' but the blaze was quickly extinguished.
However, acetylene cylinders have a built-in safety feature which allows them to 'vent off' to help prevent an explosion. The venting occurs in the form of a flame so to further reduce the risk of an explosion, fire crews trained water hoses on the cylinder in an effort to cool it until any danger is eliminated.
Fire crews spent over 13 hours cooling the cylinder until it was declared safe and they could stand down.
A spokesman for Clare County Fire and Rescue Service said: "The van was well alight on arrival but the fire was quickly dealt with. The acetylene cylinder was venting off and it took hours for the acetylene cylinder to fully vent off. The cylinder had to be continually cooled during the whole process using our own water supplies and a supply on site. It was 4:14am (Thursday) before the cylinder was fully stabilised. Crews left the scene at 4:40am."
No one was injured in the incident.
Oxy-acetylene cylinders are commonly used in the welding process and comprise two cylidners, one containing oxygen and the other, acetylene. There are strict safety procedures which must be followed if cylinders are involved in a fire.
In the meantime, as fire crews from Shannon were tied up in Parteen, units of the fire service from Ennis responded to an oil spill in Shannon. Personnel used special chemicals to disperse the oil on the already wet road surface.