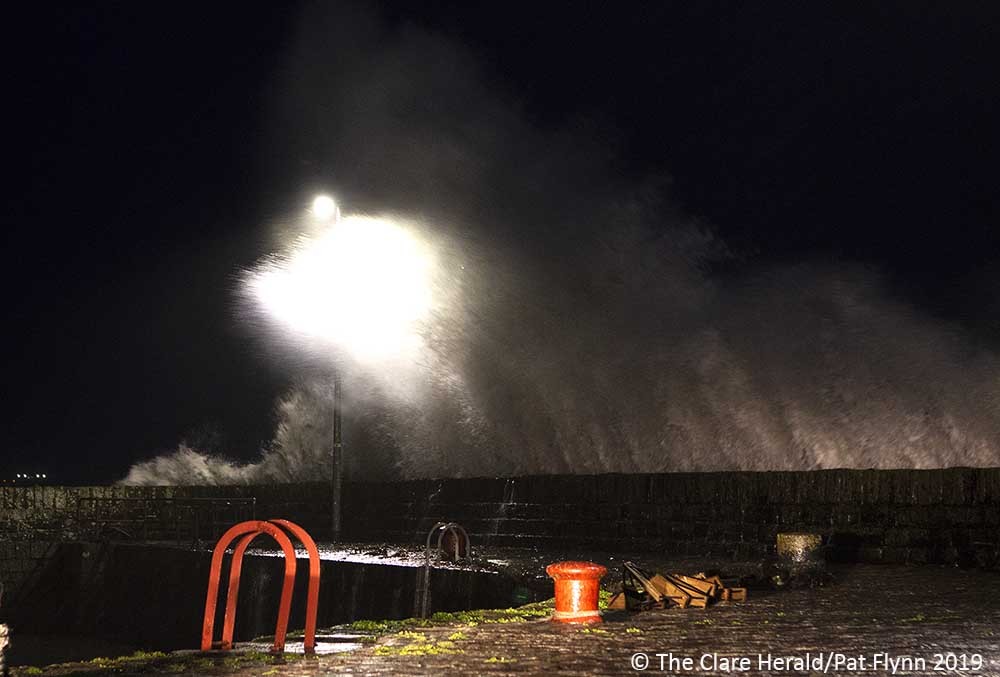 Update
Thursday, 2.55pm – Met Éireann's has revised its Orange Status alert for Clare, extending it from 6.00pm Thursday until 6.00am on Friday.
The county had originally been placed under an Orange Status warning from 9.00pm Thursday until 3.00am tomorrow.
Clare County Council has said: "The Storm Lorenzo status orange warning will affect the county from 6.00pm this evening and winds will be at their strongest along the coasts. The warning remains in place until 6.00am tomorrow, Friday. South westerly winds veering westerly will reach mean speeds 60 to 80km/h with gusts generally of 100 to 120km/h, higher in coastal regions. Storm surges will produce coastal flooding and damage.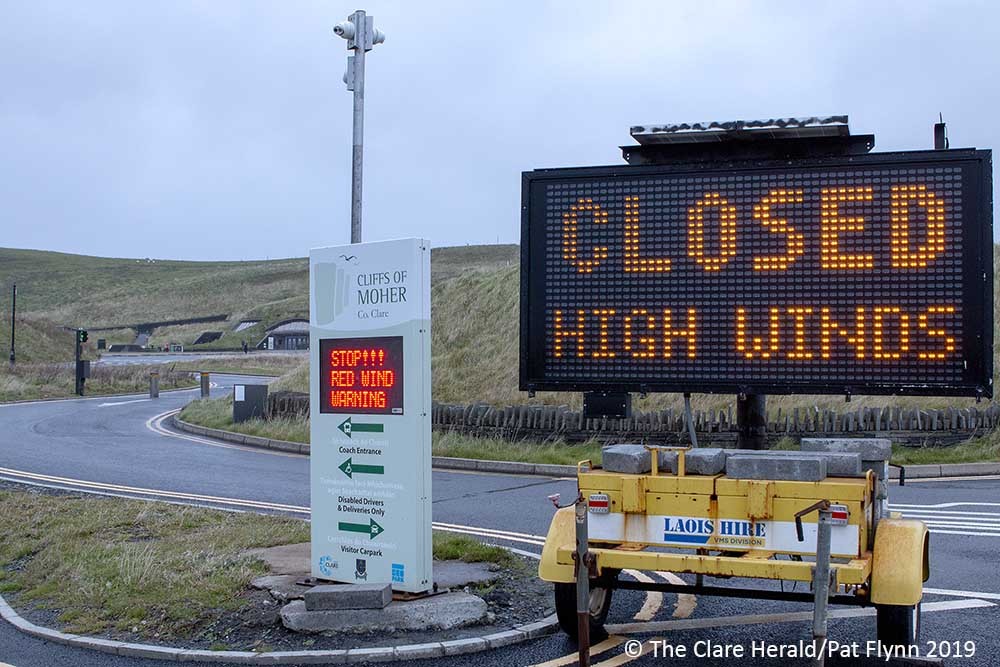 Update
Thursday, 12.30pm – UL Hospitals has issue this statement ahead of the arrival of Storm Lorenzo.
"All outpatient appointments and elective surgeries scheduled at UL Hospitals Group sites today, Thursday October 3rd, will continue as normal, as hospital management continues to monitor the progress of Storm Lorenzo. Met Éireann has issued an Orange wind warning for Limerick and Clare between this evening at 6pm and 3am on Friday October 4th.
Ahead of the arrival of the storm, we have begun discharging as many inpatients as possible. Outpatient appointments at all our sites will continue as normal, with priority given to patients who live further away, enabling them to return home earlier. Patients who wish to schedule an alternative appointment should contact the relevant hospital site. A full uninterrupted service as normal is anticipated across all our sites tomorrow, Friday October 4th. UL Hospitals Group management will continue to closely monitor the developing situation throughout the day."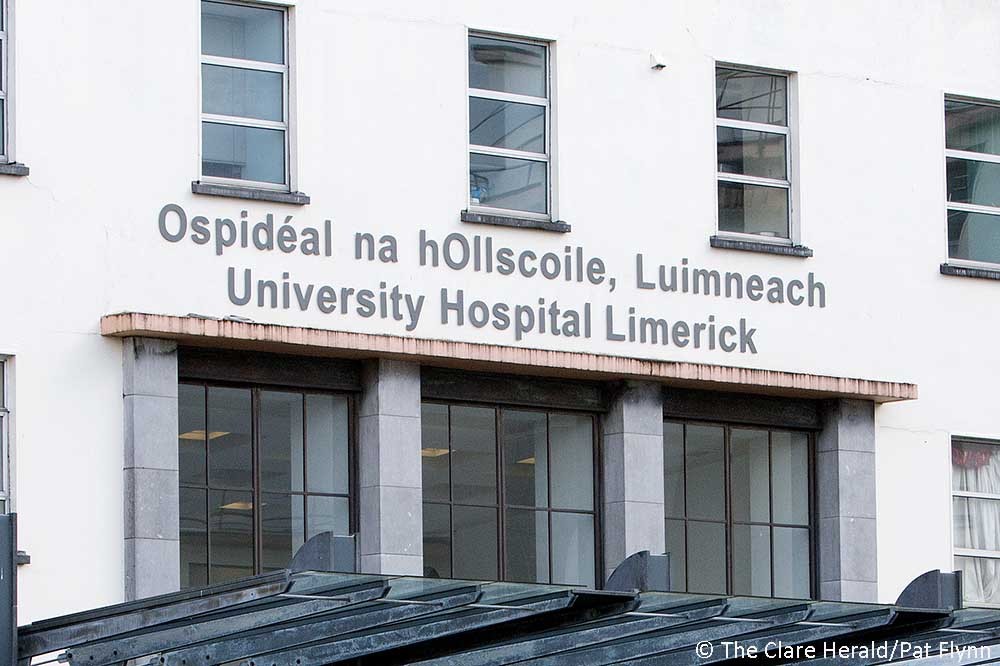 Update
Wednesday, 5.20pm –
The Irish Coast Guard and the RNLI have issued a joint warning to the public as Storm Lorenzo approaches to remind people to pay particular attention to their personal safety while outdoors and along the coastline during this time.
While the severity of the storm is not fully known and its path is changeable the organisations have issued advice to mariners to monitor all sea area forecasts broadcast by Met Eireann, be prepared and to take heed of the advice and sea conditions. Leisure craft users are also being advised to avoid any unnecessary sea activity.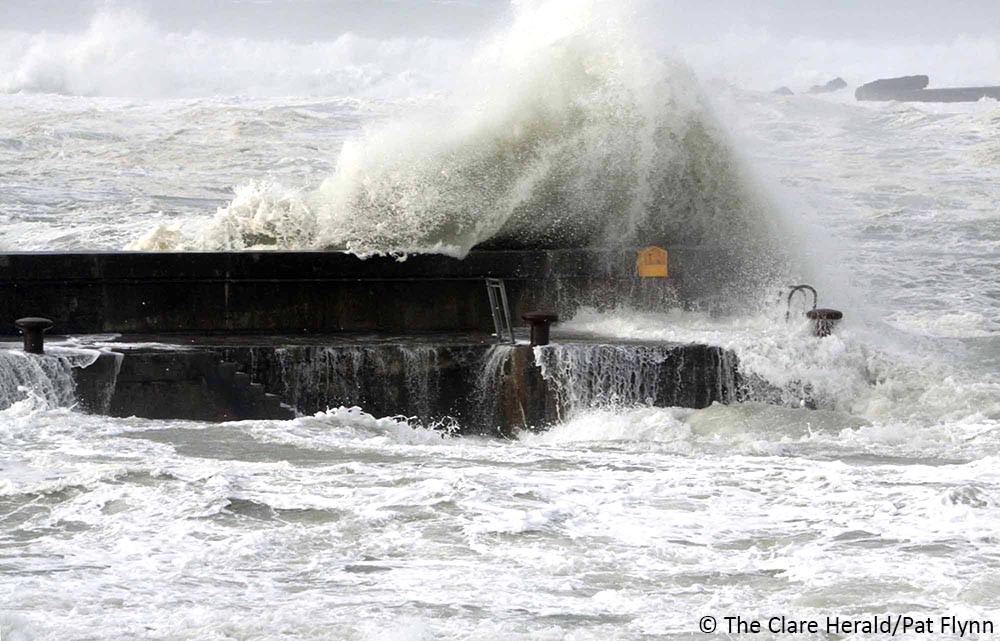 In addition, walkers are advised to avoid any exposed areas, including seafront walkways, as they may be hit by sudden gusts exposing themselves to unnecessary danger.
Coast Guard Operations Manager Derek Flanagan said: "We wish to remind everybody to take note of the weather forecasts and we are reminding walkers to 'Stay Back – Stay Dry – Stay High'.
RNLI Lifesaving Manager Sean Dillon added:  "Our lifeboat crews have been busy this year and are ever ready to answer any call for help. However, they would always prefer that people take advice and stay safe during storm warnings than put themselves and others at risk by their actions.
If you see someone in difficulty or are concerned about somebody's whereabouts on or near the water use VHF channel 16 or dial 112, and ask for the Coast Guard.
Update
Wednesday, 4.50pm – Clare County Council has also offered advise to the public ahead of the expected storm.
"The main impacts will include disruptive winds, falling trees and flooding. The public are advised not to plan any unnecessary journeys for the duration of the status Orange warning.
Clare County Council is urging motorists to drive with caution and to be alert for any debris on roads during Friday.  In advance of the stormy weather members of the public are being encouraged to take advantage of the calm weather today to make secure garden items such as furniture and trampolines," the council added.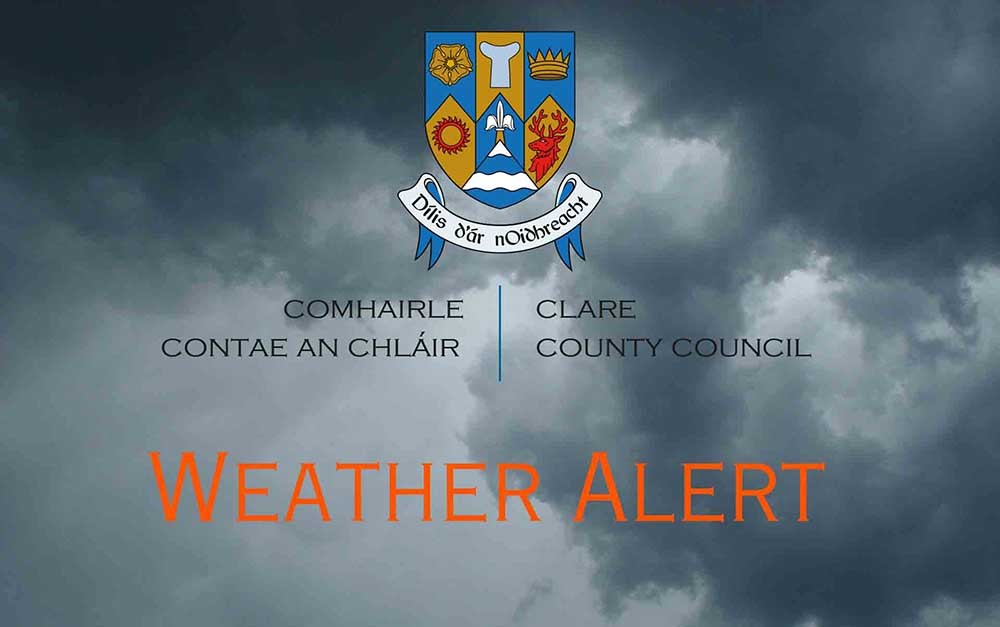 Update
Wednesday, 4.25pm – The Department of Education and Skills has issued a statement in relation to Storm Lorenzo.
"Schools and all education centres (universities, IoTs and further education centres)  in areas affected by a status orange alert should remain vigilant, and keep themselves appraised of any hourly and other updates from Met Éireann, and from their local authorities, local radio, and an Garda Síochána.
In all events, and if in any doubt, schools and other education settings should err on the side of caution. Schools are empowered to make closure decisions if, in their judgment in the interests of the safety of the school community, it is prudent to do so. Any and all decisions about school closures will be informed by, as well as prevailing and predicted conditions, any damage that might have been caused to school buildings overnight or at any time during the storm, and whether such damage –where it exists – might present a risk to safety. Similarly other education settings should make closure decisions based on those considerations.
We will continue to monitor the situation as it progresses and will follow any advice from the National Emergency Coordination Group," the department added.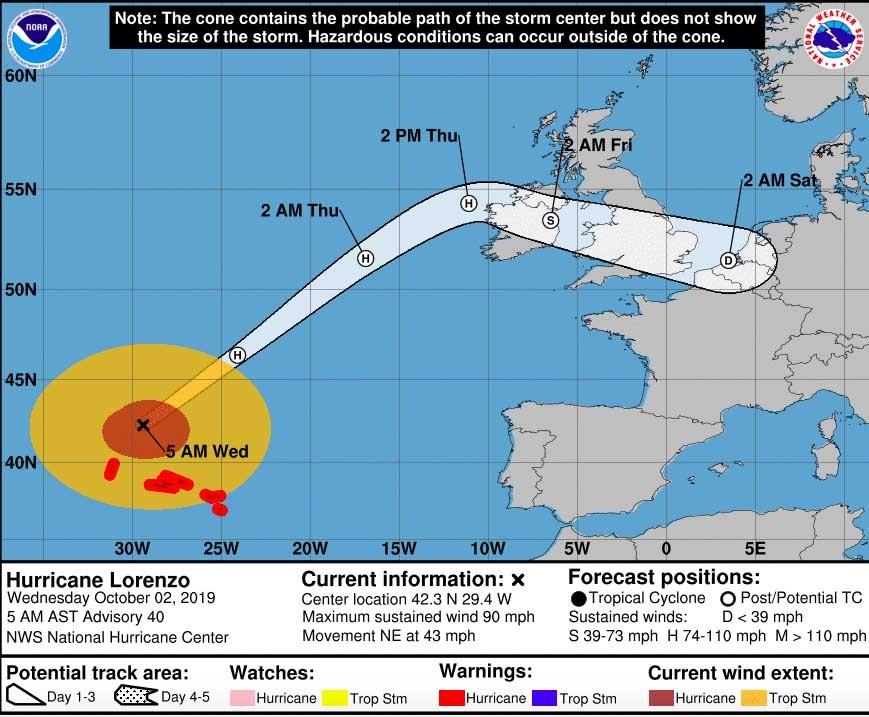 Met Éireann has issued a Status Orange wind warning for Clare for a period overnight on Thursday into Friday with the county remaining under a Status Yellow before and afterwards.
The weather service has issued a number of warnings today as meteorologists continue to monitor and predict the path of Storm Lorenzo which is routing towards Ireland.
Met Éireann has published a number of weather warnings today.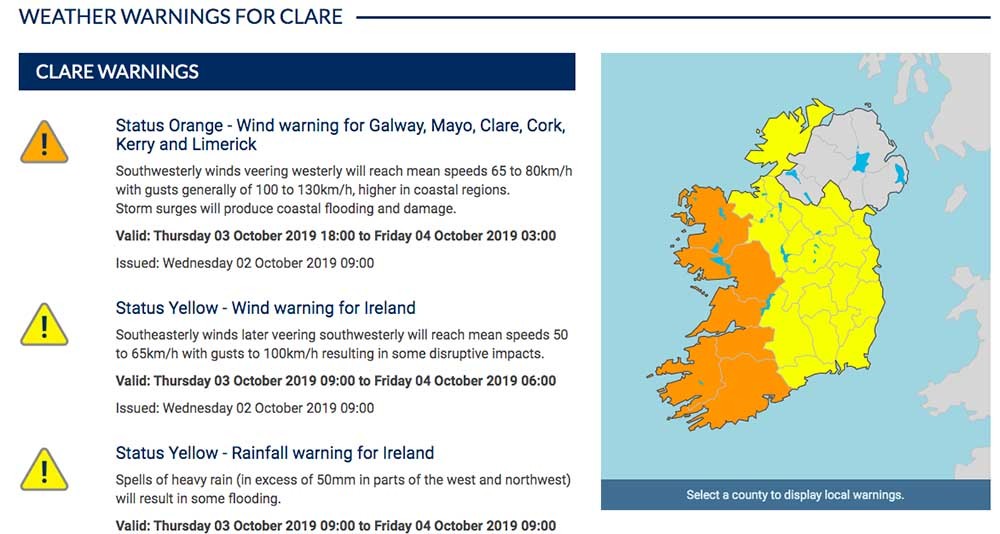 Status Yellow – Wind warning for Ireland
Southeasterly winds later veering southwesterly will reach mean speeds 50 to 65km/h with gusts to 100km/h resulting in some disruptive impacts.
Valid: Thursday 03 October 2019 09:00 to Friday 04 October 2019 06:00
Status Yellow – Rainfall warning for Ireland
Spells of heavy rain (in excess of 50mm in parts of the west and northwest) will result in some flooding.
Valid: Thursday 03 October 2019 09:00 to Friday 04 October 2019 09:00
Meanwhile, some counties, including Clare, have been placed under a more serious Status Orange wind warning.
Status Orange – Wind warning for Galway, Mayo, Clare, Cork, Kerry and Limerick
Southwesterly winds veering westerly will reach mean speeds 65 to 80km/h with gusts generally of 100 to 130km/h, higher in coastal regions.
Storm surges will produce coastal flooding and damage.
Valid: Thursday 03 October 2019 18:00 to Friday 04 October 2019 03:00.
To learn more about weather warnings click here.
#StormLorenzo is due to arrive tomorrow. The worst of the weather is expected between 6pm Thurs & 3am Fri in which a Status Orange warning is in place.
Please take extra caution when driving for any debris on the road. Do not make any unnessecery journeys. #staysafe pic.twitter.com/2HR3k5hBOG

— Clare County Council (@ClareCoCo) October 2, 2019
Useful links: