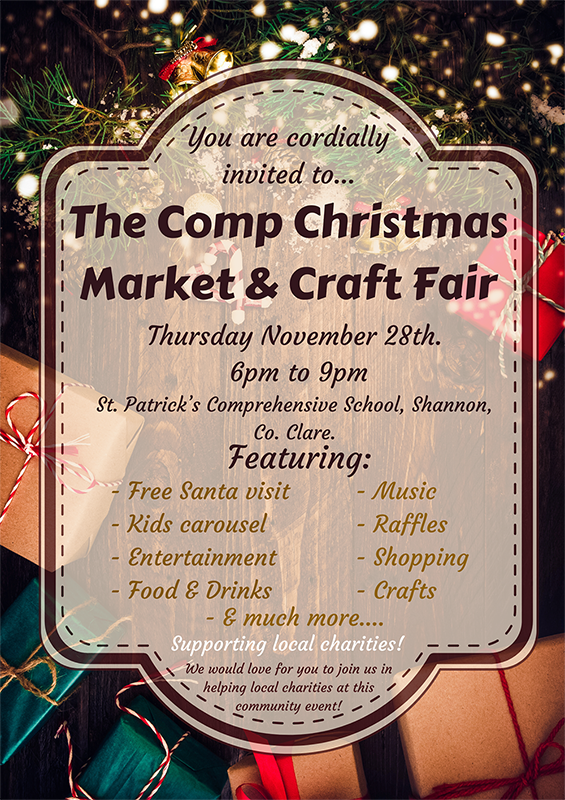 St. Patrick's Comprehensive School have been running The Comp Christmas Market & Craft Fair for a number of years now and this year's will take place on Thursday.
The school supports many local charities with the funds raised each year. It promises to be a night of fun and festivity. Last year was their biggest market to date. It began as a small market with crafts and baked goods made by students and was held during the day. It was then decided to try an evening market and it has gone from strength to strength since then.
A spokesperson said: "We have over 70 stalls booked with more bookings coming in each day. It is both an indoor and outdoor market with a small funfair for under 12s and a number of food trucks selling bbq food, burgers, speciality sausages, chips and pancakes. We also have a free Santa grotto where you can take your own photo of the children and a craft area where they can design their letter to post in our unique Santa post-box.
Our stalls will sell a variety of goods including jewellery, clothing, decorations, toys, gifts, crochet, candles, baked goods, honey, books and much more! We support local charities with some attending on the night and others benefiting from a donation after the event. We will be having our always popular raffle. We are very much looking forward to meeting the people of the community and we hope they enjoy the night. Our famous school choir Non Nobis Domine, made up of past pupils and staff and run by Clem Garvey, will also be in attendance on the night to add to our Christmas spirit. We were delighted to welcome Colum McGrath from Clare Fm to our school recently and he helped us to launch our market with this photo attached. Everybody is welcome on the evening of Thursday the 28th of November between 6pm and 9pm. "
St. Patrick's Comprehensive School: The people of Shannon pride ourselves on our sense of community and here at The Comp we endeavour to bring our school into the heart of the community. We are proud to bring members of the town together to support local charities. We are delighted that the event has turned into an essential part of the Christmas experience in Shannon and we hope this continues. We would also urge people to attend St. Senan's Christmas Market on the 5th of December.