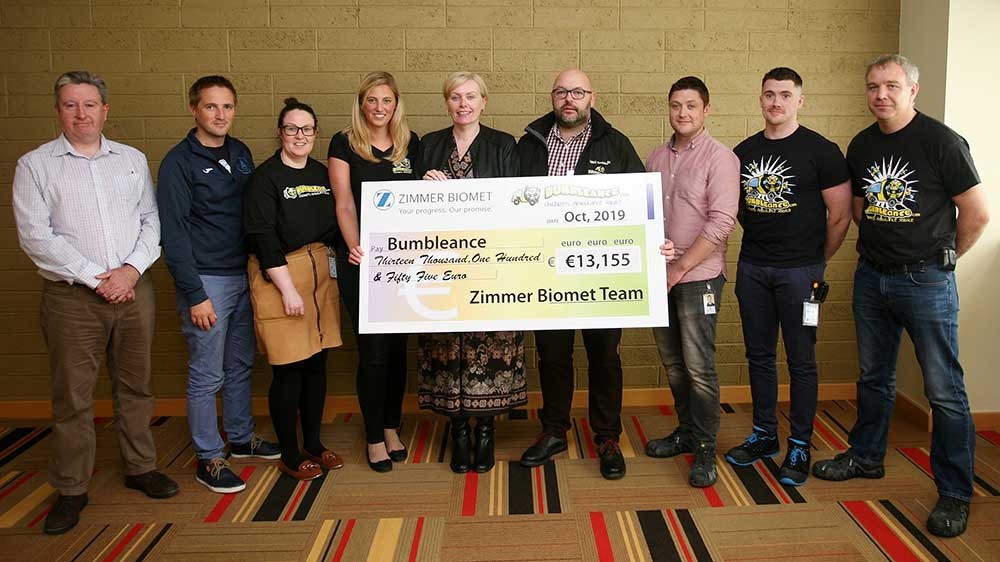 Zimmer Biomet Ireland employees have donated over €13,000 to Irish charity, The Saoirse Foundation's BUMBLEance Children's National Ambulance service.
Commenting on the donation, Tony Heffernan, Founder of BUMBLEance said, "I am so thrilled that Zimmer Biomet employees have chosen to support our BUMBLEance regional service for the second year in a row. Last year, their support helped us to establish a new Western regional service to support sick children living in the West of Ireland. Thank you to the team for its great work in supporting sick children in the local area via BUMBLEance. Our relationship is invaluable – in fact, we are currently looking into the possibility of having a second vehicle based in the Mid-West area."
According to local families, BUMBLEance makes a huge difference to their children's quality of life and relieves the pressure on parents and other family members. Michael Gibbons and Nadine Gibbons from the Dublin Road, Limerick, grandparents to Nicola said, "BUMBLEance has taken away all the stress and the strain of travelling up and down to Crumlin for appointments with Nicola. The staff members are wonderful and make you smile even on a bad day."
Claude Costelloe, General Manager of Zimmer Biomet's Ireland manufacturing facilities said, "We are delighted to support this worthy charity and are grateful to our wonderful employees, their families, friends and the broader community for their generous support." A leading employer in Shannon and Oranmore, Galway, Zimmer Biomet's footprint in Ireland features two state-of-the-art manufacturing facilities.
About Zimmer Biomet
Founded in 1927 and headquartered in Warsaw, Indiana, Zimmer Biomet is a global leader in musculoskeletal healthcare. We design, manufacture and market orthopaedic reconstructive products; sports medicine, biologics, extremities and trauma products; office-based technologies; spine, craniomaxillofacial and thoracic products; dental implants; and related surgical products. We collaborate with healthcare professionals around the globe to advance the pace of innovation. Our products and solutions help treat patients suffering from disorders of, or injuries to, bones, joints or supporting soft tissues. Together with healthcare professionals, we help millions of people live better lives. We have operations in more than 25 countries around the world and sell products in more than 100 countries. For more information, visit www.zimmerbiomet.com or follow Zimmer Biomet on Twitter at www.twitter.com/zimmerbiomet.
About BUMBLEance
An initiative of The Saoirse Foundation, BUMBLEance is the world's first interactive ambulance, purposefully designed for children, with the capacity to operate the latest medical equipment and inter hospital communication systems. The Saoirse Foundation is a registered non-profit charity dedicated to making positive life impacts for sick children. The charity was founded by Tony and Mary Heffernan in 2010 after their daughter, Saoirse, was diagnosed with Batten Disease – a rare and fatal neurological condition. Saoirse died in 2011, aged 5. The Heffernan's son Liam was the first child ever on BUMBLEance in September 2013 and the Heffernans used BUMBLEance for Liam's "angel trip" in 2014, before he passed away at home. For further information, please visit: https://www.bumbleance.com