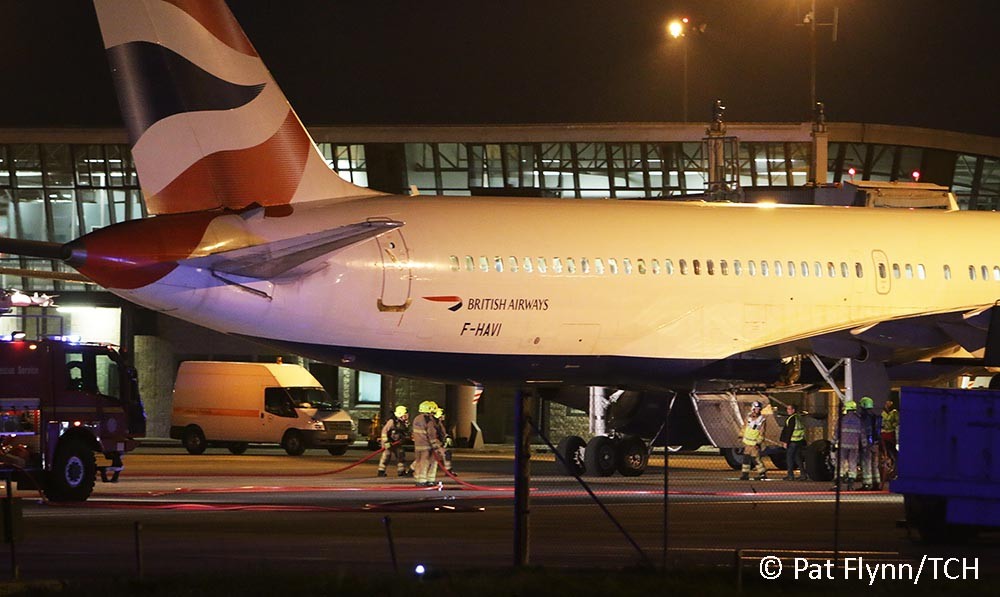 Updated: 10.05pm
The transatlantic jet that made an emergency landing at Shannon Airport last night has continued its journey.
Open Skies (France) flight BOS-1, a transatlantic airline owned by British Airways, was travelling from Orly Airport in Paris to Newark in the US at the time. There were 89 passengers and a crew of 5 on board.
The Boeing 757-200 jet was about three hours into its journey when the crew turned around. The crew informed air traffic controllers they had a 'wheel well fire indication' and wished to divert and land as soon as possible.
Shannon Airport's emergency crews were placed on standby while units of the local authority fire brigade from Shannon, Ennis and Killaloe along with a number of ambulances and garda units were also requested to attend.
The Kilrush RNLI lifeboat was also placed on standby as a precaution.
The flight made of low level pass over the runway at Shannon to allow air traffic controllers check that all the landing gear had deployed and the see whether there was any indication of fire.
After completing the fly pass the crew repositioned for a full-stop landing and touched down safely at 9.32pm.
The jet was quickly surrounded by fire crews on the runway and after checking the landing gear for any sign of fire, the jet taxied to the terminal where fire crews carried out a further inspection.
Engineers were also standing by to investigate the issue however the flight was later cancelled.
The same aircraft diverted to Gander in Newfoundland on Thursday after the crew reported a problem over the Atlantic. The flight was travelling from Paris to Newark at the time.
Update:
12.15pm: The flight was originally scheduled to continue its journey to the US at 2.00pm on Saturday however this has been further delayed until 4.00pm.
4.45: Passengers were later told their flight would continue at 5.05pm.
6.05: The flight finally continued its journey shortly before 6.00pm.