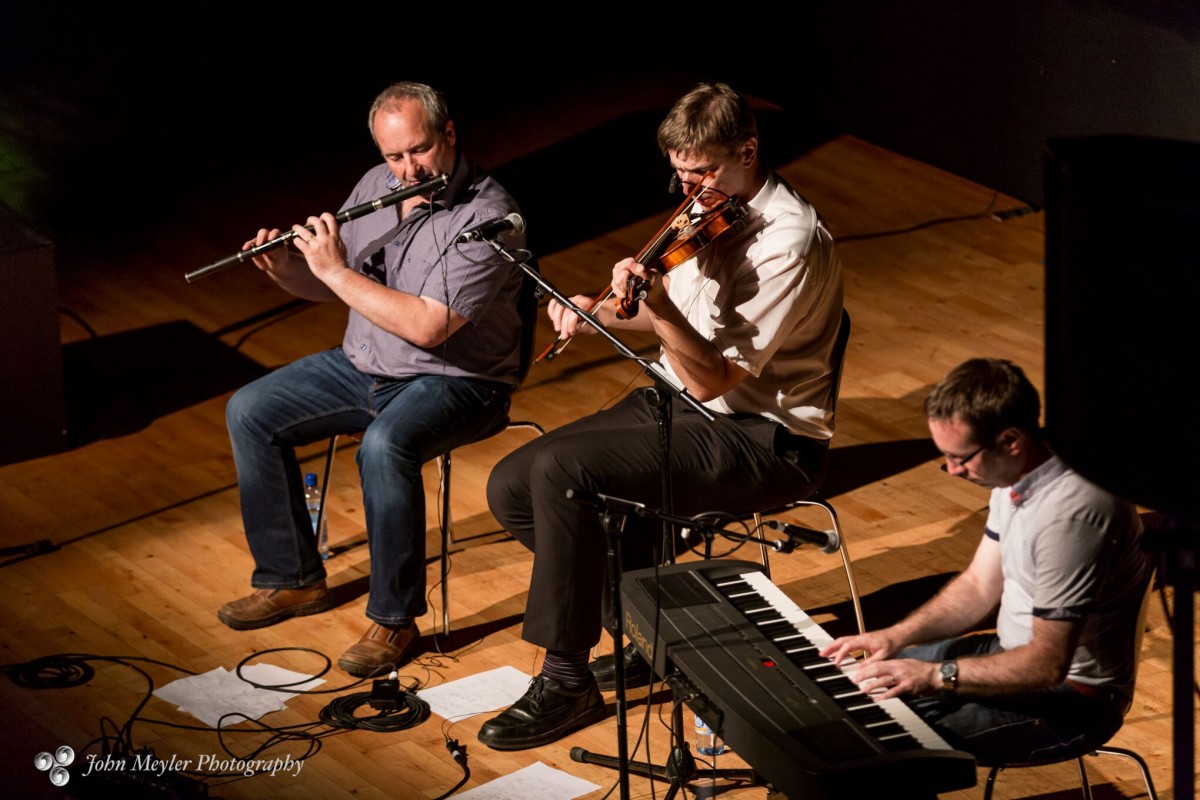 Inagh fiddler Michael Queally was Tuesday's special guest at Fidil Beo Series which takes place every weekday at lunchtime as part of Fleadh Cheoil na hÉireann.
For just over hour Queally with Noel O'Donoghue on flute and Padraic O'Reilly on piano entertained a sizeable crowd at Glór who were rewarded for going indoors in favour of the twenty six degree heat in Ennis.
A different musician from Clare features at each of the lunchtime sessions and today it was the turn of Michael Queally. He enjoyed having a central role in the celebrations of the Fleadh. "It is lovely, I prefer the background myself now I have to say but it was nice to play, it was a good concert and a good bit of craic and everyone seemed to enjoy it, met a lot of people that I haven't met in a while so all good".
Queally would fall into the same category as Garrett Barry the blind piper and fellow fiddle player Joe Ryan as the most acclaimed musicians to come out of Inagh. He informed The Clare Herald of concertina player Niamh Whelan and accordion player David McCarthy as Inagh musicians to keep an eye out for.
"There's a lot of younger really good players around but I suppose it's kind of a bit worrying that I'm in the Joe Ryan category not the young category so I'm a bit worried about that" he laughed "but it's all good, there's more music there than there was and some musicians have moved out there Liam Luas and a few like that so it's more interesting than it was in the past".
By day Michael is a managing director of AMQ Financial Services, music helps him to unwind in his spare time. "It's a nice breakaway, it's a hobby for me now and that's about the size of it, when Friday comes and if Mary's watching Desperate Housewives I'll grab the fiddle and find a session up the town and sit in, it's good but personally I've enough happening during the week than to be stressing about doing gigs at the weekend and all that kind of stuff so I don't engage like that so it's purely a hobby which is great and I enjoy that".
During the session, Michael recalled the story in which he purchased his current fiddle. Prior to the acquisition he had used adjustors on his fiddles but he was notified by the owner of this particular Bulgarian music store that "only beginners used adjustors". Pianist Padraic O'Reilly described Queally as one of the modest musicians there is but the Inagh man wasn't paying much attention to the comment. I wouldn't worry about that, I mean I didn't get the adjustors on the fiddle that shows you" he joked.
"Music has been a great companion, I've met a lot of people in a lot of different places and a lot of different countries, today there were people from Australia and Italy various places that I've met over the years so it's a good companion and it breaks down the barriers when you go meet a lot of different people, I think that is its key strength not anything else, I love listening to other people perform but I prefer just participating". The fact that Michael prefers to sit back and watch rather than take stage seems to prove O'Reilly's point that the Inagh fiddler is indeed one of the most modest musicians.