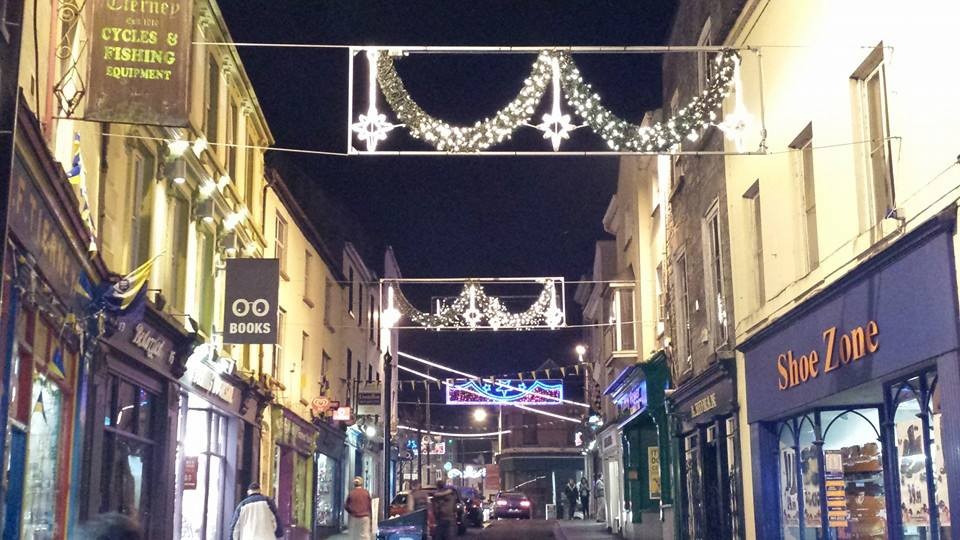 Festive lighting which was decorated around the main streets of Ennis during Fleadh Cheoil na hÉireann affected CCTV footage that Gardaí were investigating at the time, it has been revealed.
Speaking at the January meeting of the Ennis Municipal District, Cllr Johnny Flynn asked "to re-install early in the new year the white festive lighting used for the Fleadh along the main streets of Ennis". Flynn suggested that they be turned on every Thursday, Friday, Saturday and Sunday during the evenings and nights throughout the year.
Originally undertaken on "a once off basis", Director of Services with the local authority Gerard Dollard informed the elected members that cost and issues relating to CCTV were factors influencing their decision not to make the lights a permanent feature.
He stated "The temporary installation requires time switches to be installed at eleven different locations which require to be manually set for the lighting to switch on and off each day. The Council considered the continuance of the white festive lighting over the Christmas period and decided against same having regard to the high maintenance cost, significant power cost and the view that it would be a special feature rather than a regular feature in Ennis.
"Issues had also been experienced in the operation of the CCTV system for the town in that the cameras in zoom mode tend to focus on the lighting rather than activity on the streets". The cost of implementing Flynn's request is an estimated €60,000, Dollard advised using LED bulbs if this became a permanent feature which would require a capital investment by the local authority.
In response, Cllr Flynn felt that it may be the encouragement people need to visit the town. He pointed out that it may subsequently increase employment if Ennis was to be used more for shopping and entertainment. The Fine Gael councillor cited the rates increase which is resulting in an extra income of between €3-4 million for the Council as an area to fund the project. Gerard Dollard then informed him that the budget based on the 2017 rates has already been completed.
Cllr Clare Colleran Molloy queried where the lights were being stored. She said that it could help establish a trademark for the town, "Ennis could become the town of lights". Colleran Molloy was told that the lights are in council storage.
According to Mary Howard, the lights were one of the "positive discussions" during the Fleadh. She told fellow members of the EMD that she received queries from residents of the town asking that the lights be in operation permanently.
Tom McNamara urged councillors to take time to "sit down and see what the needs are" before agreeing or disagreeing to spend anything on the lights. It was then decided to get an exact figure for putting the system permanently in place for all members to make a decision.