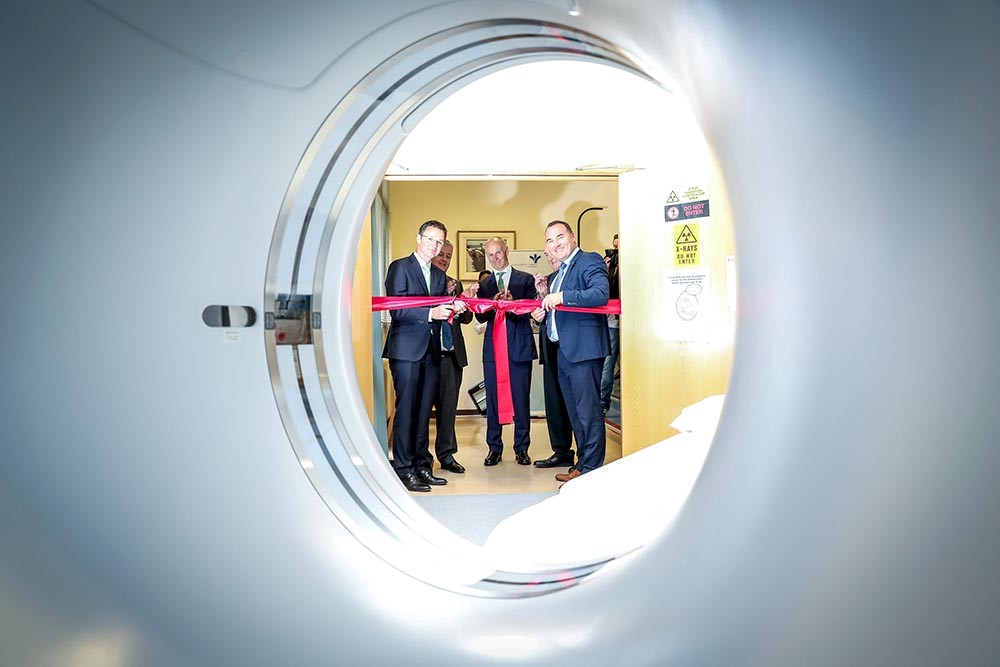 Diagnostic services across the Mid-West have been elevated to a new level with the launch of Bon Secours Diagnostic Imaging.
The move brings three existing diagnostics imaging services at the Bon Secours at Barringtons in Limerick under the one operation, delivering enhanced efficiencies and consistencies for GPs and their patients.  In all 30,000 scans are provided annually at the hospital across MRI, CT, Xrays, Ultrasounds and DEXA scans, with a significant portion of those scans being carried out for Clare patients.
In addition to the unveiling of the newly enhanced service, the event also saw the ribbon cutting on a new 128 slice CT scanner at the centre as part of an extensive programme of investment planned by Bon Secours Diagnostic Imaging.
The new operation will amalgamate activities of the former Barringtons MRI, already the lead operator of top-quality MRI services in the region, as well as the Diagnostic Imaging Consultant's group and Bon Secours Hospital itself.
Said Bill Maher, CEO of Bon Secours, "This is a really positive day in our evolution here at Limerick.  Everything we do is patient-centric and this is a perfect example. Ultimately, this will ensure the already best-in-class service delivered here is raised to even higher levels thanks to the enhanced efficiencies this will deliver to patients and GPs. It will ensure fast access to diagnostics thanks to all of the modalities required by patients being delivered by a single operator.  A key element of the service also is that we have locally based radiologists who not alone are involved in delivering the scans but writing reports themselves, a key differentiator between Bon Secours Diagnostic Imaging and other operators."
Malcolm Banks from Bon Secours Diagnostic Imaging said: "Our patients require high quality and fast access to Diagnostic Imaging to answer their clinical questions accurately and fast.  This investment and initiative at the Bon Secours Diagnostic Imaging will improve access and quality for all Diagnostic Imaging modalities, which we believe will benefiting the patients in Limerick and surrounding counties. The service will also build on the Barringtons MRI brand, which was already recognised as the leading provider of MRI services in the region.  This now amalgamates with the other diagnostic service providers here to create Bon Secours Diagnostic Imaging. Critically also, this announcement is going to herald a major programme of renewal, with extensive investment in Limerick"
According to Dr. Emmet Kerin, Treaty Medical Centre and former President of the National Association of General Practitioners:  "We are delighted to see this very important evolution of diagnostic services for the region thanks to the creation of Bon Secours Diagnostic Imaging.  From a primary care physician perspective, these results will be available on Health Link, which is the electronics communications system that facilitates the transfer of information – referrals and results – between primary and secondary care in Ireland.
In short, once a radiologist finalises his or her report, GPs will have it at their finger-tips, expediting delivery of reports significantly from a standard where many are just sent by post.  This is a significant gain for GPs and, more importantly, for our patients as they will receive faster reporting."