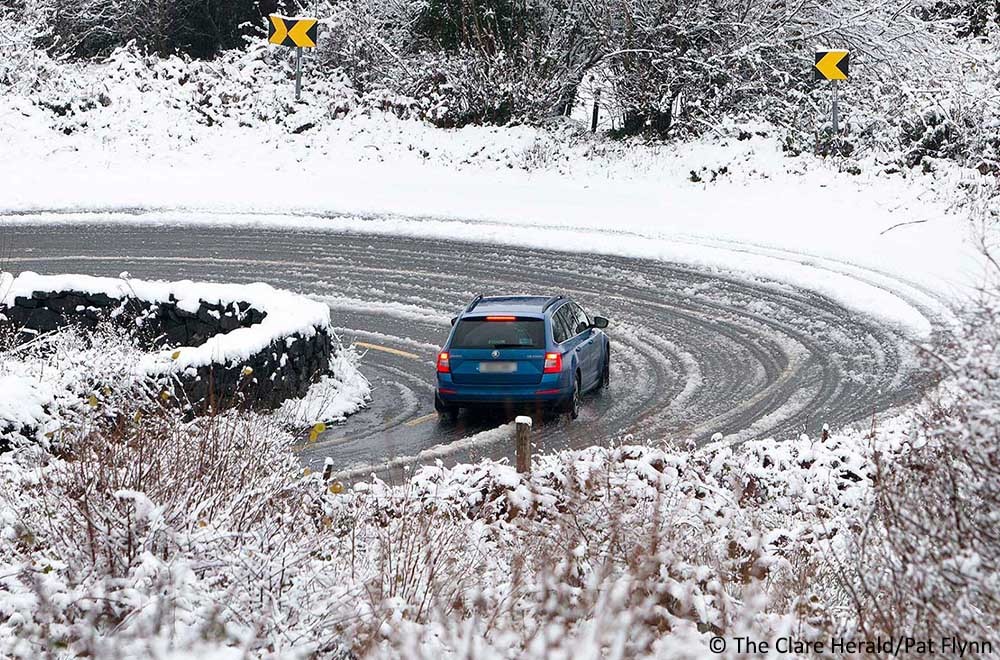 Met Éireann has issued a Status Yellow snow and ice warning for the entire country including Clare.
The warning has been upgraded from an earlier 'advisory; and will remain in place until midday on Sunday.
Forecasters are warning of falls of hail, sleet and snow and of icy, hazardous conditions.
Cloud will continue to increase from the west this evening with a band of showery precipitation in western parts, falling mainly as rain or hail in coastal parts, with some heavy bursts. As the band of precipitation moves east-northwards this evening and early tonight, it will turn increasingly to sleet and snow away from coastal parts, with some accumulations.
The band of precipitation will clear away northeastwards though overnight, but with a scattering of showers following. The showers will fall as a mix of rain, sleet and hail, but with further falls of snow too, especially over higher ground. Very cold with frost and icy conditions and with lowest temperatures of -4 to 0 degrees, in mostly light variable breezes, becoming mostly moderate northwesterly towards morning, buy increasing fresh to strong and gusty in parts of the west and southwest.
Sunday morning will be very cold with some frost, ice and lying snow in places, giving hazardous conditions. There'll be further showers, or longer spells of wintry precipitation, with a mix of rain, hail, sleet and some further falls of snow too, with some additional accumulations. Showers will become isolated in the afternoon though with more in the way of sunshine developing. It will be breezy in the morning with moderate to fresh and occasionally gusty northwesterly winds, stronger in western coastal parts, but the winds will decrease light to moderate in the afternoon. Highest temperatures of just 2 to 5 degrees.
Find out more about Met Éireann weather warnings.