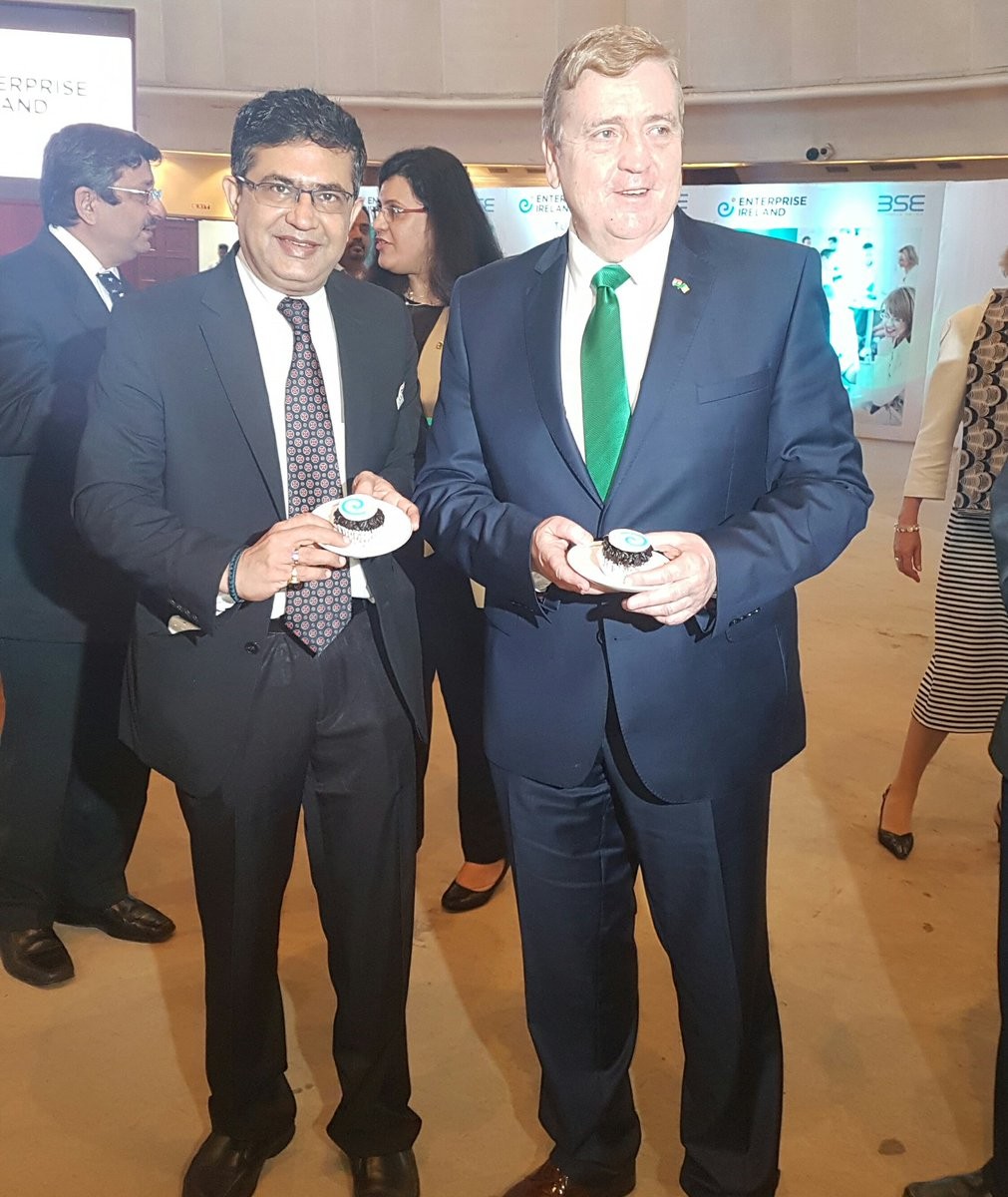 Minister of State for Employment and Small Business, Pat Breen has begun a five-day Enterprise Ireland trade mission to further develop trade, political, economic & commercial links between Ireland and India.
Led by Enterprise Ireland, the mission will promote Ireland as a source of innovative technology to support increased exports by Irish companies to India and promote foreign direct investment into Ireland by Indian companies. It is part of the intensified programme of Ministerial-led missions and events to support Irish exporters to diversify into new markets in response to the challenges posed by Brexit.
Today saw the commencement of the official programme of 14 high-level meetings Breen ringing the official bell at the start of trading on the Bombay Stock Exchange in Mumbai. The visit hopes to see exports to India grow to €100,000,000 by 2020 as part of Enterprise Ireland's post-Brexit strategy.
Hon'ble Pat Breen, Min of Employment & Small Business, #Irish Gov & @ashishchauhan, MD&CEO, #BSE ringng d #OpeningBell on 16th Nov, 2016 pic.twitter.com/0fEArvEOEl

— BSE India (@BSEIndia) November 16, 2016
Thirteen Irish companies from the aviation, financial services, pharmaceuticals and health, ICT and education sectors are participating in the mission which takes in three cities Mumbai, Bengaluru and New Delhi.
Speaking on his arrival in India, the Clare TD Breen underlined the importance of relations between India and Ireland. "India-Ireland bilateral ties are important to both countries and it's an honour to be part of this shared ambition and future. India is one of the fastest growing economies in the world and there is huge potential for innovative Irish companies in the Indian market, particularly in key sectors such as aviation, ICT and education".
He added "Brexit will likely pose a number of challenges for our exporters. That is why, through Enterprise Ireland, we are working to find new customers for Irish companies overseas. The Indian economy is the seventh-largest economy in the world in terms of GDP and has a growing population. We see opportunities to grow Irish exports to India, to position Ireland as an ideal location for FDI and for Indian students to come to Ireland to study English".
Pat's last day will include travel to New Delhi where the focus will be on the exchange of information and growing trade in the aviation sector. Meetings with senior aviation industry executives including the CEO of Air India as well as India's Civil Aviation Minister will be on the agenda.
Brendan Flood, Enterprise Ireland's Director of Sales and Partnering who is accompanying the Fine Gael TD on the trade mission said; "Trade Missions like this multi-sectoral one to India, play a vital role in promoting Ireland's world-class goods and services in international markets and enable the global ambition of Irish companies. Minister Breen's visit to India is a welcome boost to achieving Enterprise Ireland's strategic goal of increasing exports by our client companies to India from €50 million in 2014 to €100 million in 2020".
Breen will end his India trip by visiting the Irish education student fair in New Delhi where fourteen Irish Institutes will present their offer to Indian students considering international study options. The Education in Ireland fair will travel to four cities in India namely New Delhi, Mumbai, Bangalore and Chennai. It will give potential students and their parents an opportunity to meet the Irish institutes face to face and get valuable information about courses and admission procedures.