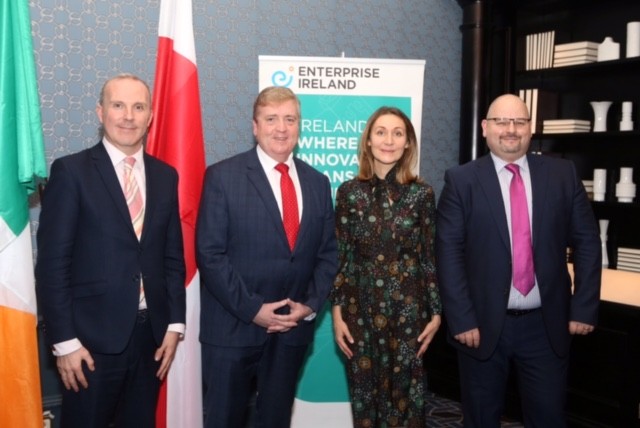 Three Shannon companies and businesses were to the fore during Minister of State for Employment and Small Business Pat Breen's trade missions to Poland and India.
Breen said he is working hard to not only protect these new jobs, but to support the companies so they can continue to grow.
Ei Electronics in Shannon accompanied the Minister on an Enterprise Ireland trade visit to Warsaw, Poland on Thursday, the aim of which was to enable Irish suppliers to make new high-level business contacts in Poland's ICT, Services, Retail and Engineering Solutions sectors. The Shannon company, which also operates in Poland, produces residential fire safety products, including smoke and carbon monoxide alarms.
During the course of the trade mission to Warsaw, the Fine Gael TD received a first-hand update from Irish market participants such as Ei Electronics on the challenges and opportunities in doing business with Poland.
He also pointed out the attractiveness of Ireland as a business partner for Poland when he addressed a trade dinner attended by 65 companies – many of whom are Polish business partners and potential customers for Enterprise Ireland clients.
Just a few days previous, Pat invited a representative from Shannon Airport to accompany him on the Enterprise Ireland's Trade Mission to India, during which he introduced Group Strategy Director and Managing Director of International Aviation Services Centre at Shannon Airport, Patrick Edmond, to key stakeholders in the rapidly expanding Indian aviation sector. "Expanding opportunities for Irish companies in the aviation sector was a key objective of the mission," the Clare TD said.
He met with the Indian Minister for Civil Aviation and was the only minister outside of India to address the Aero Expo India attended by key policy and decision makers and stakeholders from the Indian aviation, aerospace, air cargo and allied industries. Meanwhile Pat also met with senior executives and other senior officials at WIPRO, a global information technology, consulting and outsourcing company that is looking at further expansion and already has a centre in Shannon.
"This company is in expansion mode worldwide at the moment, so I made a very strong case for Shannon during discussions with the company CEO and senior staff. The company was very positive about the work already been done in Shannon, and the availability of the airport and the close proximity of two universities and Institutes of Technologies is also a favorable to our case. While the company did not commit to anything there and then, the talks were extremely positive and I will stay in contact with them on the issues," he said.
Of his trade mission to India Clare's longest serving TD at present stated "India is one of the fastest growing economies in the world and there is huge potential for innovative Irish companies in the Indian market. This trade mission was also a valuable exercise in promoting Ireland as a welcoming country for Indian students to come to Ireland to pursue a world-class education. As we address the challenges posed by the Brexit vote this trade mission provided valuable introductions for the participating companies to new business partners and customers in India".