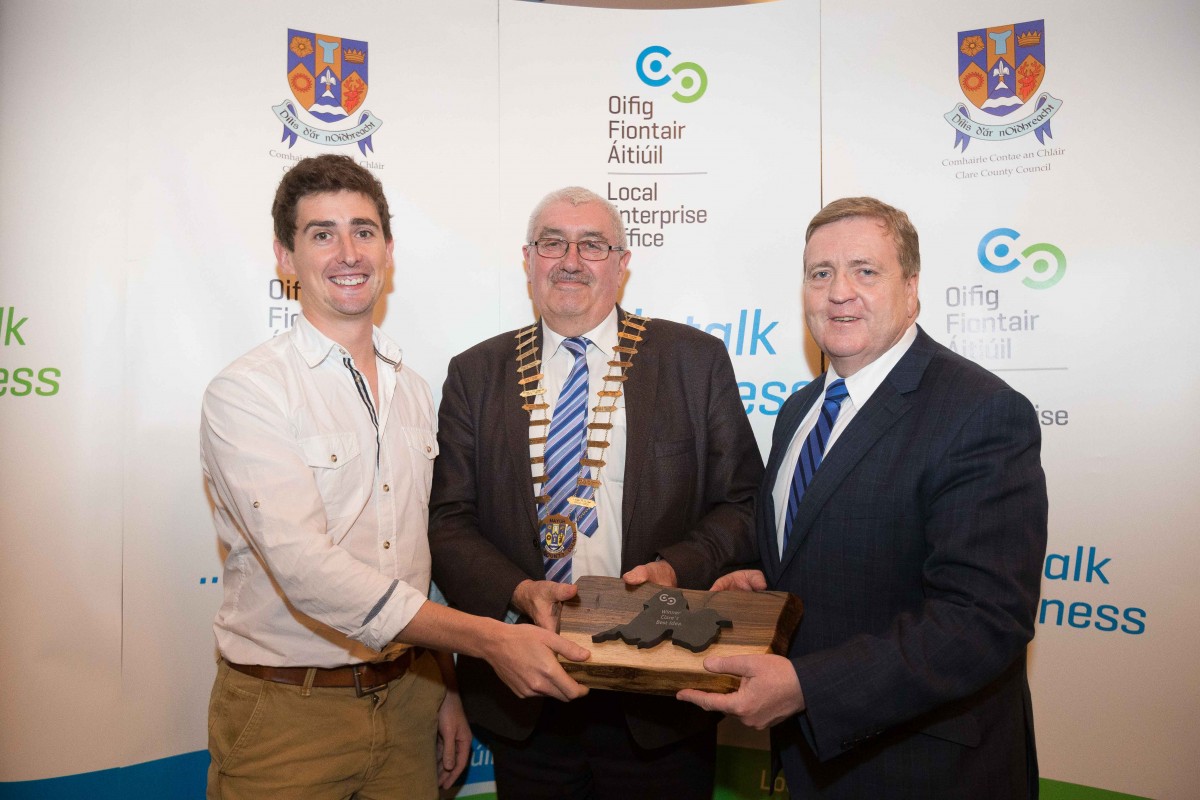 Damien Mason from FlexiBod in Scariff has clinched a place in the final of Ireland's Best Young Entrepreneur (IBYE) competition in Dublin this March.
The 35 -year-old, who has developed a smart connected office chair (Agilis) for athletes that helps to reduce muscle tightness and back pain, is competing in the Best Idea Category and is one of three young entrepreneurs who will represent Clare, Kerry, Limerick and Tipperary. The local entrepreneur now has the opportunity, along with 23 other national finalists, to become Ireland's Best Young Entrepreneur and share in a €100,000 winners' investment fund.
Regional winners across three categories who will go forward to the National Final were announced at the Regional Final in Bunratty on Monday by Pat Breen T.D., Minister of State for Employment and Small Business. The two other National Finalists who were selected by the judging panel are: Derek Counihan from Kerry in the Start Up Category and Adrian Fleming from Limerick in the Best Established Category.
Speaking at the event, Minister Breen said, "IBYE is not just a competition, it is a training ground to guide and mentor young entrepreneurs through all the stages of developing and sustaining a business. The aim of the initiative is to support a culture of entrepreneurship among young people, to promote entrepreneurship as a career choice, and to encourage young people to set up new businesses which will ultimately create and sustain jobs. What we have witnessed here this evening is the proof that the entrepreneurial spirit is alive and well in this region. We need more of this energy and commitment in order to create and sustain more jobs across the regions".
Padraic McElwee, Head of Enterprise with Local Enterprise Office Clare, congratulated the Scariff entrepreneur, saying, "We started the search to find and support Ireland's best young entrepreneurs in September last year, and after a very successful bootcamp, County Final and now Regional Final, the county will be proudly represented in the ultimate stage of the competition – the IBYE National Final in March."
Pat Dowling, Chief Executive of Clare County Council, congratulated Damien Mason on his award success. "The Local Enterprise Office Clare has played a key role in helping entrepreneurs like Damien achieve success. Since its establishment, the Office has supported hundreds of business men and women with developing their business ideas and in doing so has strengthened the local enterprise sector in partnership with the various agencies responsible for job creation in this region".
Judging takes place in early March and each finalist will have the opportunity to pitch their business plan to the judging panel. They will be assessed on criteria such as the level of innovation in their business, the potential for future job creation and their leadership skills.
Aimed at 18 to 35-year-olds, the IBYE initiative is run by the 31 Local Enterprise Offices (LEOs) nationwide, and supported by the Department of Jobs, Enterprise and Innovation and Enterprise Ireland. The investment awards will be used by the young entrepreneurs to help fund business start-ups, create new jobs locally and help develop new products for international markets.