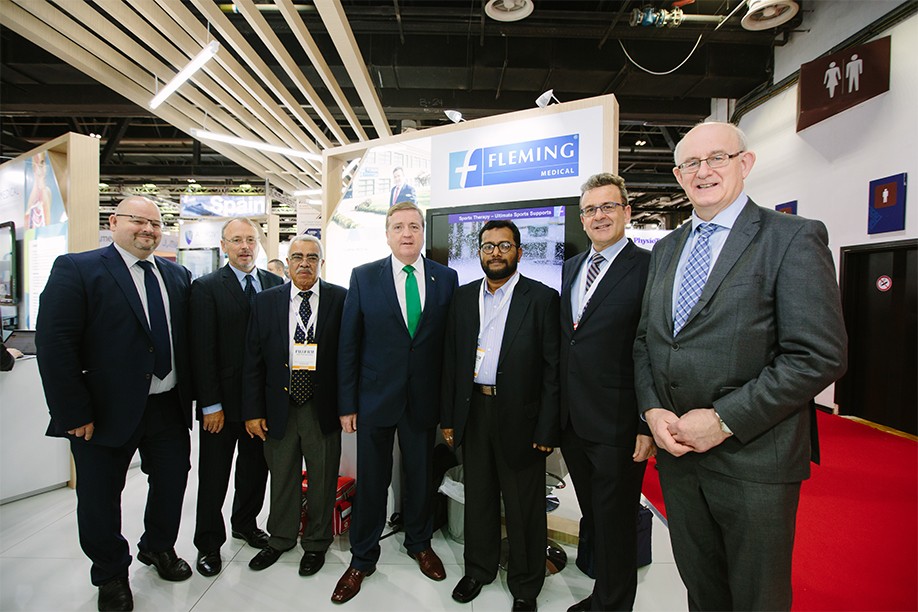 Fleming Medical, a medical device company based in the Mid-West has signed an agreement with Muscat Pharmacy LLC to distribute its Medicare range of products in Oman in a deal worth over €1.1m over the next 3 years.
The company was one of 20 Enterprise Ireland clients companies participating in Arab Health 2017, the largest healthcare exhibition in the Middle East which took place in Dubai from 30th January to 2nd February 2017. The delegation was led by Pat Breen T.D. Minister of State for Employment and Small Business.
Signing the agreement with Muscat Pharmacy LLC, Mark Fleming, MD Fleming Medical, which is based in Limerick, said "We are very excited to see our Irish products on the shelves in pharmacies in Oman. This announcement is further strengthening both the Fleming Medical & Medicare brands on an international stage, we look forward to exploring new markets in the next few years".
Enterprise Ireland, the government organisation responsible for the development and growth of Irish companies in global markets, hosted an exhibition and facilitated attendance for leading Irish healthcare companies at this year's Arab Health, including Aerogen, AmRay Medical, CF Pharma Ireland Ltd., Crospon, Fleming Medical Ltd., IPC Polymers, Kastus Technology, Locatible, Miravex Ltd.,Novaerus, Sedana Medical Ltd., Synchrophi Systems Ltd. and 3D4 Medical.
Clare TD, Pat Breen who led the delegation stated, "The continued expansion of the healthcare sector in the Middle East offers a number of exciting opportunities for Irish companies, who are among the global leaders in life sciences, medical technology and digital heath.
"Our participation at Arab Health each year is demonstrative of Ireland's commitment and contribution to the ambitious growth objectives of this important industry. We look forward to building on this year's success to further develop our businesses and relationships in the Middle East."
Breen also took part in a number of engagements to build on the strong relationship Enterprise Ireland has with healthcare institutions and government bodies in the UAE including; Neuro Spinal Hospital, the Dubai Health Authority, Abu Dhabi Health Services, and VPS Healthcare Group – a healthcare provider with a network of hospitals, medical centres, pharmaceutical manufacturing and pharmacy retailers globally. In addition, Minister Breen visited with Dubai EXPO 2020 and senior representatives of Dubai Electricity and Water Authority to progress ongoing discussions.
Tom Kelly, Divisional Manager of Lifesciences at Enterprise Ireland, said the trade visit was one of 40 international events to help Irish companies identify new markets for their products and services. He pointed out that there is already a high volume of trade between Ireland and the UAE with exports from Irish companies exceeding €124M in 2015.
"Ireland has a well-developed life sciences sector for which we see growth opportunities in the Gulf region. We are keen to use Arab Health as an opportunity to promote Ireland to potential healthcare buyers. Helping Irish companies identify new markets for their products and services is part of Enterprise Ireland's strategy to enable our clients to build scale and expand global reach as part of our response to the UK's decision to leave the EU," added Mr. Kelly.