A Shannon company has signed a €10m contract with a Chinese company for a five-year period.
Reagecon, the world's largest producer of physical and chemical standards, has joined forces with its largest Chinese distributor, Beijing Thorigin, for the distribution of Reagecon's products. All of the products will be produced in Shannon, Ireland, with customer support supplied by Reagecon's Shanghai sales office.
The product portfolio that makes up the contract includes Reagecon's existing products in addition to several new suites of products, recently launched in Shannon by Minister of State for Trade, Employment and Business, Pat Breen. These new products will be targeted at the life sciences, environmental and geology markets. This brings the total number of products developed by Reagecon's workforce of 100 people (50 of which are chemists) at its Shannon facility to almost 10,000.
Reagecon's products are used to calibrate scientific instruments across a whole span of different industries that include pharmaceutical, food, environmental, paper production, beverages and niche areas such as petrochemicals and biofuels. The new launch will significantly increase its penetration potential into life sciences, environmental measurement and testing and geological testing. These are all extremely important growth areas in the Chinese market.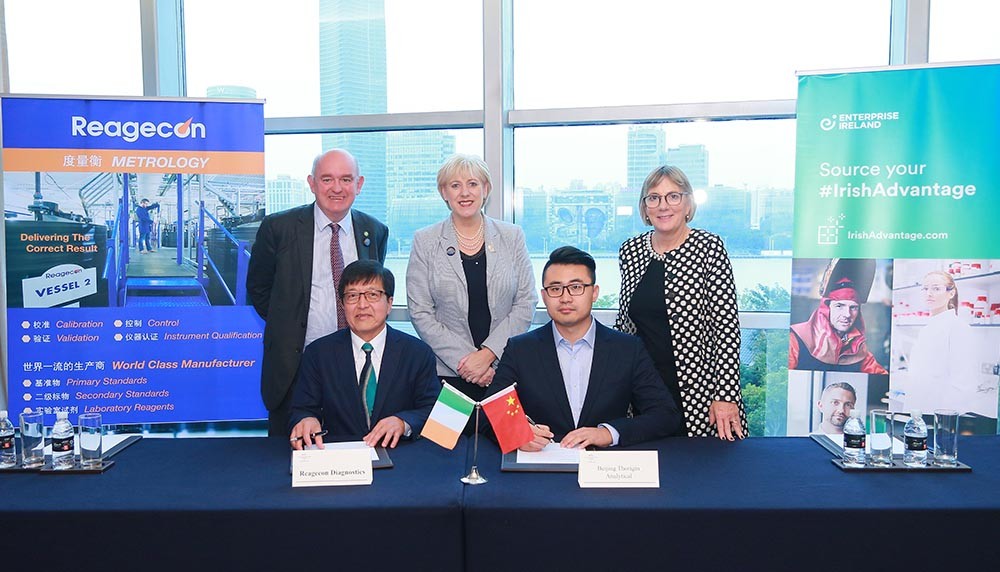 In tandem with the introduction of these new products, and to enable Reagecon more effectively reach its disperse customer base in 175 countries worldwide, the Company has also launched a new innovative eCommerce website (www.reagecon.com).
The delivery of this new range of products has resulted from an acceleration of Research and Development (R&D) activity by the Company, involving an investment of €4,000,000 over the past six years, supported by Enterprise Ireland. The ecommerce launch is the culmination of a significant investment of resources in both website and webshop development.
Reagecon's Director of Sales for the Far East, Lee Choo, commented: "Beijing Thorigin has been an outstanding partner for Reagecon and has worked tirelessly to promote our products in China.  These are very complex products and this distributor has employed a team of highly qualified chemists, specifically to promote Reagecon's products. The company is particularly impressed with our R&D output and this, combined with the quality of our existing products, has led to the decision to agree this major contract."
Reagecon's founder and managing director, John Barron, said: "The products recently launched, targeted at the life sciences, environmental and geology markets, give us a significantly greater footprint in several new markets and in particular in the rapidly growing life sciences market. The resources expended on our new eCommerce site recognise the growing importance that we attribute to this form of sales and marketing and reflects our belief that ecommerce will play a major part going forward in the scaling efforts of the company.
"We expect that within six months, as part of the roll-out of our ecommerce facility, to have full translation in Mandarin of the rich technical content of this new site. Our current 400-page Physical and Chemical Standards Compendium in Mandarin has been available to our Chinese customers for a number of years."
About Reagecon
Reagecon is the world's largest producer of Physical and Chemical Standards, with sales in 175 countries worldwide. The company is based in Shannon, Ireland and has a sales office in Shanghai. The company operates from a 64,000 sq.ft. (6,000 sq. m.) state of the art facility, that includes a large suite of Manufacturing, Quality Control and Research and Development laboratories, and employs 100 people, 50 of which are chemists. The company produces almost 10,000 different products.