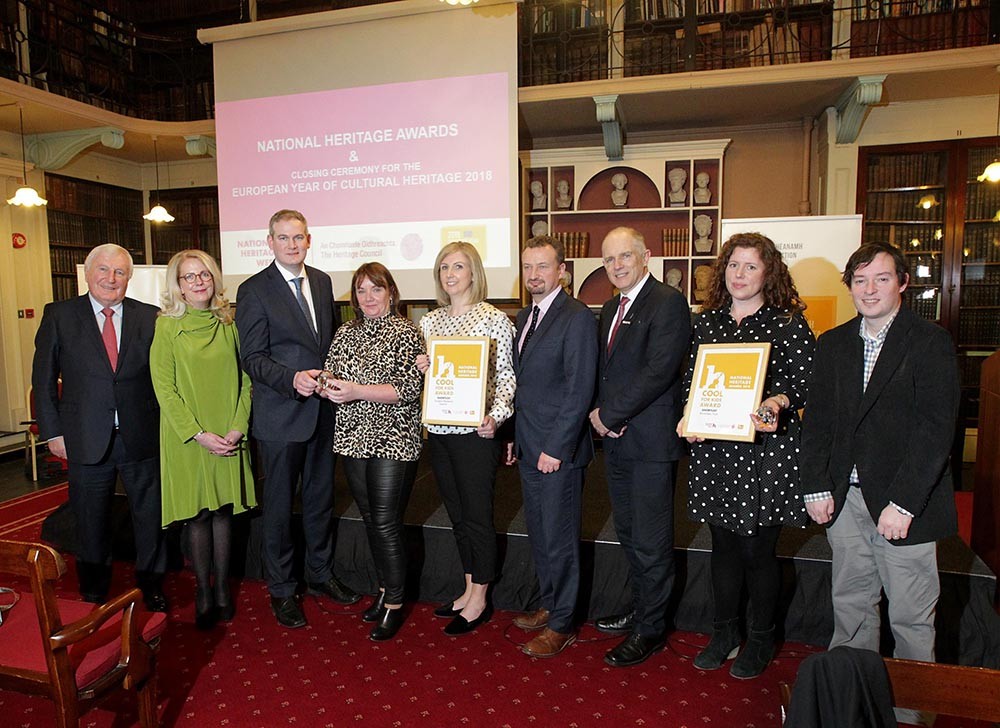 There was success for County Clare at the National Heritage Awards which were held this week at the Royal Irish Academy and were attended by Minister of State at the Department of Culture, Heritage and the Gaeltacht, Seán Kyne TD.
Hosted by the Heritage Council, the National Heritage Week Awards highlight Ireland's 'heritage heroes', and showcase the most engaging and innovative National Heritage Week events, which are coordinated by Clare County Council. Close to 700 nominations were received across five categories in 2018.
As part of the European Year of Cultural Heritage 2018, which encouraged communities throughout Ireland to 'Make a Connection' with Irish and European heritage, a special category was added to the National Heritage Awards 2018. The Le Chéile san Eoraip Award gives special recognition to event organisers who explore heritage links between their community and a country in Europe.
Among the three named winners of the award was Kilrush & District Historical Society.  The group's exhibition, entitled 'An Exhibition of Kilrush Ceramics', celebrated the once nearly forgotten ceramics industry in the West Clare town, and its European connections. From 1961 to 1983, Kilrush Ceramics, owned by the Ueblacker (later Rosenthal), employed over 100 people. The exhibition showcased a selection of its colourful and quirky products made at the factory and explored its history in an Irish and European context.
Killaloe-Ballina Local History Society was named Runner Up in the Hidden Heritage Award category for its 'Sharing Memories' project. The oral history project from the 1990s, of which many local residents were unaware until Heritage Week, captured the lives of ordinary people in the community, offering insights into what these historical twin-towns were like to live in years ago.
Meanwhile, Burrenbeo Trust was a runner-up in the Cool for Kids Award category for its 'Burren Wild Child' initiative, in which children were encouraged to explore the landscape around them through hands-on activities that investigated different habitats and aspects of the environment.
Speaking at the awards, Minister Kyne said: "It is a privilege to attend the National Heritage Awards and to meet just some of the individuals and community groups who proudly fly the flag for Ireland's rich and varied heritage. Their efforts in this regard are recognised and greatly appreciated."
Newly appointed Chief Executive of the Heritage Council, Virginia Teehan said: "Heritage Week and the National Heritage Awards highlight the fantastic work that is carried out in communities across Ireland to preserve and promote our natural, built and cultural heritage. It is wonderful to see such commitment to our shared heritage among individuals and community groups, and to celebrate this commitment with an exciting programme of Heritage Week events every year."
More information on the National Heritage Awards 2018 is available at https://www.heritageweek.ie/about/awards.