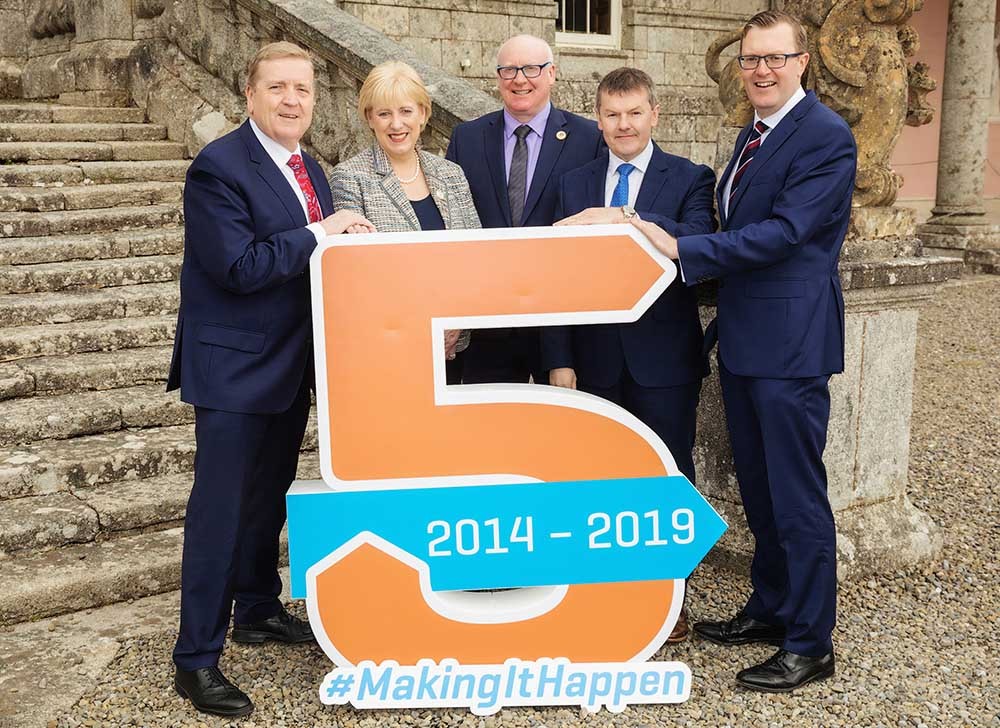 Local Enterprise Office Clare has made a significant impact locally in its first five years with the creation of 752 net jobs locally, €3.4m in funds approved and over 4,000 people trained.
Since the Local Enterprise Offices (LEOs) were established in 2014 they have supported the creation of over 18,600 jobs nationwide with 144,830 entrepreneurs and business people trained in a range of skills over the five years.  They also have distributed €81.5million worth of direct financial assistance to small businesses and entrepreneurs, stimulating job creation in communities across the country.
Minister Heather Humphreys T.D., said; "Since their inception in 2014, the Local Enterprise Offices (LEOs) have played a hugely significant role in generating indigenous employment across the country.  There are now over 36,000 people employed by LEO-supported companies, small Irish businesses that are creating jobs in their own towns and villages. Supporting regional enterprise is a big priority of mine as Minister and it's for this reason that I allocated an additional €5 million to the LEOs in Budget 2019."
Minister Pat Breen, T.D., said, "Small businesses are the heartbeat of the Irish economy and they make a huge impact to local economies across the country.  The Local Enterprise Offices have become the most important resource for any entrepreneur or small business looking for support or training.  With over 144,000 trained and 40,000 receiving specialist mentoring, the LEOs are providing these businesses with the skills and knowledge to start and grow, to create jobs and generate significant revenue for the Irish economy."
Established in 2014 by the Department of Business, Enterprise and Innovation, the 31 Local Enterprise Offices nationwide are operated in a partnership between Enterprise Ireland and the Local Authorities.  Devised as a "first stop shop" for those looking to start a business or for small businesses looking for support, the Local Enterprise Offices are now a significant source of job creation and a hub of entrepreneurship across the country.
Padraic McElwee, Head of Enterprise, Local Enterprise Office Clare, said; "The figures really do speak for themselves when you look across the 5 years of the Local Enterprise Offices.  Clare County Council, through Local Enterprise Office Clare, has played a key role in fostering entrepreneurship in the area and is very much at the fulcrum of the local business community.  That positioning has come through trust, expertise and the ability to help businesses over the toughest of hurdles because we have the resources to do so.  Looking to the future, we are at the forefront of microenterprise and we have an opportunity to help shape policy and supports that we believe will only increase these impressive figures in the next 5 years and give our entrepreneurs and small businesses an even greater advantage in the market."
LEOs offer a comprehensive range of supports from mentoring and training to financial assistance and Brexit planning, to entrepreneurs and small businesses alike to help them to plan, start and grow.  The Local Enterprise Offices also run some significant programmes to increase engagement and draw entrepreneurs and small businesses into the business support eco-system.  These include Ireland's Best Young Entrepreneur (IBYE), the National Enterprise Awards, Food Academy, the Student Enterprise Programme and Local Enterprise Week.
For more visit www.localenterprise.ie/clare.