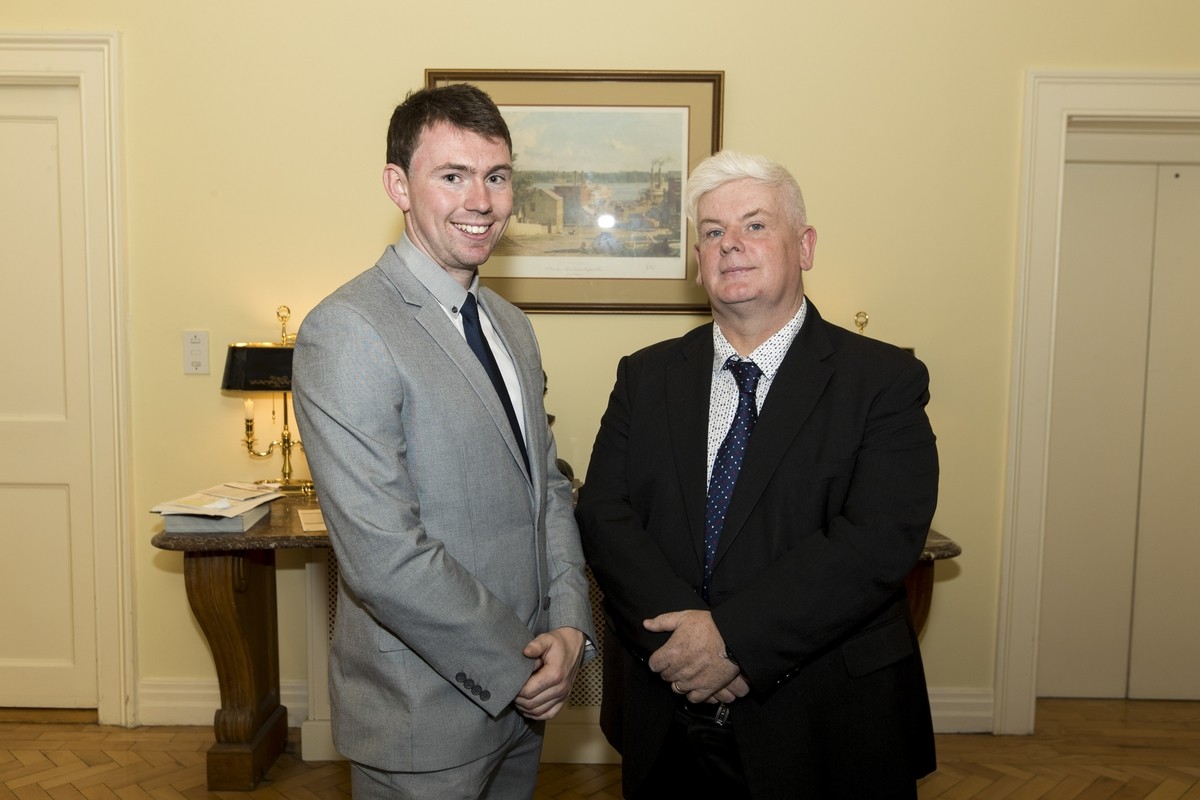 Pa Sheehan from Sixmilebridge, Co Clare was one of thirty nine Fulbright Irish Awardees honoured in Dublin on Friday evening.
The US Ambassador to Ireland, Kevin O'Malley and Ireland's Minister of State for Gaeltacht Affairs & Natural Resources, Seán Kyne TD, announced 39 new Fulbright Irish Awardees at the Ambassador's Residence in Dublin. University of Limerick Master student, Mr Pa Sheehan, was one of these lucky candidates to receive the prestigious Fulbright Award.
A masters student at the University of Limerick, Sheehan will now teach at a top institution in the United States of America.
Since 1957, the Fulbright Awards are given annually by the Irish and US governments, providing Irish students, scholars, and professionals the opportunity to study, research or teach at top American institutions. These all-discipline awards facilitate knowledge-sharing and cultivate connections between Ireland and the US. The Fulbright Program runs in 155 countries worldwide, giving awardees access to an ever-growing network of international expertise.
Pa graduated with a Applied Languages degree in 2014 and is currently a Masters candidate in Languages Education at the University of Limerick. He recently completed a thesis on the hurling pitch as an Irish language learning space and will take up his post as Foreign Language Teaching Assistant at the University of Montana this August.
The US Ambassador to Ireland Kevin O'Malley said, "I warmly congratulate the 2016-2017 cohort of Awardees. The Fulbright Awards are highly competitive, globally recognized, and associated with excellence and prestige so this is a real accomplishment". We are proud to have such bright minds embarking on educational and cultural exchanges to the US, and we look forward to seeing the fruits of their studies and research when they return to Ireland."
Minister of State for Gaeltacht Affairs & Natural Resources, Seán Kyne TD added, "The thirty nine recipients come from varying professional and academics backgrounds including Law, Language Studies, Music, History, Psychology, Archaeology, Ecology, Engineering, Biomedical Sciences, Health and Cybercrime. While in the US, they will not only gain knowledge and expertise in their fields, they will also act as Ambassadors for Ireland, upholding Senator J. William Fulbright's wish to expand the boundaries of human wisdom, empathy and perception through education.
"For us, promotion of the Irish language is a key element of this goal to share knowledge beyond borders. With the support of the Department of Arts Heritage and the Gaeltacht and the National Lottery, the Fulbright Commission will send nine Foreign Language Teaching Assistants (FLTAs) to the US this August to teach Irish language and culture. Past FLTAs have helped establish GAA Teams and Irish cultural events that still flourish in the US to this day – they have made a mark, and we have no doubt that this year's group will do the same".
Dr Dara Fitzgerald, Director of the Fulbright Commission in Ireland said, "The calibre of Fulbright Awardees this year is exceptional and I know they will thrive as cultural Ambassadors in the US and when they return. It has been a personal pleasure this year to engage with all candidates."
The next round of applications for Irish Fulbright Awardees will open on Wednesday, August 31st, 2016. Interested applicants from all disciplines are encouraged to visit the Fulbright Commission's website www.fulbright.ie for more information. Applications for the 2017-2018 academic year will be due on Friday, October 28th, 2016.