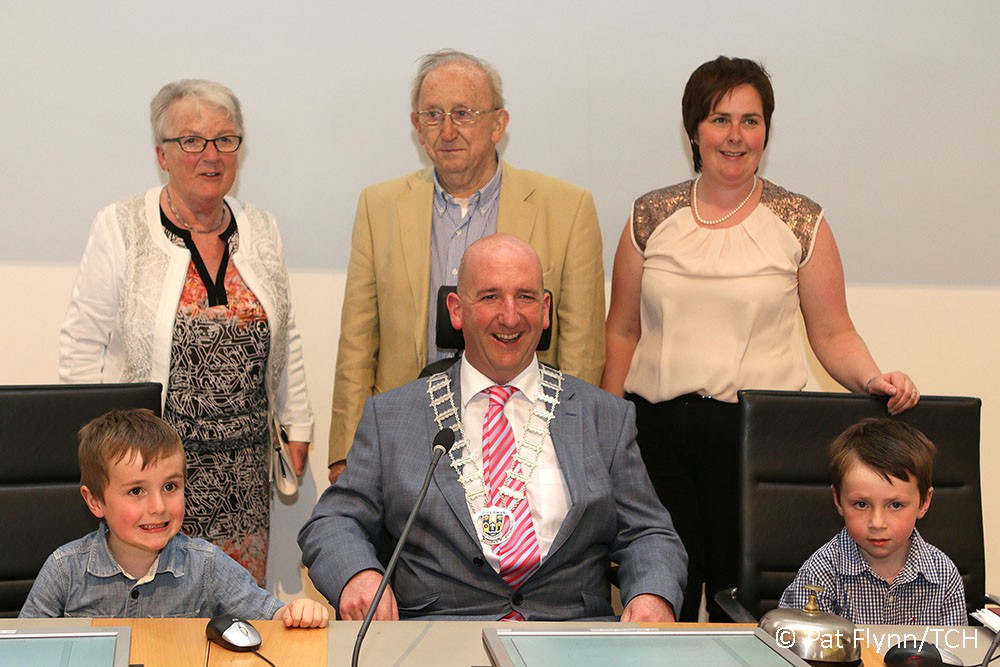 He's not totally in favour of political dynasties but for Cllr Paul Murphy being a member of Clare County Council was always in his DNA.
You see his grandfather Bernie Lynch, uncle Barney Lynch and a cousin of his mother's Jack Daly were all members of the local authority while his great-grandfather Paddy Lynch contested the 1917 by-election against Éamon de Valera. It's what makes his appointment as Leas Cathaoirleach of the Council all the more special.
"My uncle Barney served on the Council at one stage and my grandfather Bernie aswell so that's coming from my mam's side of the family so I'm a third generation councillor, it's an immensely proud day for me from that point of view and a cousin of my mam's served on the Council and chaired the Council actually back in the day so it's nice to keep it going, while I wouldn't be a supporter in general of family dynasties, it's true what people say it can be in the blood but I'd always be for trying to get attract new people into politics".
Paul told The Clare Herald that he is eager to get more experience of life as a public representative whilst in this position for the next twelve months. "It's nice to be elevated to this role, I've been serving on the Council for nine years now so I've served my apprenticeship quietly and this is a chance to get further experience and it'll be good to be there as back-up to Cllr Bill Chambers who's going to be a very steady hand at the helm for the coming twelve months".
The Clarecastle Cllr feels an alteration of his new title would be a good idea but stresses the importance of keeping it to continue to promote our native tongue. "I think it might be no harm to combine the two titles be it Mayor and Cathaoirleach and Leas Cathaoirleach and Deputy Mayor because personally while I'm not brilliant at Irish I'm trying to resurrect my bit of Irish so I would be very much in favour of using the Irish term aswell but certainly if you've to go overseas representing the County, Leas-Cathaoirleach people wouldn't have a clue what it means unless they're going to be strong at the Irish language".
Murphy is a member of the Clarecastle GAA Club Executive, in this capacity he has become acquainted with people all over the County and he believes this will be an asset for the next twelve months. "While most of work would be to do with the Ennis area I would know a lot of people out around the County through GAA connections and through many different connections so I look forward to getting out into the areas and assisting people if they need assistance or to push things on for the betterment of the County".
A former student at St Flannans College, Paul has some ideas in mind for promoting tourism in Ennis that he hopes to implement whilst Leas Cathaoirleach. "I'm not in a position to divulge at the moment, let's just say I'd be hoping to attract some sort of tourist facility to the Ennis area, I have an idea in mind but it's at a stage where I don't want to state publicly yet".
Cllr Mary Howard remarked in the Council Chamber this week that she thought her Fine Gael colleague was making his confirmation such was her shock at seeing him in a suit. Paul informs us that he was worn a suit previously in the Chamber at his first Council meeting. While he prefers the casual attire he has no qualms about suiting up for the year ahead. "I don't mind ever wearing a suit, I'm more comfortable in relatively causal gear not like Mick Wallace or Paul Murphy my namesake in Dublin now".