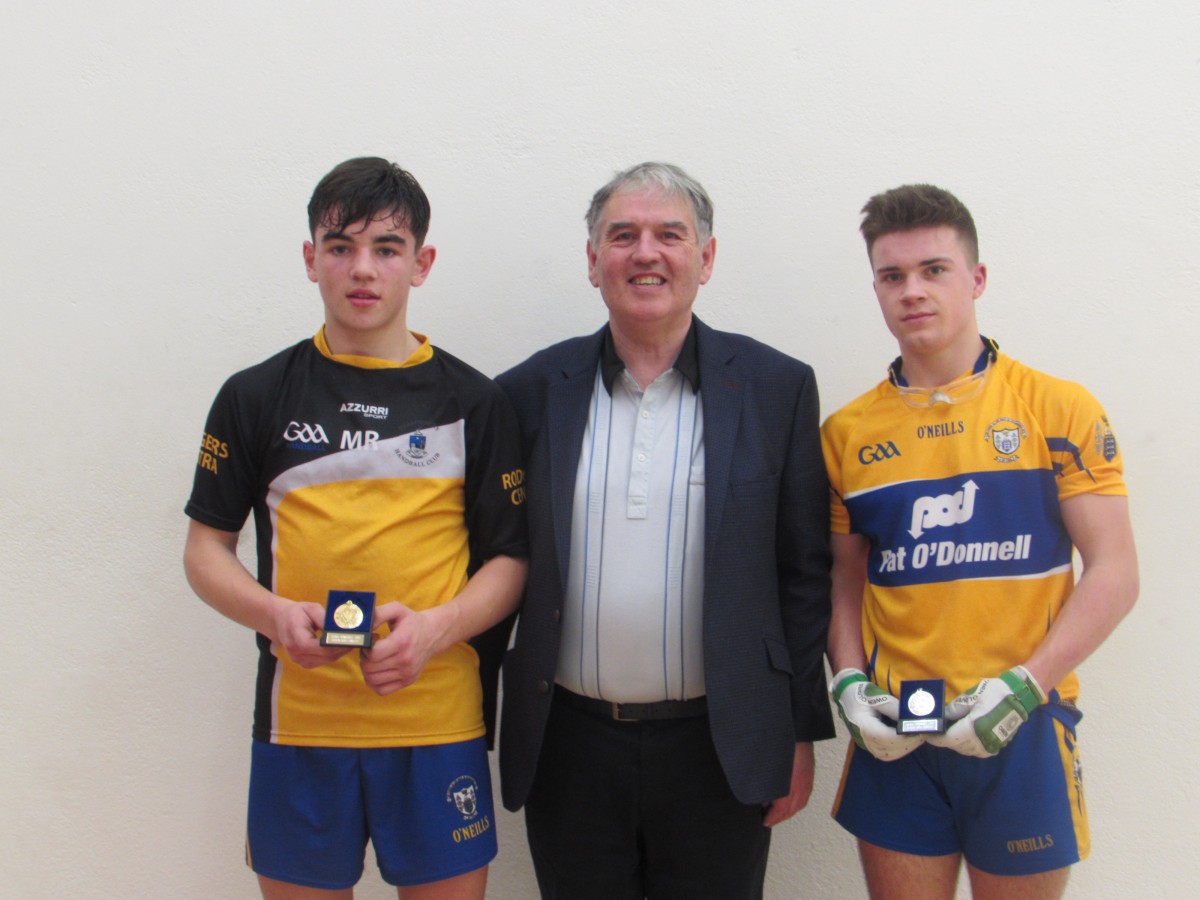 Ten County champions were crowned at the weekend with the Clare Handball Finals taking place.
Newmarket-on-Fergus' Darragh Burke claimed the Boys U17 Singles title defeating Adam Sheedy. Tuamgraney pair, Mark Rodgers and Amber Nolan won the U16 honours in the Boys and Girls categories. The club's success continued with Seanie Doyle picking up the U15 Singles championship.
Chloe Philpott of Kilkishen and Clooney's Darragh Keogh prevailed in the U14 competition beating Alva Rodgers and Tiarnan Slattery respectively. U13 trophies headed the way of Tulla and Tuamgraney with Tony Leydyn and Leah Minouge coming out on top. Eimear Rodgers and Mickey Sheedy won out in the U12 championship.
All county champions will now go on to represent Clare in the Munster series.
Fergal Coughlan Jnr booked his place in the U21 Munster semi-final with a 21-6 21-5 win over Cork's Gearoid O'Connell. Tiarnan Agnew made the last four of the U18 equivalent with a 21-11 21-7 victory against Jerome Cahill from Tipperary. However there was no such joy for John Hurley and Shane Hayes as they bowed out of the Junior B singles.
Primary schools across Co Clare are reminded to put forward students for the annual Cumann na mBunscoil tournament. Singles and doubles competitions take place at U11 and U13 for boys and girls. The action begins on Monday January 30th with the Boys U11 singles in Clooney and doubles in Tulla. It's the same format for Tuesday for the Boys U13. On Wednesday U13 Girls singles and doubles is on in Clooney with Tulla hosting the U11 equivalent. Entries must be submitted to Brian Torpey (batorpey@eircom.net) before Wednesday January 25th.
Results of the Clare County finals A held in Tuamgraney on Sunday January 15th.
UNDER 12 GIRLS A SINGLES COUNTY CHAMPIONSHIPS 2016
Winner EIMEAR RODGERS
UNDER 12 BOYS A SINGLES COUNTY CHAMPIONSHIPS 2016
MICKEY SHEEDY (Tuamgraney) v MICHAEL O BRIEN (Tuamgraney) 15-1 15-7 Winner Mickey Sheedy
UNDER 13 GIRLS A SINGLES COUNTY CHAMPIONSHIPS 2016
LEAH MINOGUE (Tuamgraney) v EIMEAR MURPHY (Kilkishen) 15-0 15-14 Winner Leah Minogue
UNDER 13 BOYS A SINGLES COUNTY CHAMPIONSHIPS 2016
TONY LEYDYN (Tulla) V AARON HAYES (Clarecastle) 15-5 15-0 winner Tony Leydyn
UNDER 14 GIRLS A SINGLES COUNTY CHAMPIONSHIPS 2016
CHLOE PHILPOTT (Kilkishen) V ALVA RODGERS (Tuamgraney) 15-4 15- 1 winner Chloe Philpott
UNDER 14 BOYS A SINGLES COUNTY CHAMPIONSHIPS 2016
DARRAGH KEOGH (Clooney) V TIARNAN SLATTERY ( Tuamgraney) 15-4 15-14 Winner Darragh Keogh
UNDER 15 BOYS A SINGLES COUNTY CHAMPIONSHIPS 2016
SEANIE DOYLE (Tuamgraney) V JIMMY O'GORMAN (Tulla) 15-1 15-3 winner Seanie Doyle
UNDER 16 GIRLS A SINGLES COUNTY CHAMPIONSHIPS 2016
AMBER NOLAN (Tuamgraney) V ORLA O'BRIEN (Tulla) 21-12 21-12 winner Amber Nolan
UNDER 16 BOYS A SINGLES COUNTY CHAMPIONSHIPS 2016
MARK RODGERS (Tuamgraney) V CONOR DOWNES (Tuamgraney) 21-11 21-9 winner Mark Rodgers
UNDER 17 BOYS A SINGLES COUNTY CHAMPIONSHIPS 2016
DARRAGH BURKE (Newmarket on Fergus) V ADAM SHEEDY (Tuamgraney) 21-7 21-2 winner Darragh Burke
Munster Championshp results:
Q/F: U21 Singles: Clare.B.(Fergal Coughlan Jnr) beat Cork.A.(Gearoid O' Connell) 21-6 21-5
Q/F: Minor Singles: Clare.A. (Tiernan Agnew) beat Tipperary.B. (Jerome Cahill) 21 -11 21 -7
Junior B Singles: Limerick.B.(Risteard Duggan) Bt Clare.A.(Shane Hayes)
Junior B Singles: Limerick.A. (Keith Heelan) Beat Clare.B. (John Hurley)