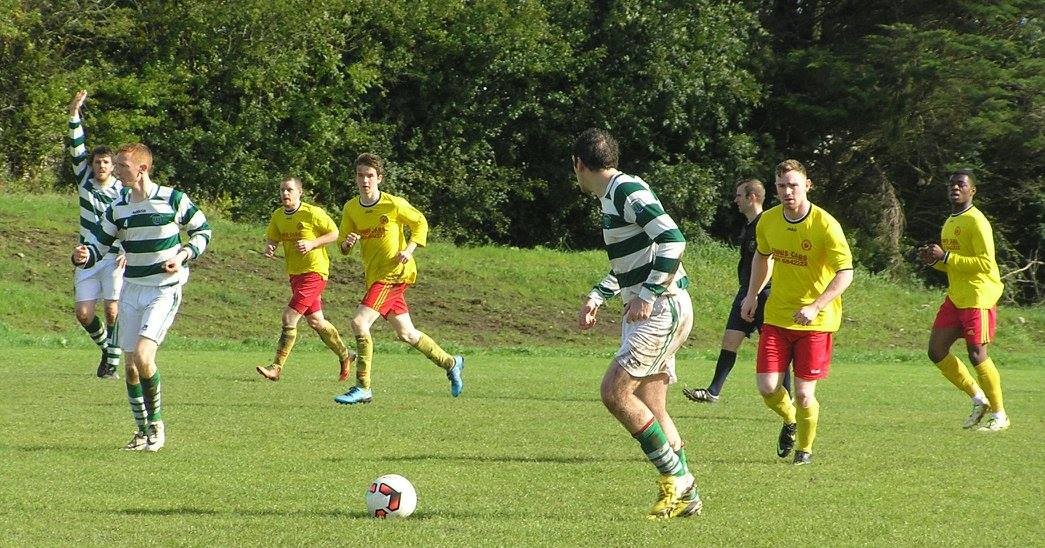 There were wins for Sporting Ennistymon and Ennis Town in the Maloney Garden Machinery Premier Division.
Maloney Garden Machinery Premier Division
Sporting Ennistymon 3
Tulla Utd 2
By Jamesy McConigley
Sporting Ennistymon leap frog Rob Mc Sherry's men into fifth position and inflicted the East Clare teams eight loss of the season to date.
This was a real rip-roaring encounter as Sporting Ennistymon secured a big three points against middle of the table Tulla. The game commenced with both sides creating chances but nothing in truth clear cut.
United took to the field for the first time in a competitive game since the Christmas break and could have taken the lead mid way through the opening half, Oscar Traynor squad member Colin Nelson created space but sadly for Tulla, riffled his effort off the upright and away to safety.
It was Sporting who took the lead, Jamesy McConigley teed up his brother and striker partner Sean to finish with his head. Moments later referee John Grier waved away two penalty appeals for both sides. Sean McConigley was booked for simulation while Eoin Whelan wasn't awarded a penalty in the opposite end.
Ciaran Monoghan brought joy to the home support as he doubled their lead hakf-way through the first half. And this was to be the score at the interval.
Tulla produced a breakthrough within two minutes of the restart. Colin Nelson generated enough room to cannon his attempt from 20 yards out into the bottom right hand corner. United established themselves in the game right from the start of the second half. The visitors began to dominate proceedings and found themselves on level terms when substitute Taoi De Silva, affectionately known as Chow rounded Joseph Gallagher and coolly slotted into the empty net.
Confirmed as a contest now, neither team wanted to settle for a share of the spoils. With the game drawing to a close, Killian Malone whipped the ball in for Sean McConigley to steal in at the back post and gingerly flick past the blinded Sean Cahill. Tulla introduced Darragh Corry in his first appearance of the season and he could have secured a point late on but Gallagher safely clutched the floated header into his chest.
Both sides had players dismissed late on for second bookable offenses but Sporting Ennistymon won't mind as they climb to fifth, behind Avenue on goal difference.
Sporting Ennistymon: Joseph Gallagher; Mark Burke, Thomas Mc Conigley, Michael O'Dwyer, Sean Driscoll; Ciaran Monoghan, Cathal Mc Conigley, Michael Leigh, Killian Malone; Jamesy Mc Conigley, Sean Mc Conigley. Subs: Eoin Brennan for Sean Driscoll
Tulla United: Sean Cahill, Gearoid O'Doherty, Raymond Bane, Kevin Mc Sweeney, Paul Dullaghan, Iago Dionisio, Colin Nelson, Tommy Mc Keown, Johnny O'Brien, Mark Mitchell, Eoin Whelan. Subs: Taoi De Silva for Mark Mitchell, Daragh Corry for Raymond Bane, Gabriel for Iago Dionisio
Shannon Olympic 2
Ennis Town 4
Venue: Limerick Institute of Technology
After a disappointing result last weekend you might have expected Ennis Town to come into this game with their heads down but it was far from it. Having to make the journey into Limerick IT didn't reduce their appetite for this game either.
The game started evenly with both teams eyeing each other up. The breakthrough came on 13 minutes when Olympic took the lead after a mistake by the Town keeper Ciaran MacMathuna. Ennis Town didn't let this goal affect them and they were level within 2 minutes when Conor O'Brien scored after receiving a fine through ball from Sean Collins.
Both teams had their chances during the rest of the first half while Olympic might feel aggrieved having a goal disallowed just before the break for off side. Ennis Town came out flying in the second half and in the first 10 minutes Olympic didn't know what hit them as
Ennis Town scored 3 goals in this period and even had the luxury of missing a penalty also. Nicky Ryan made it 2-1 on 47 minutes when he relieved the centre half of the ball to slot home. On 50 minutes Conor O'Brien scored his second and Town's third with a cracking volley from all of 30 yards which nestled in the bottom corner of the Olympic goal.
Two minutes later Ennis Town had their fourth with Gary Green being first to react to a fine save from the Olympic keeper to slot home. Green was soon in the action again as he was awarded a penalty in the 54th minutes but the Olympic keeper made a fine save from Nicky Ryan.
As the game wore on into the last 20 minutes Olympic began to get a foothold in midfield and were looking now more likely to score. On 80 minutes they got their second scoring a fine headed goal from a corner. Olympic kept up the pressure but some fine defending from the Ennis Town defence held them out.
Ennis Town A: Ciaran MacMathuna, Eoin Keenan, Stephen Horgan, Shane Daniels, Sean O'Callaghan, Shane O Connor, Conor O' Brien, Adrian Walsh, Sean Collins, Gary Green, Nicky Ryan. Subs: Stephen Murphy for O'Callaghan, Daryl Eade for Keenan, Gary Walsh for Conor O'Brien, Conor Clohessy for Nicky Ryan.
Bridge Celtic 3
Bridge Utd 3
Bridge United suffered a damaging setback in their title challenge with an entertaining 3-3 draw with a spirited Celtic side on Sunday morning. The home side opened the scoring on 5 minutes when a long Ollie Phillips throw from the right was headed home by Liam Morris.
United were all square on 25 minutes when Barry Downes picked the ball up 30 yards from goal and rifled home to level the scoring going into the break.
The visitors started the second period brightly and Jon Okoro was very unlucky on 55 minutes when he turned and volleyed from the edge of the area but his effort just skimmed the crossbar. A Lee Wall free kick from 25 yards was very well saved by the Celtic keeper.
On 60 minutes and against the run of play the home side were awarded a penalty for a foul on Gareth Kennedy but Ian Mooney failed to convert. Heading into the final quarter and with the game in the balance the visitors took the lead when a long clearance put Mike McNamara in on goal and he coolly slotted past the Celtic keeper.
The home side were level on 80 minutes when they were awarded a second penalty again for a foul on Kennedy but this time Mooney taker made no mistake.
Almost immediately from the kick off and Bridge Celtic were in the lead when a Alan Mulready pass was intercepted and the Bridge Celtic striker Donie Whelan emphatically finished past Paul Tuohy in the United goal.
With the game wide open now the visitors had valid penalty claims turned away but kept pressing for an equaliser. Eventually the pressure was rewarded when an Ethan Slater corner was scrambled home by Jon Okoro.
Bridge United: Paul Touhy, Barry Downes, Alan Mulready, Darren Murphy, Jonathan Downes, Lee Wall, Darragh Fitzgerald, Terry Lenihan, Ethan Slater, Jon Okoro, Mike McNamara. Subs: Jordan Downes for B Downes.
2nd Division League
Bridge United B 0 Moher Celtic 2
Goals in either half gave promotion chasing Moher a deserved win in Bunratty on Sunday morning over Bridge Utd.
The Sixmilebridge side will hold their 2017 AGM for the schoolboys/girls club on Wednesday 25th of January at 8pm at the Scouts Hall located just beside the railway station.
Team: Barry Deasy, Jay Whyte, Mark Culbert, Cathal Kinnane, Donald Devanney, Adrian Whyte, Conn Agnew, Conor Deasy, Eric Carr, Jay Whyte Gavin Downes, Trevor Maxwell. Subs: Dan Larkin for Downes, Mark Hehir for Deasy, Eoin Gough for Agnew, Johnny Hayes for Devanney, Seamus Barrett for Carr
Suttons Lighting Third Division
Inch Crusaders 6-1 Sporting Ennistymon B
Inch Crusaders started off 2017 in impressive form with a well deserved 6-1 victory over Sporting Ennistymon B at Lees Road on Sunday morning. Inch were on the front foot from the start and were 2 up inside 15 minutes with goals from Brenno Enrique and Ronan Grace.
Padraig Talty made it 3-0 on the half hour mark with a neat finish from the edge of the box. Sporting pulled a goal back from a corner when Gary Lafferty scored with a header. Inch hit back before half time when Grace scored his second with a bullet of a strike to the roof of the net after cutting in from the right wing to leave it 4-1 to Inch at the break. Inch continued their dominance in the second half. The impressive Grace completed his hat-trick with a close range finish after after been put through by Thiago Santana at the start of the second half. Talty got his second of the day to round off the scoring for Inch and keep them in with a chance of promotion.
Inch Crusaders: Thiago Horatio, Sean Talty, Emmet Pyne, Killian Torphy, Enda McGuane, Rory Killeen, Brenno Enrique, Eamonn Bracken, Padraig Talty, Thiago Santana. Subs: Eoghan Culligan for Grace, Eoghan Grace for Pyne, Aaron Bradley for Enrique, Leoardo Gomez for McGuane
Sporting Ennistymon B: Darragh Flynn, James Keane, Milo Keane, Darren Torpey, Joe Kivlihan; David Murphy, Tomas Kelly, Gary Lafferty, Roma Byrne, Evan McNamara, Paul Devitt
Jim Casey Trophies U17 League Group B
Ennis Town 3-0 Tulla Utd
This was a fine game played in Lees Road on Saturday. While both teams had their chances the difference being was that Ennis Town took theirs. Scorers for Ennis Town were Elias Kuntz, Bradley Higgins and Graham Callinan.
Treacys West County Hotel Clare & District Soccer League Results
Sunday 15th January 2017
Munster Junior Cup Round 3
Avenue Utd 3-0 Shannon Town
FAI Junior Cup Round 6
Newmarket Celtic 2-3 Killarney Celtic
Maloney Garden Machinery Premier Division
Shannon Olympic 2-4 Ennis Town
Bridge Celtic 3-3 Bridge Utd
Sporting Ennistymon 3-2 Tulla Utd
First Division League
Lifford 1-3 Kilrush Rangers
Bridge Utd B 0-2 Moher Celtic
Turnpike Rovers 5-1 Kilkishen Celtic
Hermitage 2-1 Mountshannon Celtic
Selprint Second Division
West Clare FC 2-4 Rineanna Rovers
Rhine Rovers 0-1 Tulla Utd B
St Pats 3-0 Manus Celtic
Suttons Lighting Third Division
Inch Crusaders 6-1 Sporting Ennistymon B
Corofin Harps B 2-4 Shannon Town B
Saturday 14th January 2017
Munster Youths Cup Round 4
Avenue Utd 1-0 Dungarvan
CDSL Youths League
Bridge Utd 1-2 Newmarket Celtic
Jim Casey Trophies U17 League
Group B
Hermitage 3-2 Avenue Utd B
Coole FC 6-1 St Pats
Ennis Town 3-0 Tulla Utd
Treacys West County Hotel Clare & District Soccer League Fixtures
Wednesday 18th January 2017
Hugh Kelly Premier Division Cup
Frank Healy Park, Doora 6:45pm Shane Hayes
Bridge Celtic v Bridge Utd
Note: In event of a draw 10 mins e/w extra time & penalties if necessary
Saturday 21st January 2017
Jim Casey Trophies U17 League
Group A
Lahinch: Moher Celtic v Shannon Town 11am Michael Rock
Group B
Cragg: Tulla Utd v Avenue Utd B 11am John Guerin
Kilmihil: St Pats v Ennis Town 11am Pa Gleeson
CDSL Youths League
Roslevan: Avenue Utd v Bridge Utd 2pm Niall Quinn
Cassidy Pk: Lifford v Newmarket Celtic 2pm Trevor White
Sunday 22nd January 2017
Munster Junior Cup 4th Round
Carew: Carew Pk v Avenue Utd 2pm (Limerick officals)
Fairgreen: Fairview Rangers v Coole FC 2pm (Limerick officals)
Riverside: Shannon Hibs v Thurles Town 2pm
Julian Sandford(ref) John Grier Flan Sheedy
Note: In event of a draw 10 mins e/w extra time & penalties if necessary in all games
Maloney Garden Machinery Premier Division
Cragg: Tulla Utd v Newmarket Celtic 11am Martin OBrien
Lynch Pk: Shannon Town v Ennis Town 11am Terry Kennedy
First Division League
McDonagh Pk: Newmarket Celtic B v Kilrush Rangers 11am Rob Hennessy
Bunratty: Bridge Utd B v Kildysart Celtic 11am James Ferns
Lahinch: Moher Celtic v Hermitage 11am Pa Gleeson
Scariff: Mountshannon Celtic v Kilkishen Celtic 11am Mark Rellis
Roslevan: Avenue Utd B v Turnpike Rvs 11am Michael Rock
Selprint Second Division
Kilmaley School: Connolly Celtic v Ennis Town B 11am Trevor White
Ballycasey: Rineanna Rvs v St Pats 11am Frank Coote
Fairgreen Track: Manus Celtic v Tulla Utd B 11am Michael Talty
Suttons Lighting Third Division
Bunratty: Bunratty/Cratloe v Inch Crusaders 2pm Sean Kenneally
Corrib Drive: Shannon Town B v Lifford B 11am Flan Sheedy
Wednesday 25th January 2017
Hugh Kelly Premier Division Cup
Frank Healy Park, Doora
Ennis Town v Newmarket Celtic 6:45pm
John Grier
Note: In event of a draw 10 mins e/w extra time & penalties if necessary
Note: All results to be with Donal Kirby on 085-1765828 immediately after games otherwise a €40 fine will be incurred.