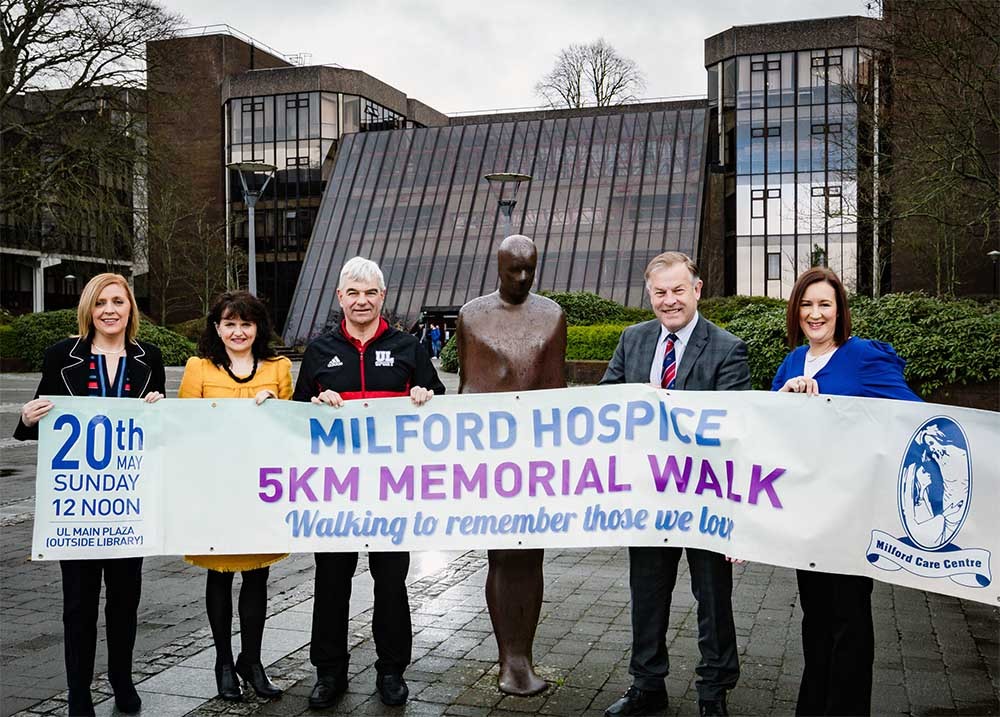 The third Milford Hospice Memorial Walk will be held on May 20th and will be followed by tribute ribbons in memory of deceased loved ones, being placed on the Memorial Tree by family members, friends or work colleagues.
Launching this years event, Dave Mahedy, Director, Sport and Recreation at University of Limerick expressed his delight in UL's association with the event.
"I think this is a wonderful concept by Milford and I know it will be really well supported by people all over the region. UL Campus is the ideal location for the Memorial Walk and I can't emphasise how essential the services that Milford provide, are to the people of the Mid-West.
We are very proud to have Milford Care Centre as our next door neighbours.  There isn't a family within a 100 mile radius that hasn't benefited from their services.  They do an amazing job to meet the expanding needs of patients and their families". He encouraged the wider community to support the event saying, "I am asking people from across Counties Clare, Limerick and North Tipperary to get involved and take the opportunity to remember their loved ones while also assisting in raising vital funds for Hospice care" he said.
Pat Quinlan, Chief Executive of Milford Care Centre said: "The people of the Mid West have been fantastic supporters of our work at Milford Hospice down through the years and we are grateful to them for their wonderful generosity.  In launching the Memorial Walk which has become a popular fundraising activity, it really provides a focused opportunity for people to remember their loved ones."
"The funds raised from sponsorship activities play a vital role in helping us meet the growing demand for our services. We recently opened our new state of the art Specialist Palliative Care in Patient Unit with increased capacity ensuring that all of our service users will be given full respect and dignity at all times through the availability of all single rooms and additional family accommodation. For all of these reasons, more than ever we have and will very much continue to have a heavy reliance on voluntary fundraising", added Mr. Quinlan.
The Memorial event begins at noon from a new location on the main Plaza outside the library and there will be stewards to direct patrons to this new start area.  The walk will wind its way through the university campus grounds before arriving at the Memorial Tree in Milford Hospice.
This event is suitable for those of all levels of fitness and ability and the Centre's organisers are asking anyone who wishes to take part to register for the event as soon as possible. There will be no entry fee, but the organisers are encouraging people to seek sponsorship for the lunchtime walk or else to make a donation.
Fundraising Co-ordinator Anne Marie Hayes said: "It's necessary for everyone to register for the event on https://www.milfordcarecentre.ie. There's no entry fee for this – and registration and sponsorship cards can be arranged by contacting us at the Fundraising Department on 061 485859, between 9am and 5pm, Monday to Friday; by email to fundraising@milfordcarecentre.ie or by post to Fundraising Department, Milford Care Centre, Castletroy, Limerick."
"We encourage as many participants as possible to be with us on the day and we would love if people taking part were to ask friends, work colleagues and family for sponsorship or a donation to assist in funding our services for the future. The walk will start from the new location on the main UL Plaza outside the library and each person who has registered before the walk will then write their tribute on the ribbon. Each person will walk the 5km with their memorial ribbon. When the participants arrive on the grounds at Milford the ribbons will be placed on the Memorial Tree," Anne Marie explained.
"After placing the ribbon on the Memorial Tree each ribbon bearer will be presented with a special Memorial Pin. This pin will depict the circle of life and symbolises the strengths and resources that we can draw on as we adjust to the loss of someone special. This special occasion will be a time to reflect, perhaps to laugh or cry but in thankful remembrance of those we love," she outlined.
Later in the year, all the tribute ribbons will then be placed under the Centres Christmas Tree in the Milford Care Centre Chapel as they continue to remember with love.