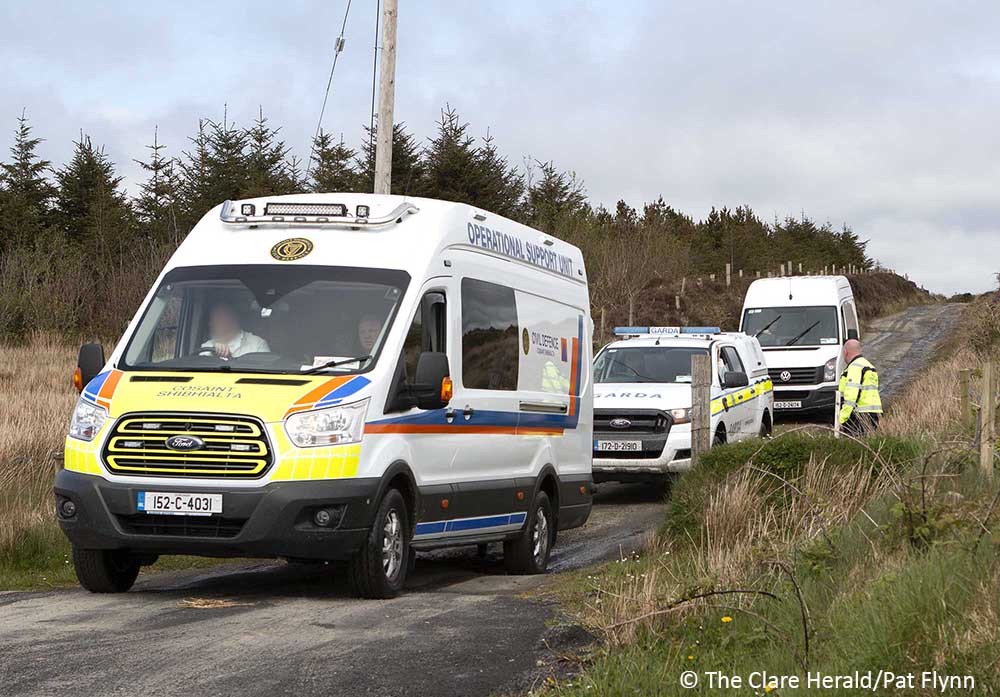 The body of a British soldier believed to have been executed by the IRA almost 100 years ago has been exhumed from a bog in Co Clare.
18-year-old Private George Duff Chalmers was a member of the 2nd Battalion of the British Army's Royal Scots based in Clare during the War of Independence. He died on June 10th 1921 at Drumbaun, Co Clare after, it's believed, he was captured and executed by members of the Irish Republican Army (IRA).
Early yesterday (Monday), representatives of the Commonwealth War Graves Commission (CWGC), working alongside the Office of Public Works (OPW) and Clare County Council, exhumed Pvt Chalmers remains.
The dig commenced at around 7.00am in a bog at Rockmount about 4kms from Miltown Malbay .
It's understood that the site, which had been identified and marked previously, was surveyed to confirm there was a body buried there. The decision to exhume and rebury the remains was made by the UK based CWGC after they were contacted by the Chalmers family last year.
A Civil Defence all-terrain vehicle (ATV) was brought in to transport representatives of the CWGC, OPW, Clare County Council and Gardaí to the burial site at Rockmount. Conditions in the bog were said to be challenging and very soft underfoot. Civil Defence teams from Clare and Dublin provided equipment and support for the excavation.
After being exhumed yesterday (Monday), the remains were taken to Ennistymon Church where a brief prayer service was held outside and attended by relatives of Pvt Chalmers.
Pvt Chamlers will be reburied at Grangegorman Military Cemetery in Dublin while a rededication ceremony will take place later this year.
A spokeswoman for the Commonwealth War Graves Commission (CWGC) said: "Until August 2016, Private Chalmers was not listed in The Commonwealth War Graves Commission's records, despite being eligible. A review of the case by the Ministry of Defence saw Private Chalmers officially recognised and CWGC records were amended. "
"In 2017 the CWGC was contacted by the family of Private Chalmers who enquired about the possible relocation of his remains to an alternative location. CWGC identified that as the current location was difficult to access and maintain, relocation of the remains would be possible," she added.
The CWGC is responsible for commemorating the men and women of the Commonwealth forces who died in the First and Second World Wars, including the building and maintenance of cemeteries and memorials across the world.
War graves from the First World War located in Ireland are managed on CWGC behalf by the Office of Public Works (OPW).
Pvt Chalmers had been with soldiers from the Royal Scots travelling to Moughna in a convoy of four lorries. He is believed to have jumped from one of the trucks in the area of Lavoureen.
It's believed Chalmers was on his way to visit a girl he had been seeing while the convoy of trucks continue without him. It's thought he was soon captured by two members of the IRA and brought before a group of local IRA officers.
During his interrogation he refused to give his name or any other information and was subsequently court-martialled by the IRA and sentenced to death. He was executed on suspicion of being a spy on an intelligence gathering mission and buried in an unmarked grave.
The story became a part of folklore in the area and locals had been told not to cut turf in a local bog as a British soldier had been buried there. However, some turf cutters dismissed the story as an old wives' tale until in the 1950's when a group of young men accidentally stumbled across what were believed to be Pvt' Chalmers' remains.
It's understood they quickly reburied the remains and went cutting turf elsewhere. The grave was later marked with a cross while about 20 years ago an inscribed 'slab' was also placed at the site.
Pvt Chalmers is understood to have been one of four British servicemen who were executed by the IRA in Clare during the War of Independence.