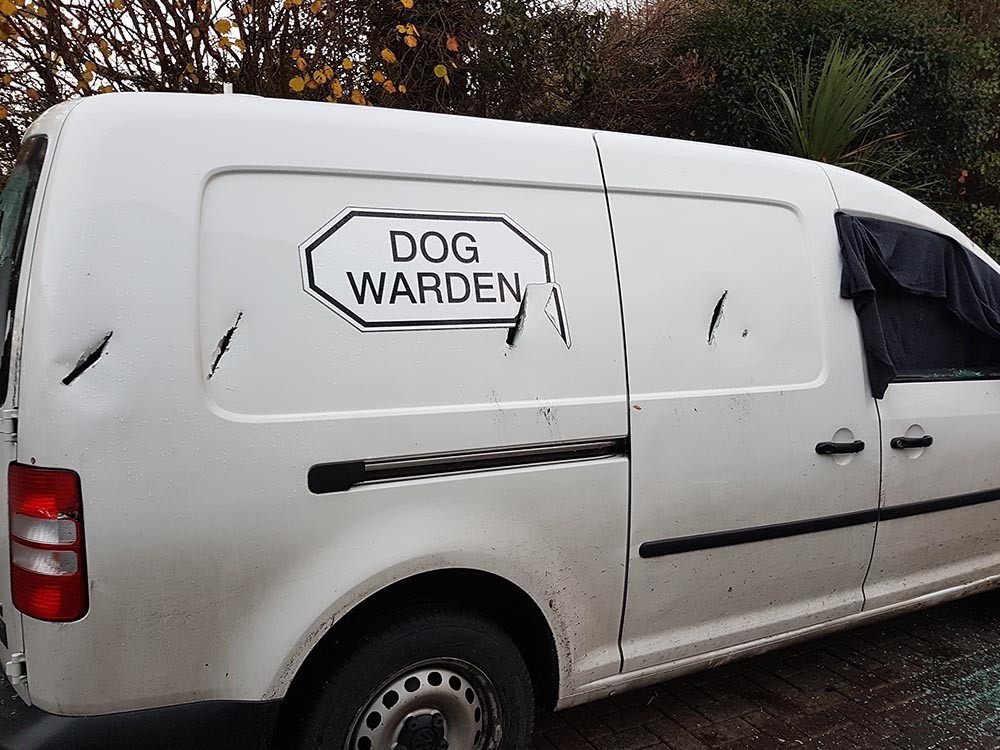 Gardaí in Clare are investigating a serious incident of criminal damage at the home of the county's dog warden.
Thousands of euro worth of damage was caused to two vehicles and a window at the home of Mr Frankie Coote. Mr Coote was at home with his wife late last night when the shocking incident occurred.
"I was just sitting down to watch the 9 o'clock news when I heard what I thought were gunshots. Then the window in the sitting room came in on top of me," Mr Coote said.
"I walked out to the front door and saw a young person running out my gate. There's a lot of damage done. My van could be a write-off I'd say. There was a hatchet put through the windscreen, the engine, the doors, the side panels and the back windows," a shocked Mr Coote said this afternoon.
Mr Coote's wife's car, which was also parked in the driveway, was also extensively damaged.
"I have dealt with confrontation in the past because of my job and I've been assaulted but my home was never attacked before. I believe it was connected with my job," Mr Coote added.
While Mr Coote saw one individual running from the scene, it's believed that as many as three people may have been involved and that two of them carried out the attack. A third is believed to have been waiting a vehicle nearby.
"It all happened in seconds and there was a lot of damage done so there had to have been more than one person involved," he said
Superintendent Brendan McDonagh of Ennis said: "Gardaí in Ennis are investigating this incident of criminal damage. It happened at around 9.00pm on Wednesday and one person was seen fleeing the area at that time. Our forensic team has examined the scene and our investigation is ongoing."
"We would appeal to anyone who was in the Drumcliff Road area of Ennis at around 9.00pm on Wednesday to contact us if they saw any suspicious persons or vehicle," Supt McDonagh added.
Gardaí in Ennis can be contacted on 065 6848100 while the Garda Confidential Line is 1800 666 111.