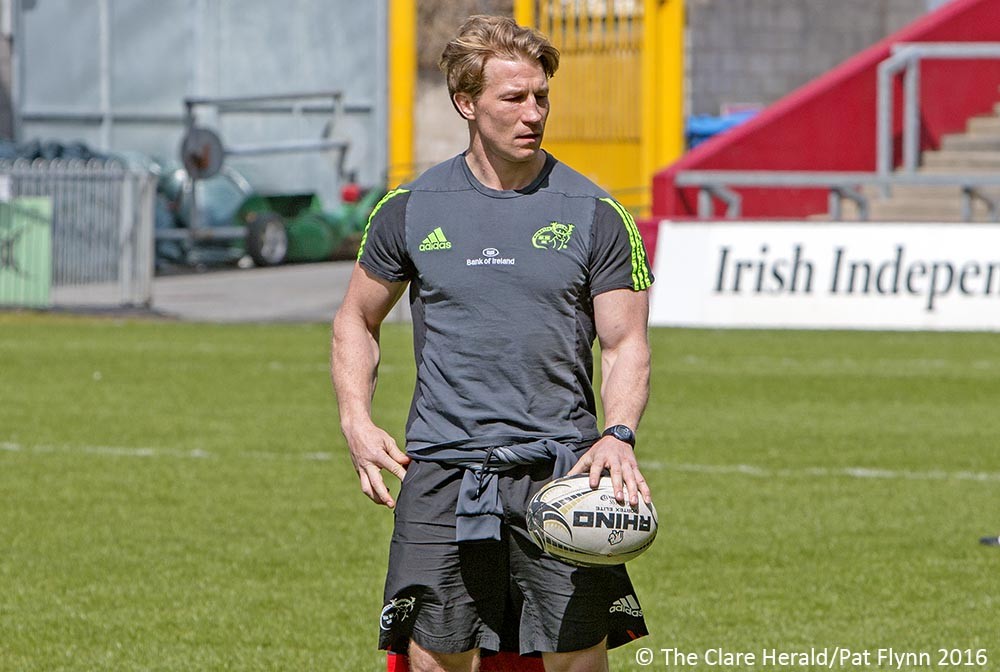 Former Munster and Ireland hooker Jerry Flannery is calling on potential participants to hold their nerve and scale 160 feet down the side of one of Ireland's most well-known buildings to help make wishes come true for seriously ill children all across Ireland.
On Saturday 25th May, Make-A-Wish Ireland will bring its exhilarating abseil event to Thomond Park Stadium, Limerick that calls on participants to fundraise in exchange for the exhilarating experience of abseiling off the iconic home of Munster Rugby. While the Make-A-Wish exclusive abseiling event is coming to Limerick for the first time, it's the fourth year that the charity is running this exciting event.
Plucky participants are asked to raise €350 for Make-A-Wish, before they abseil off the roof of the famous stadium, with all funds raised going to grant magical wishes for children living with life threatening illness such as cystic fibrosis, leukaemia and cognitive heart conditions, all across Ireland.  The generosity of thrill-seeking supporters played a huge part in helping Make-A-Wish grant 211 unique and memorable wishes to brave children in Ireland last year.
Event participants will abseil alongside an inspiring group of people including parents whose children's wishes have been granted by Make-A-Wish, the charity's corporate supporters and volunteers. One can take part in a variety of ways: as an individual, as part of a group or corporate team.
Jerry Flannery said" "I'm very proud to be part of this fantastic event and this wonderful charity that does such important work for children and their families, providing hope and support during very dark and difficult times. Not only will this event provide people with a fun event and the opportunity to complete a personal challenge, it will also help raise essential funding for Make-A-Wish. Sign up today to make a real difference."
Make-A-Wish CEO Susan O'Dwyer is looking forward to the event: "The Abseil event is such an exhilarating challenge. The bravery and commitment of participants to their fundraising goals will help us continue to grant wishes to children living with life threatening illnesses. We have seen first-hand the almost magical power of granting much-hoped for wishes. It has a hugely positive impact on a child and their families, giving strength, hope and joy – allowing children to experience the magic of childhood and take a break from the drudgery of medical treatment. We're inviting individuals, corporate teams and local sponsors to take part in this exclusive and exciting event and help us to make these wonderful children feel extra-special by granting their one true wish."
Make-A-Wish Ireland has one simple aim – to grant the wishes of children with life-threatening medical conditions, bringing hope, strength and happiness. Since 1992, Make-A-Wish has granted wishes for more than 2,400 brave children across Ireland, including 211 wishes granted in 2018 alone. A wish granted is true magic for the child, providing respite from their normal routines of hospitals, doctors and treatment. Research shows that children who have wishes granted are more likely to build the physical and emotional strength they need to fight a critical illness. This improves their quality of life and produces better health outcomes.
Our abseiling event is coming to Limerick on Saturday 25th May. Former Munster and Ireland hooker @jerryflannery is calling on potential participants to scale 160 feet down the side of the iconic home of Munster Rugby – Thomond Park Stadium. Register here: https://t.co/emrKDM83Xe pic.twitter.com/XJ3GdnkiY1

— Make-A-Wish Ireland (@MakeAWish_ie) February 27, 2019
Make-A-Wish Ireland does not receive any government funding and adheres to the 'triple lock' standards of transparent reporting, good fundraising and governance as set out by Charities Institute Ireland. Charity Registration Number: CRA20052256 / CHY15267.
Participants must fundraise a minimum of €350 to take part which includes €50 non refundable registration fee to be paid upon registration. Those who raise €500 or more will be in with a chance of winning return flights from Westjet.  Registration is now open at www.makeawish.ie or for more information emailmary@makeawish.ie or call the office on (01) 205 2012.