Marty Morrissey's 30-year career in sports broadcasting will be recognised with the awarding of an Alumni Achievement Award by his alma mater University College Cork (UCC) this Friday.
Other UCC alumni being recognised on the night for their achievements will be Naomi James, the first woman to sail solo around the world via the treacherous Cape Horn route, Ireland's renowned Michelin starred chef, Ross Lewis, one of the country's best-known psychologists, Dr Maureen Gaffney and a pioneering surgeon, Professor Calvin Coffey.
"My first ever commentary was on the back of a tractor and trailer"
"I'd love to say I had a great plan. This was all an accident. In 1984 my Club Kilmurry -Ibrickane were playing our great rivals and neighbours Miltown Malbay in the Clare Under 21 Football Final, and the Post Office owner in Quilty Patrick Galvin decided to get a video done of the game. He asked me to do the Commentary  which I refused initially  but eventually relented and so I headed to Doonbeg on October 28th ( it was my birthday!!) and did my first ever commentary on the back of a tractor and trailer" commented the RTÉ sports broadcaster, who was born in Mallow (1958), raised until he was ten in the Bronx in New York, before returning with his family to live in Co Clare. He graduated with an Arts degree from UCC in 1980.
Marty Morrissey joined RTÉ in 1989, has been a member of 'The Sunday Game' team for 30 years and commented on every All Ireland Hurling Final on TV and radio since 2012, but the passionate GAA fan and former Clare county player, was initially refused by RTÉ, "I started applying to RTÉ and the more they refused me, the more I wanted it and finally I got my chance 3 years later, and here I am today! As I said, an accident!" (See editor's note for more quotes)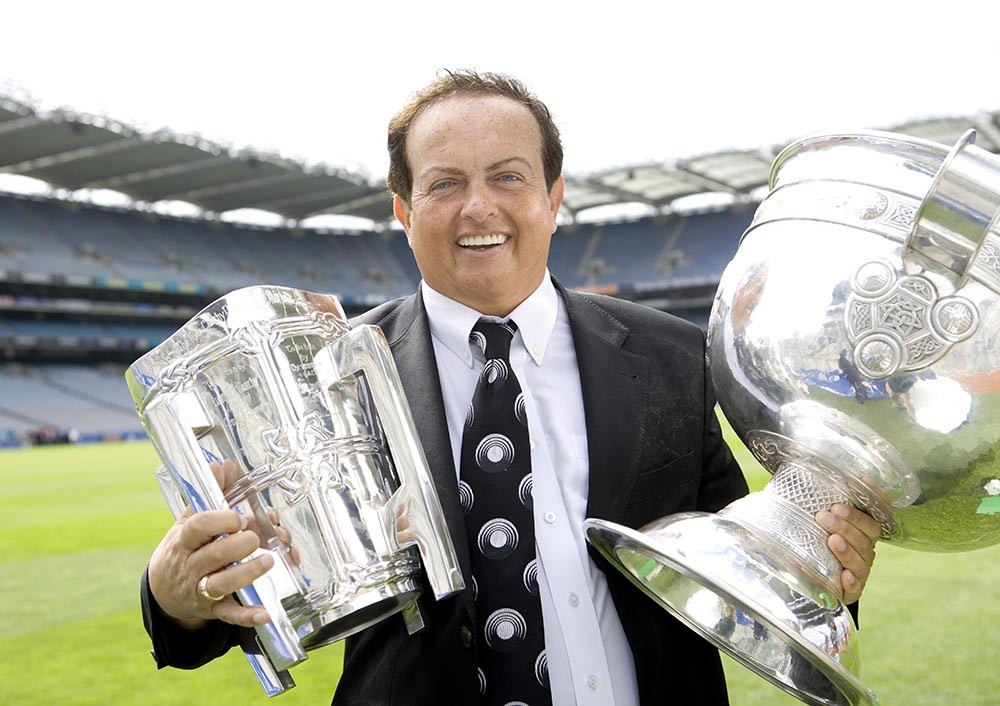 Marty Morrissey 
Marty Morrissey spent the first ten years of his life in the Bronx, New York. He returned with his parents to Quilty, West Clare, and continued his education at St Flannan's, Ennis and later, UCC. He was goalkeeper with the university's Gaelic Football Club and played in both the Sigerson and Cork County Football Championships.
After graduating, he taught Maths and Biology at St Joseph's Secondary School, Spanish Point and guided the school to their first ever Munster Colleges Football Title while completing his Master's in Education in NUI Galway. In addition, he adds, "Never give up, never take 'No' for an answer, and today you have wonderful opportunities in local radio and newspapers, who do incredible work every day and every week.  Start local and be patient.  Learn your trade. Listen and listen again.  And, don't forget every national story is a local story. For me the word "Trust" is crucial. People have to trust you and that takes time to build but never break that trust."
Commenting on how media has changed he stated "The biggest change is Social Media. It has changed everything. Everything is now. There is no waiting for the 9 o'clock News!   The second change is Technology. When I started in RTE, five or six of us would travel down to Cork or Kerry to do a feature…Cameraman, Sound Engineer, Director, Production Assistant, Lighting Engineer and a Reporter. Today it's just me and a Cameraman. If the broadband is strong and the Cameraman has the technology, you can broadcast live to the nation…..it's incredible".