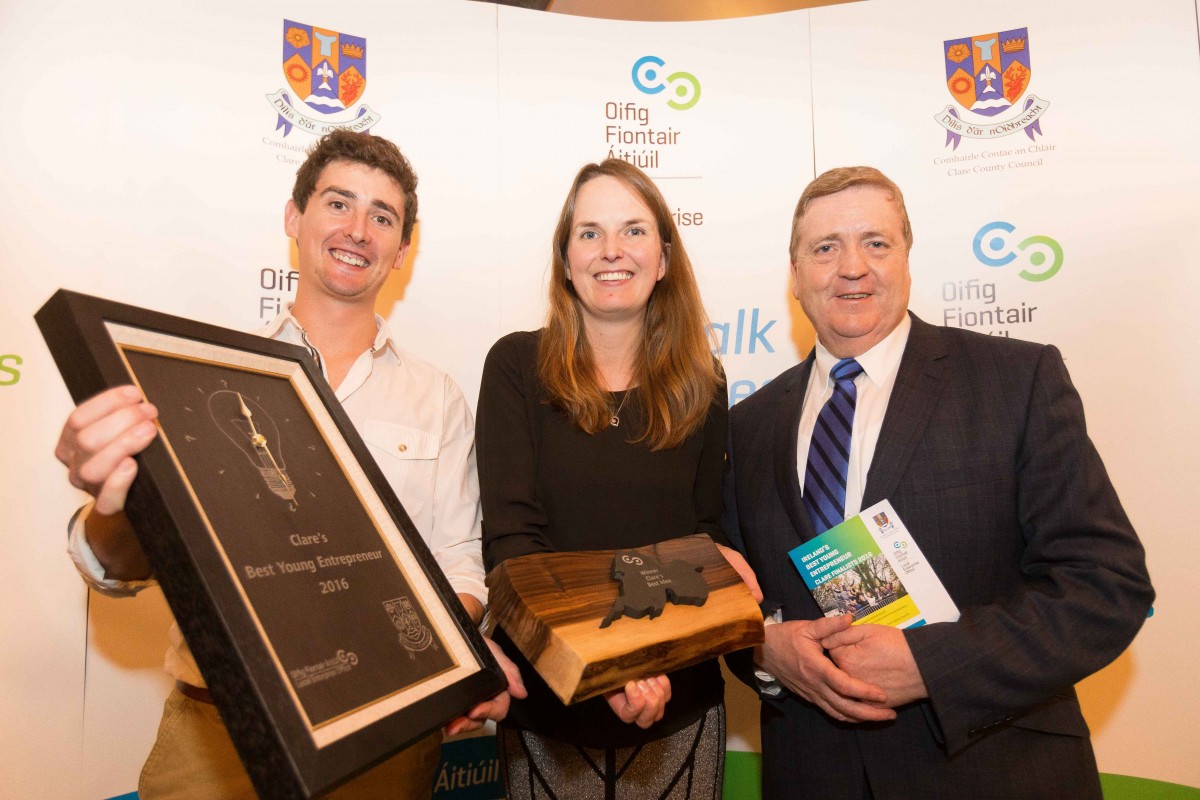 Clare's best young entrepreneurs have been honoured at the County Final of Ireland's Best Young Entrepreneur (IBYE) competition, which took place in the Buttermarket Building in Ennis last night (Thursday).
A €50,000 investment fund was presented by Local Enterprise Office Clare to six young entrepreneurs from the county all aged between 18 and 35.
IBYE, which has a €2 million investment fund, is run by all 31 Local Enterprise Offices (LEOs) and is supported by the Department of Jobs, Enterprise & Innovation and Enterprise Ireland.
Local Enterprise Office Clare named Damian Mason (35) as overall "Best Young Entrepreneur" for his business idea, Flexibod. The Scarriff-based entrepreneur also won the 'Best Business Idea' category and an investment fund from LEO Clare worth €7,000.
Popular app used by sports club all over Ireland and beyond, Clubify was rewarded with Sixmilebridge's Aidan Quilligan (28) receiving the award in the 'Best Start Up' category. Evan Talty (31) from Wild Irish Seaweed (Quilty) was honoured in the 'Best Established Business' category. The top prize in the 'Best Start Up' category was €15,000, with a top prize of €15,000 for the 'Best Established Business' category. All three category winners will now be representing Clare at one of eight IBYE Regional Finals, taking place during January and February 2017.
Meanwhile, the category runners-up also shared an investment of €13,000 between their three businesses. They were: Brian Kelly (32) of Bull Match (Kilnaboy) in the 'Best Business Idea' category; Michael Eustace (35) of Western Herd Brewery (Kilmaley) in the 'Best Start Up Business' category and Caroline Gardiner (33) of Carrie's Cakes (Ennis) in the 'Best Established Business' category.
"It bodes well for the future of the Irish economy that our young people have the confidence and skills to generate such exciting and innovative business ideas," stated Cllr. Bill Chambers, Cathaoirleach of Clare County Council.
He continued, "The successes of smaller indigenous businesses are central to the fortunes of our economy. Our young entrepreneurs and SME owners are generating hundreds of new jobs every week. That is why I fully support this competition. Supported locally by Clare County Council – through Local Enterprise Office Clare – it generates a healthy environment for our young business men and women to develop their ideas and their own potential."
Attending the event, Minister of State for Employment and Small Business, and local T.D., Pat Breen said: "Ireland's Best Young Entrepreneur is now in its third year and the initiative has gone from strength to strength. This year, we have had an outstanding response nationally with a record breaking 1,800 entries from young people up and down the country. This exceeds last year's amount by some 400. It is very encouraging to see that the number of entries from Co. Clare also rose this year, from 31 applicants in 2015 to 46 in 2016.
"Having met the young entrepreneurs at the IBYE County Final here in Clare, I can see the wealth of talent that exists in the county. IBYE is a fantastic initiative that can support this business ambition and potential in our younger entrepreneurs all around Ireland. The country needs more young entrepreneurs to set-up and grow businesses in every region, to create and sustain more jobs throughout the Mid-West and around the country" Breen added.
Padraic McElwee, Head of Enterprise Clare, commented "The primary purpose of the IBYE initiative is a springboard for young entrepreneurs in Clare who want to start or expand a business. The number of initial entries for this year's competition exceeded our expectations with 19 young entrepreneurs progressing to the final stages. The quality and commitment of this year's finalists made it difficult for our judges to select the award winners with very little separating the different participants. This augurs well for the future of our young entrepreneurs and I look forward to assisting all tonight's finalists progress their business aspirations and create much needed employment in Clare. Finally, I congratulate tonight's award winners and wish tonight's category winners every success as they progress now to represent Clare at the upcoming Regional finals in late January".
The vital role of the judging panel was also acknowledged at the awards ceremony and this year's judges included: Harriet Cotter, Senior Regional Development Executive with Enterprise Ireland, Noel Marshall, entrepreneur & inventor of Bricky and BackBaller and Michael Byrnes CEO of Acton BV. The Regional Finals for IBYE are taking place in January and February 2017, to select 24 national finalists across the three competition categories.