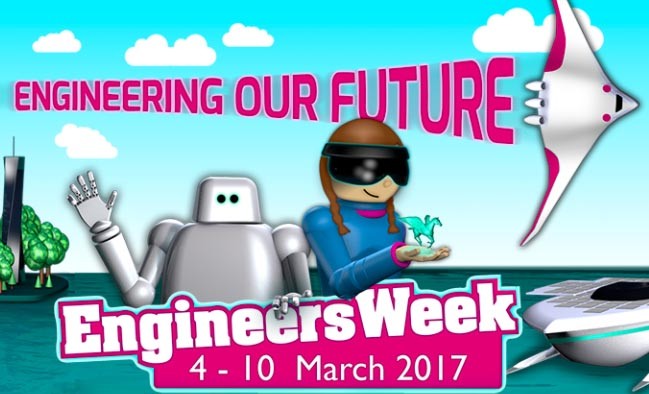 Engineers Ireland is calling on primary and secondary school teachers in Clare to take the Engineers Week Challenge and bring the world of engineering alive in their classroom during Engineers Week.
The seven day programme of nationwide events will celebrate the world of engineering in Ireland and will take place from 4th – 10th March.
The annual event is coordinated on a national basis by Engineers Ireland's STEPS programme – funded as a strategic partner of Science Foundation Ireland's (SFI) Smart Futures Programme.
As well as events organised by the Atlantic AirVenture Aviation Centre, Lufthansa Technik and CW Applied Technologies (Shannon) Ltd for students in Clare, primary and secondary school teachers are also encouraged to run their own classroom-based activities, quizzes and competitions.
The Engineers Ireland STEPS programme team has created a number of free online resources for teachers that are currently available for download on their website. These include an easy to use 'Primary School Challenge' pack which contains lots of ideas to help primary school teachers organise fun, hands-on and engaging challenges that will help get students involved in science, technology, engineering and maths (STEM).
Secondary school teachers can also download a custom designed 'Exploring careers in Engineering' classroom challenge pack or virtually visit a Power Plant with ESB's interactive educational resource on electricity generation for students.
By taking part, teachers will receive an Engineers Week participation certificate and will also have the opportunity to win a fun, engaging STEM show or workshop for their school. Secondary School students will also have the opportunity to win a Samsung Tablet by entering the 'Engineering in your Locality' photo competition, details of which can be found in their teacher's challenge pack.
Commenting in advance of Engineers Week, Caroline Spillane, Director General of Engineers Ireland, said: "I would like to congratulate the increasing number of primary and secondary school teachers getting involved in Engineers Week and would encourage other schools to join us in helping school children to discover the fascinating world of engineering.
"Engineers Week is a chance for teachers and young people to find out more about the many career opportunities available within the engineering sector and encourage more students to pursue engineering at third level because Ireland and the world needs more engineers.
The Week also highlights how a career in engineering is accessible to all those who have an interest in the sector. There are many misconceptions about the 'type of person' who should pursue engineering and during Engineers Week we can show people that the world of engineering is open to everyone – girls, boys, creative thinkers, curious minds, problem-solvers and leaders," she continued.
Dr Ruth Freeman, Director of Strategy and Communications at Science Foundation Ireland, said: "Science Foundation Ireland is delighted to be supporting Engineers Ireland and Engineers Week 2017. These initiatives enable us to engage with young people and inspire them to consider further study and a career in STEM. Encouragement in the classroom in these early years has the potential to spark a curiosity that could be the foundation of a lifelong interest or career."
To find out more about events taking place in Clare or to submit the details of any activities you and your class plan to complete, visit: www.engineersweek.ie