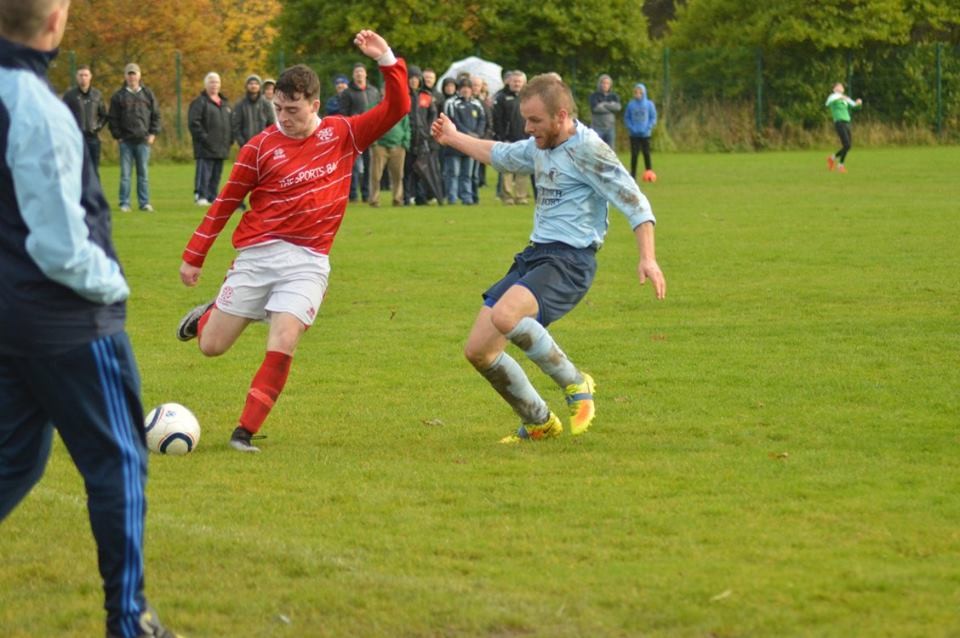 Newmarket Celtic and Shannon Town played out a 2-2 draw in an exciting contest on Sunday morning.
League leaders Shannon Town welcomed reigning champions Newmarket Celtic to Lynch Park in an interesting ninety minute battle. Rob Wall put the hosts in front when he took advantage of a Rob Shier error.
Centre-half Mark Donlon got Celtic back on level terms when he headed an Eoin Hayes cross to the back of the net. Donlon received his marching orders from referee James Ferns shortly after with the decision leaving a large proportion of the spectators bemused.
Eoin Hayes put Celtic in front when he tucked away a penalty which was awarded for a handball.
In the final twenty minutes Shannon Town struck for goal with a Chris Lake free kick taking a deflection to beat Rob Shier and get the Town a share of the spoils.
Newmarket Celtic: Rob Shier; Seamus Lawlor, Paddy Purcell, Mark Donlon, Eoin O'Brien; Ian Collins, Tino Nzvaura, Colin Ryan, Brian Monaghan; David McCarthy, Eoin Hayes.
All pictures by Matthew Crowe
Elsewhere in the Premier Division, Tulla Utd had one goal to spare over Bridge Celtic while Bridge Utd had a comprehensive victory against Ennis Town.
Treacys West County Hotel Clare & District Soccer League Results
Sunday 13th November 2016
Maloney Garden Machinery Premier Division
Shannon Town 2-2 Newmarket Celtic
Bridge Celtic 1-2 Tulla Utd
Ennis Town 0-4 Bridge Utd
First Division League
Newmarket Celtic B 5-2 Avenue Utd B
Kilkishen Celtic 1-1 Mountshannon Celtic
Coole FC 3-0 Bridge Utd B
Kilrush Rangers 0-0 Hermitage
Lifford 1-4 Kildysart Celtic
Selprint Second Division
Rineanna Rvs 1-2 Connolly Celtic
Rhine Rvs 2-1 Ennis Town B
West Clare FC 2-2 St Pats
Tulla Utd B 2-0 Kilmaley Fern Celtic
Suttons Lighting Third Division
Shannon Hibs 4-1 Moher Celtic B
Lifford B 2-4 Shannon Town C
Saturday 12th November 2016
FAI YOUTHS CUP ROUND 2
Askeaton AFC 5-1 Bridge Utd
St Brendans Pk 3-4 Avenue Utd (AET)
FAI U17 CUP ROUND 3
Newmarket Celtic 0-3 Kilfrush Crusaders
CDSL Youths League
Lifford 2-5 Sporting Ennistymon
Treacys West County Hotel Clare & District Soccer League Fixtures
Saturday 19th November 2016
FAI U17 CUP Round 3
Galway Hibs v Avenue Utd 2pm (Galway Officals)
CDSL Youths League
Cassidy Pk: Lifford v Newmarket Celtic 2pm Trevor White
Corrib Drive: Shannon Town v Bridge Utd 2pm Niall Quinn
Sunday 20th November 2016
FAI Junior Cup Round 4
McDonagh Pk: Newmarket Celtic v Bridge Utd 11am Michael Rock
Mounthawk Pk: Dingle Bay Rvs v Avenue Utd 2pm (Kerry Officals)
Munster Junior Cup Round 2
Ballycasey: Rineanna Rvs v Shannon Town B 11am Julian Sandford
Lees Road: Turnpike Rvs v Coole FC 1.30pm John Grier
Lees Road: Ennis Town v Lifford 11am Padraig Sutton
Olympic Pk: Shannon Olympic v Shannon Hibs 11am Martin OBrien
Maloney Garden Machinery Premier Division
Lynch Pk: Shannon Town v Bridge Celtic 11am Terry Kennedy
First Division League
Kilrush: Kilrush Rangers v Kilkishen Celtic 11am Mark Rellis
College Pitch: Kildysart Celtic v Hermitage 11am James Ferns
Scariff: Mountshannon Celtic v Moher Celtic 11am Flan Sheedy
Selprint Second Division
Kilmaley School: Connolly Celtic v Ennis Town B 11am Trevor White
Cragg: Tulla Utd B v West Clare FC 11am Dylan Shannon
Kilmihil: St Pats v Manus Celtic 10:30am Barry McCarry
Suttons Lighting Third Division
Cassidy Pk: Lifford B v Corofin Harps B 11am Frank Coote
Lees Road: Inch Crusaders v Shannon Town C 11am Sean Kenneally
Olympic Pk: Shannon Olympic B v Sporting Ennistymon B 2pm Sean Kenneally
Bunratty: Bunratty/Cratloe v Moher Celtic B 2pm Flan Sheedy
Note: All results to be with Donal Kirby on 085-1765828 immediately after games otherwise a €40 fine will be incurred.