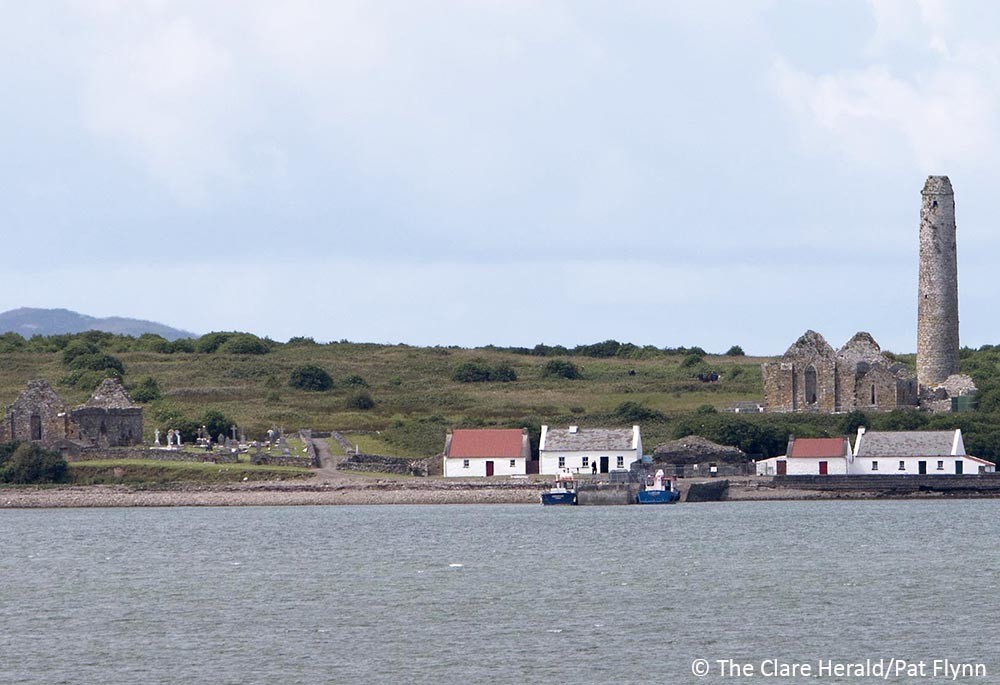 Scattery Island has been shortlisted for a major award in the European Destination of Excellence (EDEN) competition.
Fáilte Ireland has confirmed the three Irish finalists of this year's EDEN competition to find the destination in Ireland which has best used its local tangible cultural assets to grow visitor numbers.
EDEN is an EU project promoting sustainable tourism development across the European Union and is held every two years in 29 member states.  The three Irish finalists this year are Scattery Island, Clare the Ceide Coast, Mayo, and The Norman Way Wexford. The overall winner will be announced at the end of September.
The theme of the 2017 EU-wide EDEN competition is "Tangible Cultural Tourism" and the three Irish finalists are now preparing for on-site assessments during the week of Monday 4th September when they will be visited by a panel of expert adjudicators.  Tangible cultural assets can include such features as traditional historical or archaeological monuments/sites, industrial sites, museums, theatres, galleries, contemporary architectural sites and modern urban districts of towns.
The assessment of the finalists will allow each one an opportunity to provide further evidence to show how they are balancing their own tangible cultural assets with the local environment to develop a viable tourism destination.
Commenting on the competition, Paddy Mathews, Fáilte Ireland's Head of Investment & Innovation, said:
"We are delighted to announce the three Irish finalists shortlisted in this year's EDEN competition. Each of these applicants has clearly demonstrated the best examples of how tangible cultural assets have been used to benefit both tourists and local communities.
"Ireland has long been recognised for the richness of its cultural heritage which is of critical importance to our attractiveness to visitors. We have over 5,000 years of material culture which tells an exciting and engaging story for our visitors. Communities across Ireland are fiercely proud of their heritage and culture and many have harnessed these assets through tourism to deliver real social and economic benefits for their local areas."
The 2017 winning destination will receive marketing assistance in the form of a dedicated photo shoot of the destination – as well as a certificate of achievement. Also, the EU will profile the winning destination from each Member State on www.edenineurope.eu and will offer each winning destination, participation in the EU EDEN network.
Commenting on being shortlisted, Ian Lynch, Scattery Island Heritage and Development Group said:
"We are delighted to be selected for this year's EDEN Award short list. While it may be a surprise to many, locally we have long since recognized the unique and magical experience of Scattery Island. The Scattery Island Heritage and Development Group have worked hard over the last number of years with our partners in the OPW, Clare County Council and wider community groups to ensure development of the island has taken place in line with best practice given its unique place in our local culture and its unparalleled built heritage spanning 1400 years."
EDEN is an EU project promoting sustainable tourism development across the European Union and is currently held every two years in 29 member states.  Previous Irish winners include the Burren Food Trail (Tourism & Local Gastronomy), the Great Western Greenway (Tourism & the Regeneration of Physical Sites) and Loop Head (Aquatic Tourism).