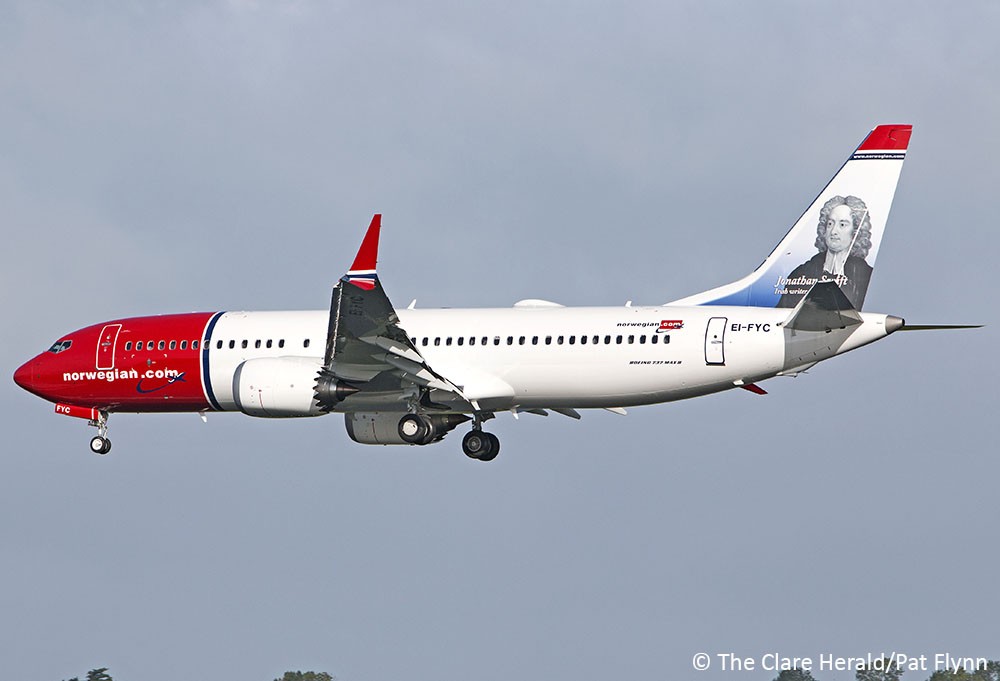 Update:
The Irish Aviation Authority (IAA) has decided to temporarily suspend the operation of all variants of the Boeing 737 MAX aircraft into and out of Irish airspace, in the light of the two fatal accidents involving the aircraft in recent months.
In a statement this afternoon, the IAA said: "This decision has been taken based on ensuring the continued safety of passengers and flight crew, which is the IAA's number one priority.
This temporary suspension will take place with effect from 15.00hrs on 12th March 2019.  The IAA has taken this decision pursuant to its powers under the Irish Aviation Authority Act 1993 (IAA Act 1993).
The IAA's decision has been made taking account of the unprecedented loss of two Boeing 737 MAX in recent months.
The IAA has been closely monitoring the situation, however, as we do not currently have sufficient information from the flight data recorder we have, as a precautionary measure, issued instructions to stop any flights on Boeing 737 MAX from any operator arriving, departing or overflying Irish airspace.
During the temporary suspension, the IAA will continue to work closely with the European Aviation Safety Agency (EASA), the US Federal Aviation Authority (FAA) and the manufacturer Boeing."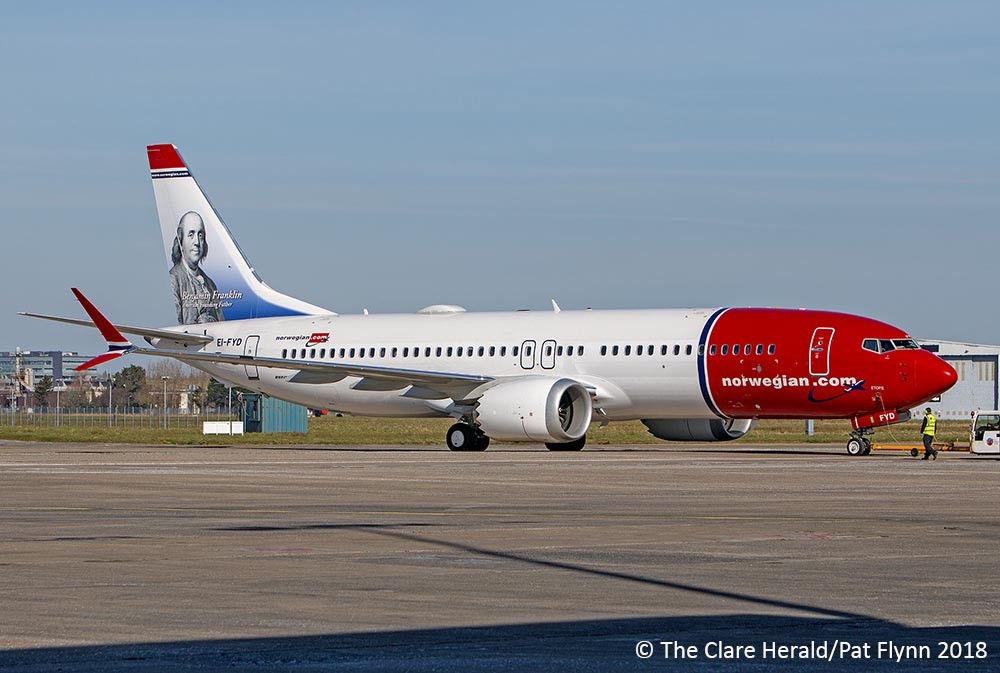 Earlier: Norwegian Air has confirmed that it is grounding its fleet of Boeing 737 MAX aircraft.
The carrier, which is due to resume transatlantic operations from Shannon Airport later this month, has confirmed the news this afternoon.
In a surprise move last November, Norwegian Air International, confirmed plans to suspend services between Shannon and New York-Stewart International Airport on January 13th. In October, the airline dropped its flight from Shannon to Providence Rhode Island from the winter schedule.
Both services are expected to resume on March 31st with four flights per week to Boston while the frequency on the New York route will increase from three to five weekly departures.
The company has not commented on what effect, if any, the grounding of its Boeing 737 MAX fleet will have on its Shannon operations.
Norwegian temporarily suspends flights with the Boeing 737 MAX 8, following recommendations by European aviation authorities. We will do our upmost to take care of our passengers in the best possible way. https://t.co/kZICrrRGsN

— Norwegian (@Fly_Norwegian) March 12, 2019
In a statement, the company said: "Norwegian temporarily suspends flights with the Boeing 737 MAX, following recommendations by European aviation authorities
Following the decision by the relevant aviation regulatory bodies to temporarily suspend operations of Boeing 737 MAX, Norwegian will not operate any flights with this aircraft type until further notice.  We remain in close dialogue with the aviation authorities and Boeing, and follow their instructions and recommendations.
Norwegian has more than 110 Boeing 737-800 aircraft in its fleet, which is not affected by this temporary suspension.
We would like to apologize to customers who will be affected by temporary cancellations and delays, but the safety and security of our customers and colleagues will never be compromised, and once authorities advise to cease operations we will of course comply.
Tomas Hesthammer, Norwegian's acting Chief Operating Officer said: "In response to the temporary suspension of Being 737 MAX operations by multiple aviation authorities we have taken the decision to not operate flights using this aircraft type, until advised otherwise by the relevant aviation authorities. We would like to apologize to customers for any inconvenienced caused, however, safety will always remain our top priority."