*Emergency services across the county remain on standby and area already responding to calls.
*Cancellations at Shannon Airport
*The Community Centre on the Circular Road in Kilkee is open to any persons who require shelter during the storm
*Hotel opens doors to any who requires assistance
*Bus Éireann services cancelled for rest of day.
As the county experiences the effects of Storm Ophelia, Clare County Council has established an Emergency Helpline (1890-252943) to deal with requests for assistance from the public in relation to fallen trees, blocked roads, flooding and other non-life threatening incidences.
Members of the public with water services queries should contact the Irish Water helpline number on 1850 278 278.
The public is also urged to call 999 or 112 in the event of an emergency. When you call the Emergency Call Answering Service (ECAS) you will be asked whether you require Gardaí, Ambulance Service, Fire Brigade or Coast Guard.
Clare's principal emergency response agencies are advising members of the public and services providers to avoid any non-urgent travel due to the Red Alert weather warning in place. Clare County Council, An Garda Síochána and the HSE have discussed the necessary plans for responding to the Status Red weather warning.
Visit https://t.co/Ya6cRSewct for latest developments in County #Clare relating to Storm #Ophelia pic.twitter.com/PSEEg82suo

— Clare County Council (@ClareCoCo) October 16, 2017
Meanwhile, Clare County Council has confirmed that all Local Authority public buildings and facilities, including Áras Contae an Chláir, Area Offices, Civic Amenity sites, leisure facilities, library branches and visitor attractions, will close at 11.00 a.m.  The Local Authority response to the severe weather will continue to be operated from Áras Contae an Chláir.
A spokeswoman for Shannon Airport said: "Shannon Airport will remain open today, Monday 16th October.  The safety of our passengers and staff is our first priority. We would ask passengers to contact their airline with regard to updates on schedule changes today."
The following flights landed safely at Shannon this morning:
Aer Lingus New York EI110 landed at 05:27am
Aer Lingus Boston EI134 landed at 05:33am
Norwegian Air Providence landed at 06:55am
The following flights departed from Shannon this morning:
Ryanair Manchester FR4777 departed at 07:14am
Ryanair London Stansted FR102 departed at 07:19am
Aer Lingus London Heathrow EI380 departed at 07:41am
However, at this point we are aware of the following flight cancellations:
Aer Lingus Regional Edinburgh EI3675 inbound service due at 10:35am
Aer Lingus Regional Edinburgh EI3672  outbound service due to depart 11:05am
Aer Lingus Regional Birmingham EI 3639 inbound at 6:35pm
Aer Lingus Regional Birmingham EI3638 outbound at 7:00pm
Aer Lingus London/Heathrow EI381 inbound at 11:15am
Aer Lingus London/Heathrow EI384 outbound at 12:30pm
Ryanair Wroclaw FR1172 departing at 10:50am and returning at 5:00 pm as FR1173
Ryanair Faro FR2303 departing at 10:20am, and returning at 4:20PM as FR2304
Ryanair Lanzarote FR1345 at 11:30am and returning as FR1344 at 12.00 noon.
United Airlines flights UA25 inbound from Newark at 7.00am and UA24 departing at 9.05am
Delta Airlines New York JFK DL406 inbound flight diverted to Dublin.
Delta Airlines New York JFK DL206 outbound due to depart Shannon at 11.50am cancelled until tomorrow morning.
Airlines will continue to advise passengers of schedule changes and we strongly advise intending passengers to check the status of their flight with their airline before travelling to the airport.  We will continue monitoring the situation throughout the day. Live flight information is available on www.shannonairport.ie or on the Shannon Airport App.  We will continue to post updates today on our social media channels (Twitter and Facebook) as we become aware.  But, again, we would encourage passengers to contact their airline."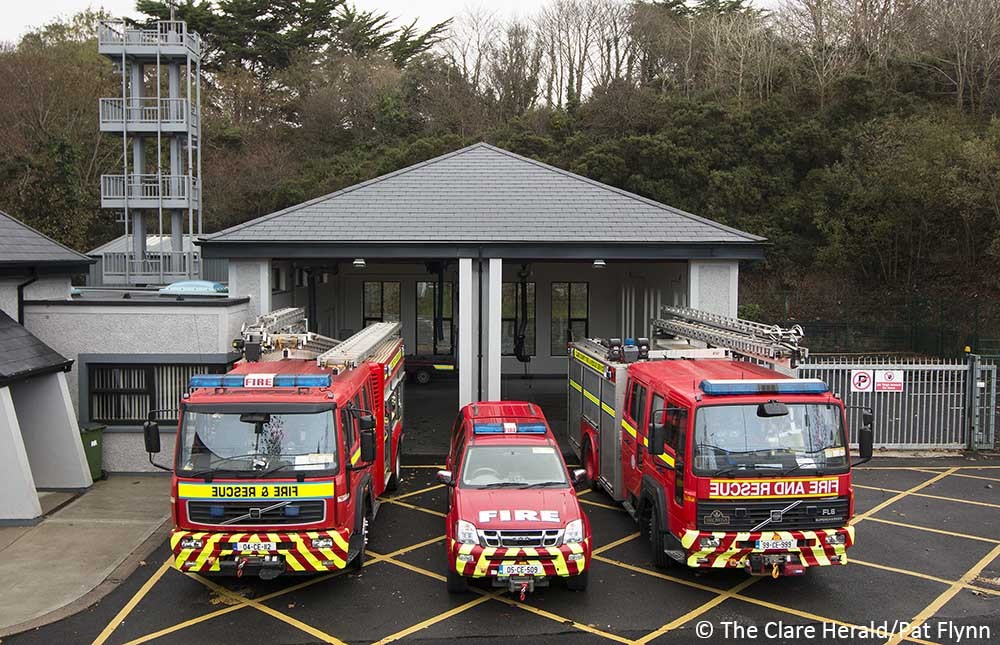 Fire crews across county Clare remain on standby at their respective stations ready to respond to emergencies. Crews were called in to the county's 7 stations at midday so they can respond promptly in the event of an emergency.
Other statutory and voluntary services including National Ambulance Service, An Garda, Clare Civil Defence, Irish Coast Guard and RNLI are also on high alert.
The owners of the Armada Hotel in Spanish Point have opened their doors to anyone in distress of any sort.
Management have said: "We will have power and heat along with company for anyone who finds themselves in need of shelter, whether it's from property damage, homelessness or other. We also extend this to anyone living alone who would like to have some company during this unprecedented weather event.
We will be shutting down our exposed rooms but the sheltered ones are there to be used so please just ask. Furthermore we be closed to the general public from morning. People staying with us will be catered for with limited food options to restrict staff travel to a minimum. All our working team are also offered accommodation. Please contact us on Facebook if we can be of any assistance."
Meanwhile, Bus Éireann will continue suspension of all services for the remainder of the day (October 16th), in line with advice to the public not to travel.
It is planned that a full schedule of services will resume from tomorrow morning (October 17th) at 5am.
This includes all Bus Éireann services, the Expressway network, School Transport Scheme, Eurolines and GoBE services.
Some School Transport Scheme services – which travel on minor roads – could be curtailed tomorrow morning or diverted due to flooding or fallen trees.