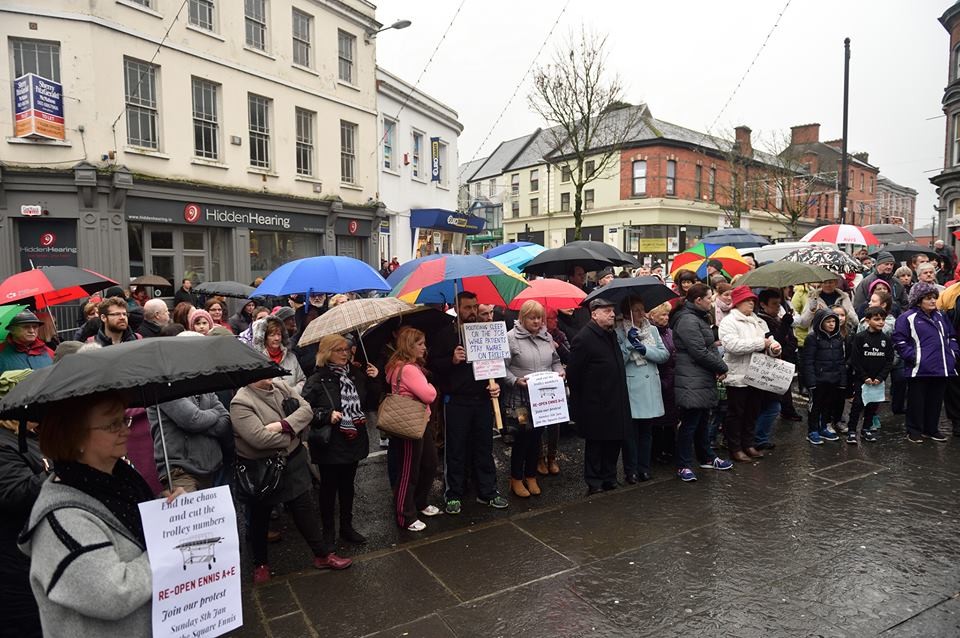 A crowd of almost three hundred people gathered in Ennis on a wet Sunday afternoon at a public meeting/protesting seeking the reopening of the A&E unit at the county's general hospital.
All of Clare's elected representatives were invited to the event with three of the four TD's in the constituency attending. Timmy Dooley, Michael Harty and Joe Carey all spoke at the foot of the Daniel O'Connell monument while Pat Breen and Senator Martin Conway were notable absentees.
Three of the county's councillors were present with Ann Norton, Clare Colleran-Molloy and Pat Daly backing the calls to reopen the accident and emergency unit and upgrade Ennis General Hospital to a model three hospital. Clare County Council consists of 28 elected members representing 4 electoral areas
There was a mixed reaction from the organisers in relation to the turnout. Former Ennis Town councillor, Michael Guilfoyle was disappointed and mentioned how vocal people had been on social media over the issue but failed to show their support at the protest. In contrast, Angela Coll felt the turnout was good considering the short notice of the event and the poor weather conditions. They estimate that between two hundred and fifty to three hundred people showed up to voice their support.
Along with the six politicians, Guilfoyle and Ken McCarthy of the Limerick Hospital Action Group took the microphone at the gathering.
The Clare Herald understands that organisers are hopeful of putting together another protest in the coming weeks. This Saturday will see a public march outside the University Hospital Limerick.
All photos by Martin Connolly