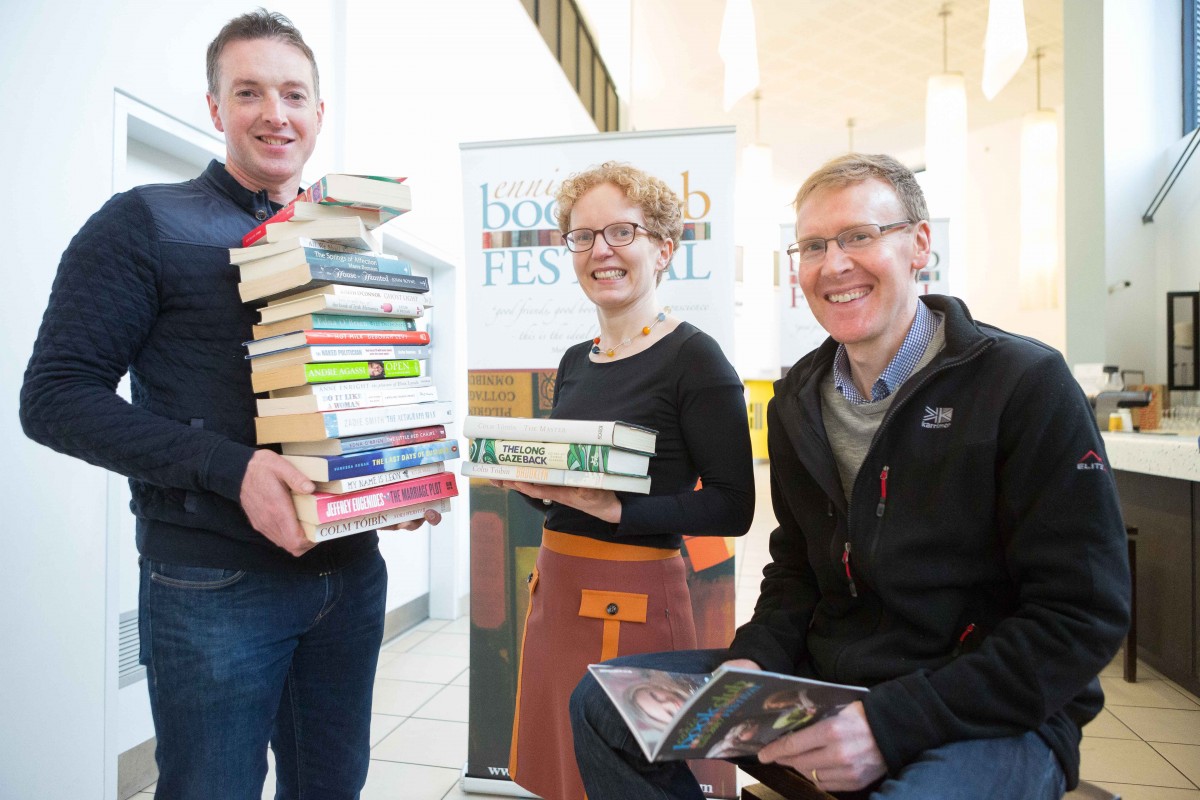 Every March something special happens in Ennis as readers come together to celebrate their love of books.
This week saw the unveiling of the full programme for the eleventh Ennis Book Club Festival. An annual celebration of book clubs and readers, the Festival combines a unique mix of readings, discussion, comedy and chat. Readers travel from all over the country and further afield to gather at this, the only book club festival in the country.
Speaking following the announcement, Artistic Director Paul Perry said, "Audiences in 2017 will be guaranteed their festival favourites, the perennial 10 Books You Should Read, as well as a stellar line up for our Sunday Symposium on Sports & Politics. 2017 is also a year in which we evolve in new directions: we host our first Children's Book Club, welcome the Laureate for Irish Fiction, The Irish Times and the Rick O'Shea Book Clubs, and we're delighted to be collaborating with Clare County Library on Teen Week.
"Throw into the mix Paul Durcan, Rose Tremain, Little John Nee and the arrival of thousands of book club members, and you're in for something singular in Irish literary culture".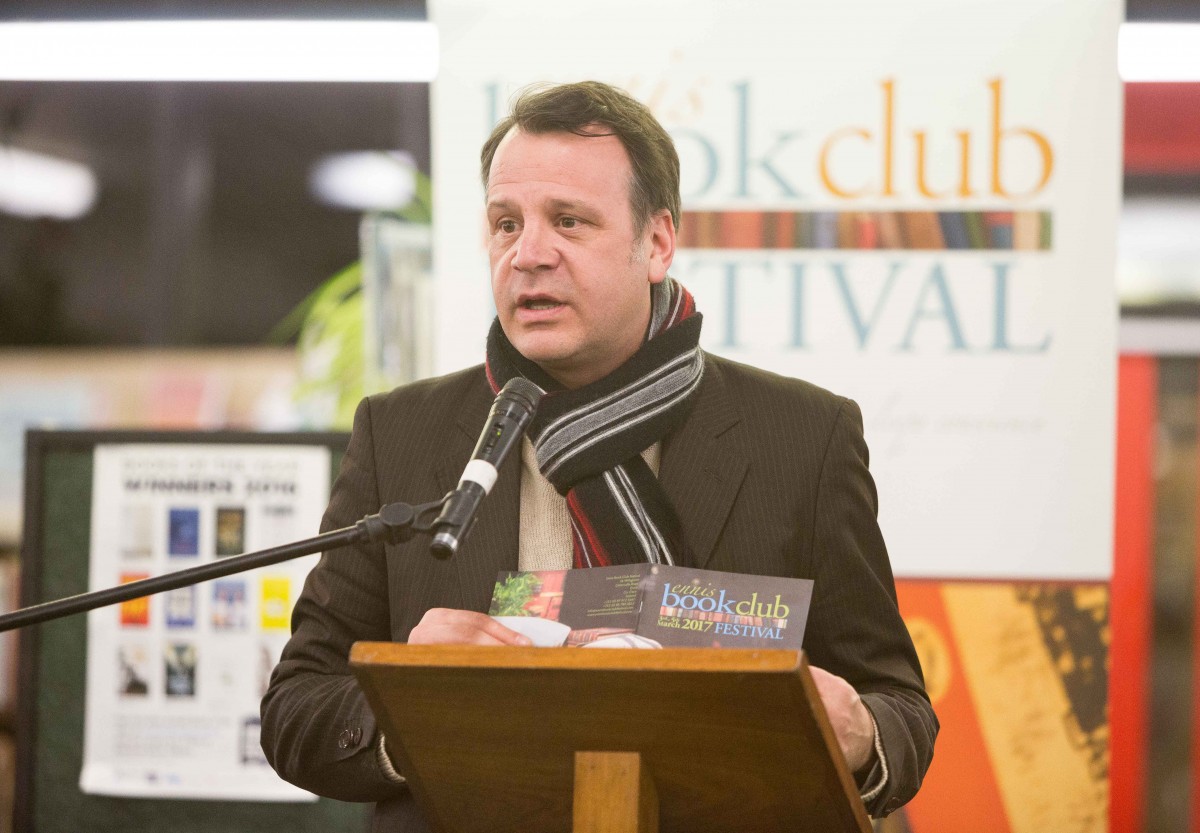 Friday 3rd March will see the official opening of the 2017 Ennis Book Club Festival will at CRUX – A Dialogue in Metal at 5.30pm at glór. This will mark the start of three days where readers can immerse themselves in the world of books, meet authors and other book lovers, discuss and debate.
PROGRAMME OF EVENTS:
FRIDAY 3 MARCH
The Ireland That We Dreamed Of? Exploring William Trevor's Fiction – A Talk with Tina O'Toole Date:
Fri 3 March, 2.30pm, Temple Gate Hotel
FREE
William Trevor was one of the most renowned figures in contemporary literature, described as 'the greatest living writer of short stories in the English language' by the New Yorker and acclaimed for his haunting and profound insights into the human heart. Join us for a talk with Dr Tina O'Toole – a literary scholar with research expertise in Irish writing, the history of sexualities and transnational literature. Her talk will focus on Trevor's early iconic short story 'The Ballroom of Romance'.
The Forgotten Summer Carol Drinkwater in Conversation
Fri 3 March, 4pm, Temple Gate Hotel
Price: €12 / €10
Actress and writer Carol Drinkwater is the author of the autobiographical Olive Farm series which inspired The Olive Route documentaries about her travels in the south of France. Its vineyards also provide the setting for her new novel – The Forgotten Summer, which contains 'plenty of page-turning drama, but also mouth-watering descriptions of Paris and Provence.' (The Times) Join Nell Regan as she talks with the always inspiring Carol about olive-farming, writing and life.
Paul Durcan
Fri 3 March, 6.30pm, glór
Price: €12 / €10
Paul Durcan's public readings are simply unforgettable. A winner of the Lifetime Achievement Irish Book Award, he has been one of the most sustaining forces in Irish poetry for more than four decades. The author of more than twenty collections of poetry, most recently, The Days of Surprise, and a former, Ireland Professor of Poetry, he is a member of Aosdána. If you have never seen him live, now is your chance. He is introduced by poet Afric McGlinchey.
The Readers' Voice: Anne Enright, Laureate for Irish Fiction in conversation with Donal Ryan
Fri 3 March, 8.30pm, glór
FREE
The Laureate for Irish Fiction is proud to present The Readers' Voice, a series of author interviews taking place across the country, which celebrate the reader, local libraries and outstanding Irish writing. Ireland's inaugural Laureate Anne Enright will interview six writers in six different library related venues, and as part of the series, Anne will be in Ennis talking to Donal Ryan about his novel, All We Shall Know.
FESTIVAL CLUB:
Fri 3 March, 10pm, Old Ground Hotel,
Price: €5
Sarah Clancy, Nell Regan, Jaskane Trio
Join the Friday night Festival Club at the Old Ground Hotel for music, mingling and performances of the spoken word with poets and writers Sarah Clancy and Nell Regan. Sarah Clancy was Lingo Poet Laureate of 2016 and is a page and performance poet from Galway. Nell Regan is a poet and non-fiction writer. They will be joined by the Jaskane Trio who showcase a unique blend of violin, oboe and guitar, while playing an eclectic mix of musical genres.
SATURDAY 4 MARCH:
Books & Buns
Sat 4 March, 9.30am, Rowan Tree Café
Price: €10 / €8
Enjoy a Saturday morning book club gathering and test your knowledge of all things literary in our beloved Books & Buns session. Refreshments included.
Walking Tour with Seán Spellissy
Sat 4 March, 11.30am, Meet @ glór
Price: €8
Local historian and author Seán Spellissy provides a unique insight into the medieval streets of Ennis on this ever-popular walking tour.
0 Books You Should Read with Cónal Creedon & Lisa McInerney
Sat 4 March, 11.30am, glór
Price: €12 / €10
Join Lisa McInerney & Cónal Creedon, two of Ireland's most engaging writers, for their must reads in what is a perennial festival favourite.
CRUX – A Dialogue in Metal Guided Tour of the Exhibition & Artists' Talk
Sat 4 March,11.45am, glór, Studio
FREE
Facilitated by John Tynan, Head of Education & Development at The Crafts Council of Ireland. In an era steeped in technology, meet five artisans who have their hearts and hands firmly engaged in the world of the physical and raw. Gunvor Anhøj, Michael Calnan, Moss Gaynor, John Hogan and Jane Murtagh forge, etch, draw and open out metal into three and two-dimensional works. Join these five extraordinary artist-metalsmiths in glór for a guided tour of the work in CRUX and a fascinating artists' talk.
Clare Youth Theatre
Sat 4 March, 1.30pm, Festival HQ, The Spás @ glór
FREE
An annual treat where members of Clare Youth Theatre present selections from featured authors of this year's festival and dramatise them in their own inimitable way.
Frank Golden Poetry Launch and Open Mic with the Clare Poetry Collective
Sat 4 March, 2.30pm, Temple Gate Hotel
FREE
The Launch of gotta get a message to you, Frank Golden's new collection of poetry, published by Clare-based publisher Salmon Poetry will be followed by an Open Mic poetry session hosted by Mike Douse and the Clare Poetry Collective
Writing, Women and Ireland: Sinéad Gleeson in conversation with Anne Devlin, Éilís Ní Dhuibhne and Eimear Ryan
Sat 4 March, 2pm, Old Ground Hotel
Price: €12 / €10
Join the panel as they discuss the phenomenon of omission and silence in Irish writing, and the emergence and recognition of Irish women writers in particular.
Rick O'Shea Book Club Special with John Boyne
Sat 4 March, 3.30pm, glór
Price: €12 / €10
RTÉ's Rick O'Shea convenes the largest on-line book club in Ireland with some 5,000 members. Join him in a Book Club Special as he talks to renowned author John Boyne about his new book The Heart's Invisible Furies – his most ambitious novel yet.
A Book Club Discussion with The Irish Times
Sat 4 March, 5pm, Suas Coffee House
Price: €5
Martin Doyle, acting books editor of The Irish Times, offers an insight into the thinking behind its literary coverage, from Saturday's four book review pages, to author interviews and features, to the recent expansion of its website. How are books chosen for review or to feature as the Book Club's monthly title? How do you pick the right reviewer? What makes a good review? How might your book club use The Irish Times Book Club as a helpful resource? This promises to be a fascinating discussion in an award-winning Coffee House.
The Greatest Irish Novel Ever: A Bilingual Event in Irish and English Date
Sat 4 March, 5.15pm, Temple Gate Hotel
Price: €10
Join a lively discussion of Máirtín Ó Cadhain's Cré na Cille considered by many a great Irish classic and recently translated by panellist Alan Titley as The Dirty Dust. It is a novel in Alan's words "in which all the characters are dead, and buried in a graveyard in Connemara who continue with venom the disputes that sustained them in their previous lives. Their only sustenance is when a new corpse arrives to tell them about the latest tittle-tattle, scandals, suppositions, rumours and even occasionally the truth about what is happening 'up there'." Alan Titley will be joined by award-winning writers Manchán Magan and Éilís Ní Dhuibhne, chaired by Nessa O'Mahony.
Rose Tremain in conversation with Seán Rocks
Sat 4 March, 8pm, glór
Price: €15 / €12
(Saturday Night Package: combine with Michael Collins event @ 9.30pm for €20)
2017 marks the welcome return of festival regular and presenter of ARENA on RTÉ Radio 1, Séan Rocks. He will interview Booker Prize shortlisted author Rose Tremain in an intimate look-back over her 40 year writing life.
SUNDAY 5 MARCH:
The Irish Times Book Club with Michael Collins
Sat 4 March, 9.30pm, glór
Price: €10
(Saturday Night Package: combine with Rose Tremain event @ 8pm for €20)
In a Festival first, EBCF are thrilled to welcome The Irish Times Book Club to Ennis. Man Booker Prize and IMPAC Prize shortlisted author Michael Collins was born in Limerick and emigrated to the United States on an athletics scholarship to Notre Dame in Indiana where he still lives. The unofficial laureate of the US Rustbelt, he has written 10 novels. An ultra-runner, last year he ran a marathon a day for a month, from Grosse Île quarantine station in Québec to Toronto, to commemorate the deaths of tens of thousands of Irish Famine refugees in Canada in 1847. He talks to Martin Doyle of The Irish Times.
Sunday Symposium: Sports and Politics: with Patrick Deeley, Paul Kimmage, Alison O'Connor, Christy O'Connor & Sonia O'Sullivan
Sun 5 March, 10am, glór
Price: €18
The Sunday Symposium is a firm festival favourite. This year the panel, chaired by Alison O'Connor, includes some of the most prestigious athletes, writers and commentators on sport and politics in Ireland. They will discuss the current state of sport in Ireland, its controversies, governance, and future. Not to be missed.
Patrick Deeley is a poet and writer. His critically acclaimed memoir, The Hurley Maker's Son, was shortlisted for the Bord Gáis Energy Non-Fiction Book of the Year Award 2016. Paul Kimmage is a former National Road Race Champion, Olympian and professional cyclist. A former 'Sportswriter of the Year', his first book, Rough Ride, is considered a classic of sports writing. He writes for the Sunday Independent.
Alison O'Connor is a journalist and broadcaster. She guest presents the Tonight with Vincent Browne programme on TV3, and has a weekly column with The Irish Examiner. Christy O'Connor is a freelance journalist based in Ennis. As a goalkeeper he played in two All-Ireland club hurling finals and was a member of the Clare senior hurling panel. His book on goalkeepers Last Man Standing was published in 2005.
Sonia O'Sullivan is a former World Champion, European Champion and Olympic Silver Medallist. A regular contributor to RTÉ Sport, Sonia's two books include Running to Stand Still and Sonia, My Story.
Walking Tour with Jane O'Brien
Sun 5 March, 12.30pm, Meet @ glór
Price: €8
Literary Lunch with Little John Nee
Sun 5 March, 1.30pm, Old Ground Hotel
Price: €22 (includes lunch)
A unique lunch of songs and stories with Little John Nee, widely regarded as one of Ireland's leading solo theatre performers, whose original and authentic contemporary style of musical storytelling and theatrical songs has won him national and international recognition.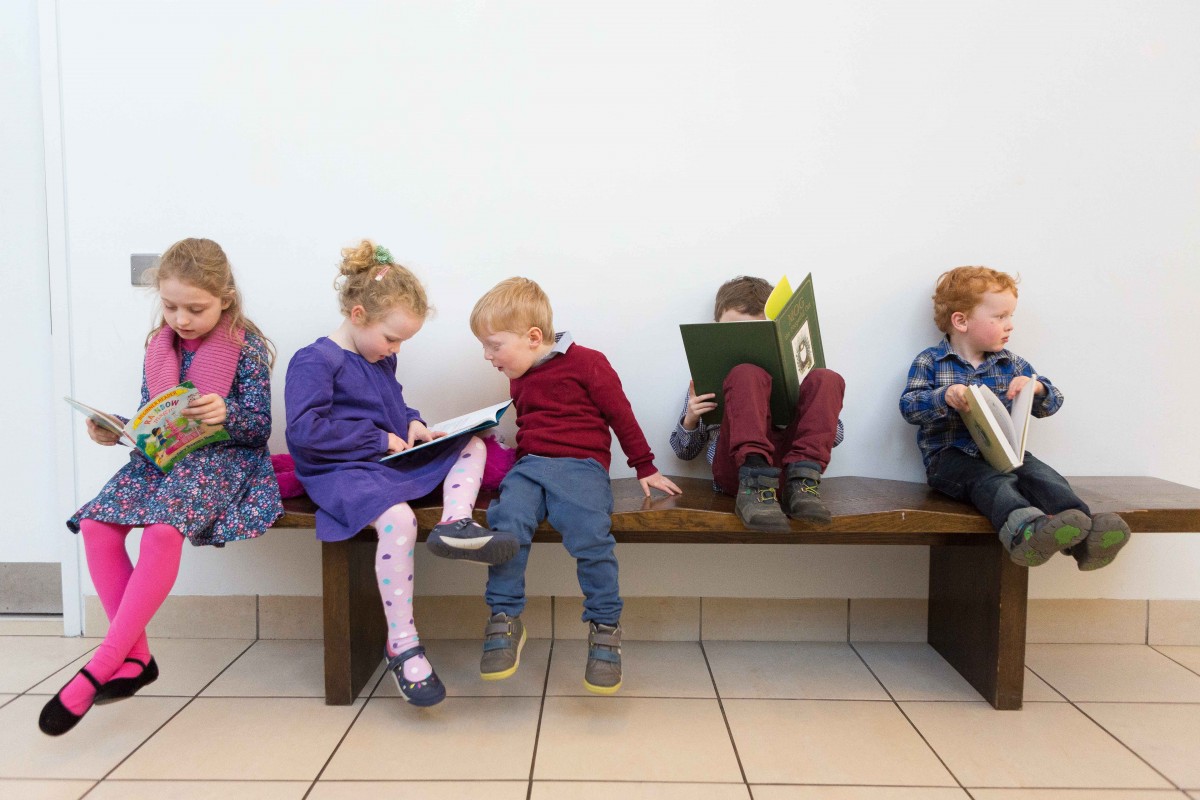 CHILDREN'S PROGRAMME
For the first time the Ennis Book Club Festival includes a programme of events specifically curated for children, ensuring that it celebrates readers of all ages. The inaugural Children's Book Club for 8-12 year olds (FREE) will be hosted by Caroline Busher on Saturday, 4 March where she will discuss her debut novel The Ghosts of Magnificent Children. Events in the Children's Programme include:
Teen Week with Clare County Library offering workshops with two award-winning children's and young adult authors, E.R. Murray and Dave Rudden. Events will take place in Ennis Town Library and Ennistymon Library.
Write YOUR Way with E.R. Murray
Mon 27 February 10am, De Valera Library &
Tues 28 February, 10am, Ennistymon Library
FREE
This interactive workshop will inspire, motivate and encourage young people to capture their ideas and start writing the stories that they want to tell. Elizabeth will also read from a selection of her books.
Dave Rudden
Wed 8 March, 10am, De Valera Library, Ennis &
Thur 9 March, 10am, Ennistymon Library
FREE
Dave Rudden has worked in the Dublin theatre, spoken word and storytelling scene since 2010. Knights of the Borrowed Dark is the first novel in a trilogy about a secret war between a race of shape-shifting, misery-eating, occasionally-waistcoat-wearing monsters and the warriors sworn to stop them.
Ruaille Buaille i Scéal Eile Books Cartoon Workshop with Aidan Courtney
Sat 4 March, 9am, Scéal Eile Books
FREE
Ceardlann spraoiúil, draíochtúil le Aidan Courtney (Comicí Gael) a mhúineoidh le páistí aois 9-13 conas cartúin a tharraingt. Beidh béim speisialta ar an gcaractar is fearr leat as leabhair Harry Potter. Is féidir ábhar ealaíona a thabhairt, ach níl gá. Is leor cúpla focal a bheith ag na páistí.
Aidan Courtney (Coimicí Gael) will lead this fun, magical workshop teaching children aged 9-13 how to draw a cartoon character through Irish (a few words of Irish will be just fine!). The theme of the workshop is your favourite Harry Potter character. Some materials supplied, but children are welcome to bring their own pencils if preferred.
The Book Clinic comes to Ennis
Sat 4 March 10am-1pm
Visit Clare Premises, Abbey St Car Park
The Book Clinic is open between 10am and 1pm for children of all ages. Pop along visit the Book Doctor, consult on your favourite reads and come away with a prescription for your next book which you can take to your local bookshop or library Children must be accompanied by a parent or guardian.
The Children's Book Club with Caroline Busher
Sat 4 March, 2.30pm, De Valera Library, Ennis
FREE
The Ennis Book Club Festival is delighted to announce details of the festival's first Children's Book Club where Caroline Busher will talk with and take questions from the younger readers about their experience with her debut novel The Ghosts of Magnificent Children. Ideal for 8-12 year olds.
FESTIVAL HQ:
Meet the authors and other avid readers at Festival HQ – The Spás @ glór
THE ATTIC SESSIONS
The Festival is delighted to welcome Attic Sessions who will record various events over the course of the festival. The Attic Sessions is an original web video series about Irish literature curated by award-winning poet Nessa O'Mahony and BBC trained cameraman Peter Salisbury. Watch out for their EBCF review and previous recordings at: theatticsessions.tv