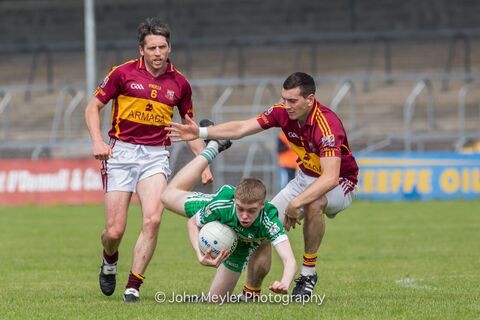 St Josephs Miltown got their defence of the Jack Daly off to a winning start as they accounted for Wolfe Tones in the opening game of the Clare Senior Football Championship.
St Josephs Miltown 0-14
Wolfe Tones 0-08
Venue: Cusack Park
Six points, it was the difference with nine minutes on the clock and once more it was the gap that separated the teams at the final whistle. Gaining such a lead so early on allowed Miltown take their foot off the pedal and let Wolfe Tones back into the contest, for a spell at least.
Miltown may not have looked like reigning County Champions in their display but in a first round tie all that matters is the result and they got the right one. They started extremely well hitting six scores without reply in nine minutes but they put the brakes on and gave Wolfe Tones a fighting chance. As the championship progresses they will need to become more ruthless and kill off teams when the opportunity arises.
It's a story of wondering what might have been for Wolfe Tones. What if their best fifteen was put on from the start, what if they played to their potential or even kept their period of dominance towards the end of the first half going for longer in which they outscored their opponents 4-1. They can come up with as many answers to these questions but the bottom line is they're now fighting for status and a tough draw could put them back in the relegation semi-finals.
Top scorer of the 2015 Clare SFC, Eoin Cleary got the honour of kicking the first score of the 2016 Clare SFC when he pointed with just twenty three seconds on the clock. Further efforts from Kevin Keavey, Kieran Malone, Joe Curtin plus two from Cleary saw them open the six point lead with nine minutes played.
Gary Leahy opened Wolfe Tones' account on the eleventh minute from a spot kick. Two more Cleary frees were sandwiched between points from Leahy and his brother Darragh. The Leahy brother added a further point each to lift the spirits of the Shannon side and leave a single score between the teams.
Gearoid Curtin got his name on the scoresheet and ended a ten minute scoring drought for the West Clare men on twenty five minutes. Stephen Tuohy replied with the score of the game as his kick left the score standing 0-09 0-06 at half-time.
For those expecting the Shannon men to continue their fightback in the second half they were left greatly disappointed as they only registered two points in thirty minutes of football, both free kicks from Gary Leahy.
Michael Neylon's Miltown on the other hand pushed clear with Eoin Cleary continue his shooting practice exercise, hitting four points from six shoots so when the second round comes around he will be hoping to make it six from six. His teammate and captain Gearoid Curtin kicked their other point of the half, the defender had a goal chance but his effort was well saved by Paul Tuohy.
Over the sixty minutes Wolfe Tones showed a glimpse of what they're capable of, for the final quarter of the opening half they were at their best as they linked up well and passed the ball to one another swiftly but for all their efforts they were made work hard for every score but they didn't apply the same pressure at the other end. The Tones started with a two man full-forward line of Brian O'Connor and Darragh Leahy, two talented footballers but they were starved of possession due to failings further out the field.
When supplied with the ball this duo did well as did Ross O'Connor, Gary Leahy and substitute Tino Nvaura who has to be started in Round Two. The Shannon men didn't play to their advantages, they have one of the tallest midfielders in Johnny Bridges, an ideal target man but for on this outing his catching was uncharacteristically poor so men should have surrounded him to feed off the breaks but this didn't happen.
It's the winners section of Round Two for Michael Neylon and his Miltown charges, they had double the amount of turnovers than their opponents and they made Wolfe Tones work hard to regain possession and didn't cough it up cheaply. When they come up against stronger teams in the Clare SFC the West Clare side cannot afford to fade away like they did towards the end of the first half.
Defensively Miltown were very strong and didn't give the Shannon men an inch in attack. In the middle third they won the majority of the breaks. One of the weaker aspects of their performance was the concession of frees, sixteen in total, on a side-note referee John Hannon can be happy with his hour's duties as he was consistent throughout. There is room for improvement with the Miltown men but better they improve in the winners' section than where Wolfe Tones find themselves. Eoin Cleary, Brian Curtin, Gordon Kelly and Gearoid Curtin did best for the winners.
Teams:
St Josephs Miltown: Sean O'Brien; Seanie Malone, Enda O'Gorman; Eoin O'Brien, Gordon Kelly, Gearoid Curtin (0-02), Brendan O'Brien; Kevin Keavey (0-01), Conor Cleary; Aidan McGuane, Kieran Malone (0-01), Joe Curtin (0-01); Eoin Cleary (0-09 2'45 1f), Darragh McDonagh, Brian Curtin. Subs: Sean Malone for K Malone (HT), Colin Hehir for B O'Brien (51), David Talty for McGuane (51), Jamsie O'Connor for Keavey (61), Liam Gray for J Curtin (61).
Wolfe Tones: Paul Tuohy; Stephen Carroll, Stephen Tuohy (0-01), Brendan Hughes, Colm McCaul; Ross O'Connor, Sean Brennan, Brian Monaghan; Johnny Bridges, Aaron Brennan; Daniel Galley, Gary Leahy (0-05 4f), Barry Murphy; Brian O'Connor, Darragh Leahy (0-02). Subs: Aaron Rudd for Monaghan (18), Tino Nvuara for Bridges (27), Ian Collins for Gallery (38), Stephen McInerney for Carroll (50), Johnny Bridges for Rudd (50), Dean Devanney for O'Connor (57).
Referee: John Hannon (Michael Cusacks)
All photos by John Meyler